Welcome to the Children's Hour where reading to children and reading by children is considered a high priority to their success in life. Literacy begins by reading to children, but is developed over the years when great literature is available for their listening and reading enjoyment.

The best children's books contain imaginative stories, memorable characters, beautiful illustrations, and lyrical language. Well-written stories should contain heroes and role models to imitate. Great books should be enjoyable reads, make the world a better place, and incorporate heart, humor, heroes, and hope.

Be sure to sign up for our monthly newsletter for information on the best in children's literature available to read and read-aloud.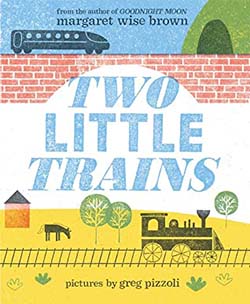 TWO LITTLE TRAINS
written by Margaret Wise Brown, illus by Greg Pizzoli, (HarperCollins, $17.99, March 2020, ISBN 978-0-06-267651-1), 40p, Ages 3-6
"Two little trains / went down the track, / two little trains went West. / PUFF PUFF PUFF / CHUG CHUG CHUG / two little trains to the West." Originally written in 1949, this classic adventure, by the late Margaret Wise Brown and newly illustrated by Greg Pizzoli, follows two different trains, one streamlined and one much older, as they wind their way to the West in tandem.

Their journey takes them through tunnels, over bridges, across mountains, and past valleys as they encounter rain, snow, and hot baking sun to finally arrive in the West, with its blue ocean, deserts of cactus, and big cities. Children will love this simple, rhythmic journey of two determined trains puffing and chugging their way across America.
Themes: Adventure, Classics, Nature, Transportation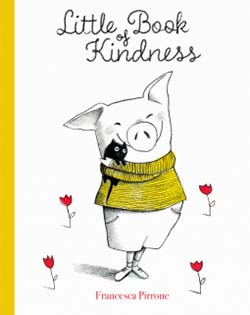 LITTLE BOOK OF KINDNESS
written/illus. by Franesca Pirrone, (Clavis Publishing, $11.95, June 2020, ISBN 978-1605375335), 50p, Ages 3-6
Kindness is easy when it comes from the heart, as shown by a little pig, who finds solutions to various problems. He helps pick up toys for his friend mouse, offers a smile to a discouraged bunny, and builds a bird house for a cold little bird. Simple acts of random kindness (saying thank you, offering a smile, being patient, helping others, nurturing nature, protecting the environment, rescuing the innocent, sharing, cleaning up) can do wonders for small children who are leaning that kindness can make a difference.
Themes: Adventure, Animals, Heroes, Values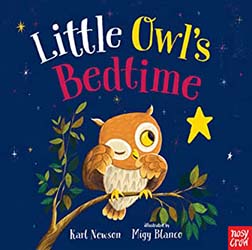 LITTLE OWL'S BEDTIME
written by Karl Newson, illus. by Migy Blanco, (Noisy Crow, 9.99, September 2020, ISBN 978-153614468), 24p, Ages 3-5
"In a treetop way up high / Little Owl blinks and rubs an eye. Mouse is snoozing. Squirrel is too. / But Little Owl has work to do." On a magical night filled with twinkling stars, Little Owl decides to blow out the stars to make way for the arrival of the sun in the morning. Flying off past a sleeping giraffe, elephant, tiger, bear, whale, and penguin, she begins to puff out each star making sure to say good night to each one. When she encounters the last star—a shooting star—will she catch up to this one and make it home before the sun rises? Find out in this sweet bedtime story of an industrious little owl and her adventure with the stars. Little ones will love the beautiful illustrations.
Themes: Adventure, Animals, Bedtime, Rhythm & Rhyme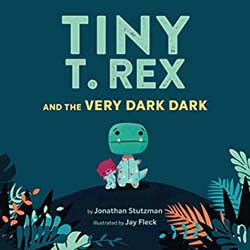 TINY T. REX AND THE VERY DARK DARK
written by Jonathan Stutzman, illus. by Jay Fleck, (Chronicle Books, $15.99, March 2020, ISBN 978-1-4521-7034-3), 48p, Ages 3-5
Camping out in the backyard sounds like fun to Tiny T. Rex and his stegosaurus friend Pointy, but the dark seems scary and there are no nighty-lights outside to scare away the Grumbles, Nom-bies, and the Crawly-creeps. According to mom, "There's always a light shining somewhere, Tiny. Even in the dark. If you are brave and look hard enough, you will find it."

They try building a fort, wearing special helmets for protection, and stringing lights, but nothing vanquishes the dark, until they discover the best nighty-lights of all when they look up in the sky. With plenty of humor and warmth, this adventure about friendship, determination, and parents' words of wisdom, will prove that the dark is thoroughly conquerable.
Themes: Adventure, Dinosaurs, Friendship, Series
Other book in the Series: Tiny T. Rex and the Impossible Hug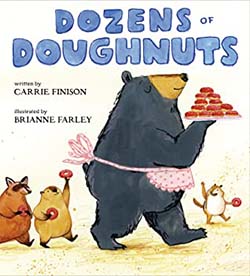 DOZENS OF DOUGHNUTS
written by Carrie Finison, illus. by Brianne Farley, (G.P. Putnam's Sons, $16.99, July 2020, ISBN 978-0-525-51835-8), 40p, Ages 3-7
"Early one morning, as autumn leaves scatter. / LouAnn's busy stirring a big bowl of batter. / She'll eat some sweet treats, then, warm and well-fed. / she'll sleep away winter, tucked tight in her bed." Her pre-hibernation plans suddenly change with a "DING-DONG!" and the arrival of one friend after another asking to share her doughnuts. Kind-hearted LouAnn graciously cooks up and divides each batch of a dozen doughnuts with friends. There's Woodrow the woodchuck, then Clyde the raccoon, Topsy the opossum, Mouffette the skunk, and twin squirrels Chip and Chomp.

With winter approaching, a rumbling tummy, a messy kitchen, and nothing left to eat, LouAnn makes her frustration known with a loud "ROAR!" Wisely, the friends apologize and make amends by bringing ingredients to cook doughnuts for a very sleepy bear. Kids will enjoy this rhyming tale of kindness, generosity, and friendship. Adults will appreciate the subtle mathematics. Endpapers contain the names and illustrations of 24 types of donuts to drool over.
Themes: Animals, Bears, Food, Friendship, Humor, Rhythm & Rhyme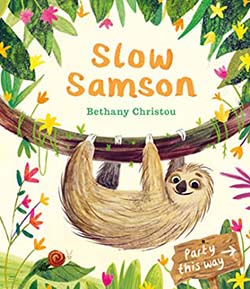 SLOW SAMSON
written/illus by Bethany Christou, (Templar, $16.99, September 2020, ISBN 978-1536215472), 40p, Ages 3-6
It's a well-known fact that sloths are slow. Samson is no exception, but he is friendly, kind, a peacemaker, and a hero to his friends. When invited to parties, being slow is a problem, but more so when he stops to help friends mediate arguments and rescue those in need. His thoughtfulness results in missing all the fun, especially the cake.

Determining next time not to miss a party, he ignores his friends and rushes as fast as he can, but he's still late. "Without Samson stopping to help, everything had gone wrong. The tortoise had spent the whole day stuck on his back. The tree frog had no one to talk to. And the monkeys' arguing had annoyed the whole rain forest." Find out how his friends hatch a clever plan for Samson to attend a party in plenty of time, help friends along the way, and share the cake. Kids will enjoy this clever tale of friendship, teamwork, and especially the artwork.
Themes: Animals, Friendship, Heroes, Values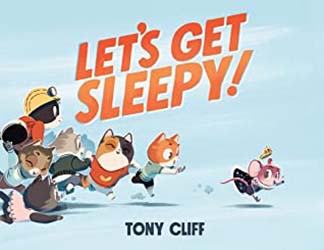 LET'S GET SLEEPY
written/illus. by Tony Cliff, (Imprint, $17.99, August 2020, ISBN 978-1-250-30784-2), 32p, Ages 3-6
Kids will enjoy this seek-and-find adventure as a family of little cats tries to catch their resident mouse, Sleepy. When mom innocently asks, "Look who's up early. Good morning, hello. But what happened to Sleepy? Where did he go?" The cats dress quickly, and with their friends begin the search for the "Prince of the Night, The Master of Dreams, and the King of Moonlight." This takes them on a page by page Where's Waldo search to a downtown parade, the beach, the snowy mountains, a tropical swamp with dinosaurs, caves, and even to outer space. Even though they missed finding Sleepy, the end of the day finds the cats exhausted and ready for bed, but full of wonderful memories. Mom sums up their day with, "Let's put our heads down / and pull up the sheets, / and let's … get … Sleepy." Readers and listeners will have fun trying to find the cute little mouse on each page.
Themes: Adventure, Animals, Bedtime, Humor, Rhythm & Rhyme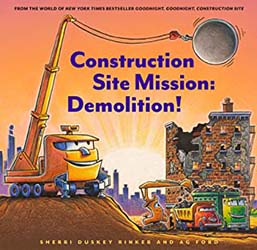 CONSTRUCTION SITE MISSION: DEMOLITION!
written by Sherri Duskey Rinker, illus. by AG Ford, (Chronicle Books, $17.99, September 2020, ISBN 978-1-451-8257-5), 40p, Ages 3-6
This is demolition day for the Construction Site crew as they work together to smash, crush, sort, and haul away debris from an old building. With teamwork and perseverance, Crane Truck swings the wrecking ball ("He bashes through a concrete wall … / and leaves a hole, fifty feet tall!"), then sorts the debris into piles to be recycled. Meanwhile Excavator bashes in the walls and sifts through the reusable material. Skid Steer breaks the rocks apart, while Dump Truck and Flatbed haul rubble away. Each has a job to do and work together in time for the ground to be leveled for Cement Mixer to pour concrete for a new building. Tired, they bed down for the night and dream of the jobs for tomorrow. Kids will love the sounds of KA-BOOM!, SMASH!, THUD!, and CRUMBLE! CRASH when read aloud and accentuated.
Themes: Adventure, Bedtime, Rhythm & Rhyme, Machines, Series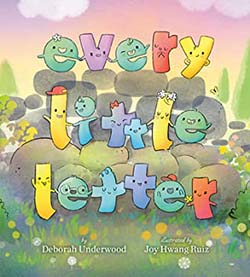 EVERY LITTLE LETTER
written by Deborah Underwood, illus. by Joy Hwang Ruiz, (Dial Books for Young Readers, $17.99, August 2020, ISBN 978-0-525-55402-8), 40p, Ages 4-7
There once was a city of 26 letters, where high walls separated each of the letters to protect them from the others, or so they thought. All the "H's", big and small, lived together within their walls and were fairly happy, except for one small "h" who wondered about the other letters. Upon discovering a hole in the wall, little "h" reaches through and finds little "i" and together they make a new word, "hi". After big "H" seals up the hole, little "h" sends his new friend a series of letters via paper plane messages. When one goes astray and lands in the "o" territory, of course, "oh" results. As they play games together, they discover that friendship and love tear down walls of fear and loneliness. Kids will love the "y's" who finally get some answers – "b e c a u s e."
Themes: Friendship, Humor, Values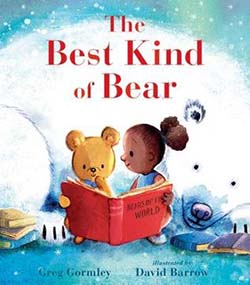 THE BEST KIND OF BEAR
written by Greg Gormley, illus. by David Barrow, (Noisy Crow, $16.99, ISBN 978-1-5362-0823-8), 32p, ages 4-7
"Bear was a bear—a very sweet little bear. But he didn't know what kind of bear he was." After meeting a little girl in the library, he decides to take a journey to find out. He meets many kinds of bears—a grizzly bear, a brown bear, a polar bear, a spectacled bear, and a black bear—but they do not wear bow ties, have stitches on their tummies, washing labels on their bottoms, and are not soft and bouncy. Returning to the library sad and dejected, the little girl not only tells him, "You're my kind of bear, and you can be my bear, if you'd like to," but she writes on his label "NELLY'S BEAR." Adorable and heartwarming, little ones should share this wonderful tale with their own teddy.
Themes: Adventure, Animals, Bears, Families, Toys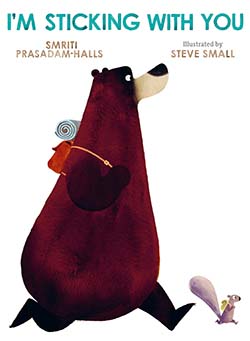 I'M STICKING WITH YOU
written by Smriti Prasadam-Halls, illus. by Steve Small, (Henry Holt & Co., $18.99, May 2020, ISBN 978-250-61923-5), 40p, Ages 4-8
"Wherever you're going,/ I'm going too./ Whatever you're doing./ I'm sticking with you" Although different in character, size, and interests, that doesn't stop Bear and Squirrel from being inseparable friends … or so it seems. Although Bear vows to stick together with Squirrel through good and bad times, their relationship is put to the test when he accidentally breaks Squirrel's beautiful teacup, launches Squirrel skyward off the seesaw, sneezes Squirrel's tree house to pieces, and sinks Squirrel's canoe.

When Squirrel decides that he needs some time by himself, Bear agrees and departs reluctantly. But sometimes it takes a little time apart to realize how much we need our friends. Missing Bear terribly Squirrel declares, "Well pick up the pieces, / we'll patch up the hole. / We'll mend what needs fixing, / because that's how we roll." This charming story about friendship, loyalty, and love will touch and warm all hearts who listen to its lesson. The illustrations are priceless.
Themes: Animals, Friendship, Humor, Rhythm & Rhyme, Values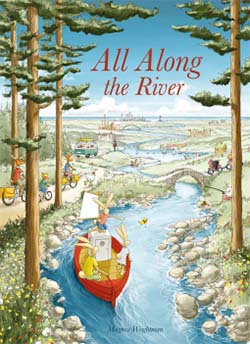 ALL ALONG THE RIVER
written /illus. by Magnus Weightman, (Clavis, $17.95, May 2020, ISBN 978-1605375182), 32p, Ages 4-8
Join the delightful river adventure of a little bunny in search of her beloved toy, which accidentally floated away down the local river. From her mountaintop home Bunny Rabbit and her brothers grab their boat and travel the river through green valleys, forests, past farms, over lakes, down a waterfall, past factories, and windmills to the ocean in search of Little Duck.

Along the way they meet other characters with adventures of their own (Chuck the roller-skating chicken, Road Hogs, the motorcycle racing pigs), which will necessitate repeat readings to answer questions found at the start of the tale. The final double page shows the animals admiring a schematic of the explored route, along with a little snail asking, "Did you see me?" Originally published in the Netherlands and Belgium, kids will enjoy each page of complex details and character stories in this clever seek-and-find adventure of a lost-and-found toy.
Themes: Adventure, Animals, Heroes, Toys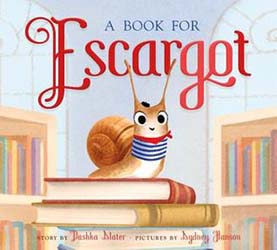 A BOOK FOR ESCARGOT
written by Dashka Slater, illus. by Sydney Hanson, (Farrar Straus Giroux, $16.99, April 2020, ISBN 978-0-374-32186-2), 40p, Ages 4-7
The charming French snail from Escargot (2017) returns for an adventure at the library. Tired of eating salads, he hopes to find a French cookbook on how to prepare green beans, souffles, ratatouille, and French fries, and longs to create stories about snail superheroes. When Escargot finds The Art of French Cooking, he discovers that snails are on the menus. Declaring that, "Nobody will be learning how to cook me!" Escargot decides to defeat the dangerous recipes by eating the cookbook, then helps the reader write his story.

Kids will love Escargot's favorite books: Goodnight Snail, Where the Wild Snails Are, The Very Hungry Snail, Harry Gastro Podder and the Chamber of Salads, Goldytentacles and the Three Snails.
Themes: Adventure, Animals, Food, Humor, Series
Other Book in the Series: Escargot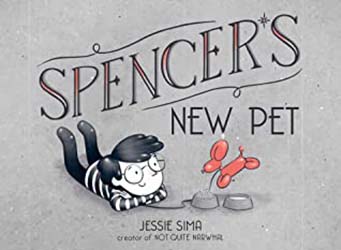 SPENCER'S NEW PET
written/illus. by Jessie Sima, (Simon & Schuster for Young Readers, $17.99, August 2019, ISBN 978-1-5344-1877-6), 56p, ages 4-7
In this clever almost wordless adventure, a young boy takes his new pet on walks, teaches it tricks, reads to it, takes it to the vet, and is always careful of sharp objects. Why? Because Spencer's new pet is a balloon, a very magical one. Pointy dangers abound for the cute little pet, but with a surprise twist, kids will be amazed at who gets poked with a pin and blown up again. It's a happy ending where everything returns to normal—magical normal. Told like an old silent movie in three parts, kids will want to view it over and over.
Themes: Adventure, Friendship, Humor, Pets, Wordless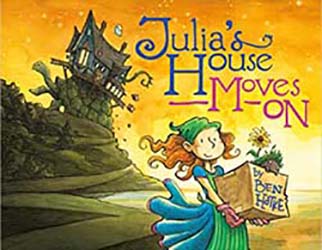 JULIA'S HOUSE MOVES ON
written/illus. by Ben Hatke, (First Second, $18.99, September 2020, ISBN 978-1-2501-9137-3), 40p, Ages 4-8
Julia, from Julia's House for Lost Creatures (2014) realizes that her host of creatures are becoming restless and their house needs to move on. In searching for a new place to live, problems crop up, but Julia has a plan for every possible situation. When she runs out of solutions and all seems lost, Julia discovers that sometimes help and kindness come from unexpected friends and magical creatures. The illustrations are delightful, and kids will yearn for the next adventure.
Themes: Animals, Fantasy, Friendship, Heroes, Humor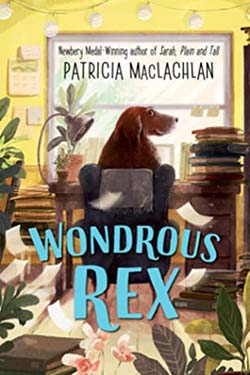 WONDROUS REX
written by Patricia MacLachlan, illus. by Emilia Dzubiak, (Katherine Tegen Books, $15.99, March 2020, ISBN 978-0-06-294098-8), 96p, Ages 7-10
Rex, a wonder or wonders, shows up one day in answer to an ad placed by 7-year-old Grace's Aunt Lily: "A writer of books needs an assistant, a coach, a helper, for inspiration and some magic!" Magic does indeed begin when Maxwell the Magician brings Rex, a Labrador retriever, into their lives. It seems that Max is bored, sad, and needs new work.

Max begins to pull up famous quotes on the computer to share with Aunt Lilly ("If you find a book you really want to read but it hasn't been written yet, then you must write it" – Tony Morrison). He organizes her office, gathers up the laundry, gives marvelous hugs, types out a few thoughts of his own ("Dogs know secrets. Dogs keep secrets.") and inspires confidence and creativity in the lives of a burned-out writer and a young girl searching for her own story.

Magical, whimsical, and altogether delightful, readers and listeners will enjoy this gentle retriever's love, protection, notes of wisdom, and Lucy-Lou, the chicken.
Themes: Animals, Families, Heroes, Humor, Pets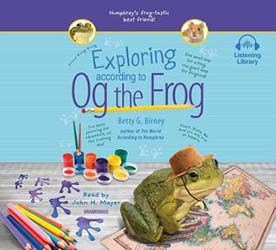 EXPLORING ACCORDING TO OG THE FROG
written by Betty G. Birney, (G. P. Putnam's Sons, 2019), 144p, Ages 8-11
This second book in the Og the Frog series, finds Og on a mission to explore the world of humans. Along the way he discovers adventure, bravery, taking risks, and helping others.

His permanent home is now in Room 26 at Longfellow School, where he and his friend, Humphrey the hamster, watch the students from their cages. Og enjoys encouraging the struggling students with his "Boing, Boing" and yearns to make an impact on their lives. Between helping the children and attempting to hop from his tank, Og spends a few weekends with the Principal and his family, helping to sooth a sibling rivalry problem.

Interspersed throughout the book are his Granny Greenleaf's witty sayings ("Whatever you do, wherever you are, make the most of your time, and you'll go far!"), Uncle Chinwag's tales, and Og's poems set to familiar melodies found on the endpapers. Kids will love Og's tales of McKenzie Marsh.
Themes: Friendship, Pets, Series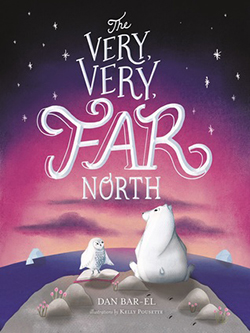 THE VERY, VERY FAR NORTH: A Story for Gentle Readers and Listeners
written by Dana Bar-el, illus. by Kelly Pousette, (Atheneum Books for Young Readers, 16.99, September 2020, ISBN 978-1-5344-3341-0), 272p, Ages 8-11
"If someday you wander north—truly north, to the northern part of north—and you come across the Cold, Cold Ocean, follow its shoreline to a beach that's just right for napping. There you will find Duane the polar bear and his friends." Duane is an inquisitive, good-natured polar bear, who loves making friends and giving each one a special name. It doesn't matter whether they are bossy (Major Puff the military marching puffin), or vain (Handsome the musk ox), or shy (Boo the caribou), or scholarly (C.C. the snowy owl), or quivery (Twitch, the Artic Hare), or bouncy (Magic the Artic Fox), or a human child (Sun Girl and her pack of dogs), or Squint (the Painter). Duane befriends them all, accepts, and respects them for who they are.

Their adventures, mishaps, and discoveries fill each chapter with friendship, tolerance, comfort, fun, and Duane's philosophical sayings.—"All good stories begin on Thursday," but "All good stories involving unexpected situations begin on Tuesday," and even "When you accomplish something for the benefit of others, it's a good day," but especially, "You can have hopes and you can have goals, but a day will take you where a day wants to go." Kids will love discovering who the narrator is. Reminiscent of Winnie-the-Pooh and Wind in the Willows, this lovely tale makes an excellent read-aloud and is certainly a classic in the making.
Themes: Adventure, Animals, Fantasy, Friendship, Heroes, Humor, Nature, Values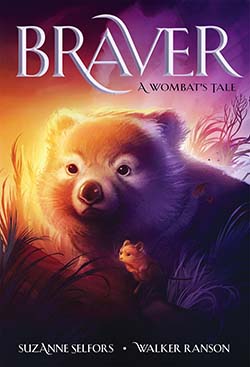 BRAVER: A Wombat's Tale
written by Suzanne Selfors / Walker Ranson, (Imprint, Macmillan Publishing, $16.99, June 2020, ISBN 978-1-250-21991-6), 288p, Ages 9-13
"Gather ye round and prick your ears, for a tale is about to be told." Readers and listeners will thoroughly enjoy this epic tale of a young Australian wombat, a fastidious swamp water rat, and an adorable clueless baby penguin, who join together on a journey to save the wombats of the Northern Forest and rescue their queen.

Lola Budge may look like an average bare-nosed wombat, but her love for conversation, stories, adventure, and helping others set her apart from most wombats. Unhappy with her quiet, stable life, Lola sneaks out of her burrow and by accident meets a messenger platypus, who delivers a secret message, "T.B is ready". Puzzled by its meaning, Lola returns to the village to discover that Tassie Devils have captured the village of wombats, including her family. With Her mother's last words, "Find your uncle, He'll know what to do," she begins a hero's journey to the royal city of Dore to rescue them. Joined by Melvin, a well-groomed swamp rat that sells beauty products, and Blue, a rescued baby penguin, Lola begins a dangerous journey of infested swamps, evil predators, royal corruption, family traitors, and unexpected friendships, because she knows, "The best stories come with the least expected heroes."

Adults will appreciate the warning in the credits: "Proclamation from the Royal Librarian of Dore: All creatures take heed, / A warning indeed, / Whether feather or fur, / Web-footed or spur, / If you steal a book / The predators will look, / FOR YOU." Kids will enjoy this destined-to-be-a-classic with its adorable little Blue, the one-winged firehawk that flies a hot-air balloon, and the laugh-out-loud dialogue.
Themes: Adventure, Animals, Families, Friendship, Humor
TYRANNOSAURUS WRECKS (Fun Jungle Series)
written by Stuart Gibbs, (Simon & Schuster Books for Young Readers, $17.99, March 2020, ISBN 978-1-5344-4375-4), 336p, Ages 10-13
Fans of Stuart Gibbs' Fun Jungle series will love his latest mystery/adventure surrounding a missing 65-million-year-old, 500-pound Tyrannosaurus skull, the black-market reptile trade, Zebra Spankers, inept authorities, and wild high-speed chases.

Determined not to become involved in more dangerous investigations, 13-year-old Teddy Fitzroy has a change of heart, when his best friend, Sage, asks for help in locating a Tyrannosaurus skull, recently discovered on his family's ranch. In addition to finding the fossil thieves, Teddy investigates an illegal reptile business that the bully Barksdale brothers are involved with. Seems that they obtained an illegal 15-foot anaconda that ate their cat, and they not only want the cat back, but want Teddy to find their newest acquisition (a cobra) which is missing in their house.

Readers will enjoy the fun, chaos, and high-speed chases, as well as the endpapers that discuss the illegal enterprise of animal trafficking.
Themes: Adventure, Friendship, Humor, Mysteries, Series
Others in the series: Belly Up | Big Game | Poached | Panda-monium | Lion Down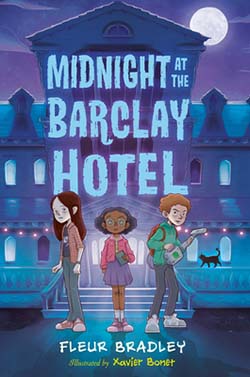 MIDNIGHT AT THE BARCLAY HOTEL
written by Fleur Bradley, illus. by Xavier Bonet, (Viking Children's Books, $17.99, August 2020, ISBN 978-0-593-20290-6), 320p, Ages 10+
"The invitations went out on Tuesday afternoon, because statistically speaking, that's the best time to offer someone a weekend getaway." When J.J. Jacobson's busy CEO mother receives her invitation to an all-expense paid weekend at the historically haunted Barclay Hotel in Colorado, JJ can hardly wait to use his paranormal equipment to hunt for ghosts.

What he doesn't expect is a murder mystery, a resident ghost, new friends, and secrets. The butler reveals that the adults (a cowboy, a librarian, a CEO, an actor, and a detective) were invited to solve the murder of the owner, Mr. Barclay. JJ and two new friends jump into action to determine the motives, means, and opportunities of each guest, discovering that most have secret reasons for revenge toward the owner. Kids will have fun figuring out which one is the resident ghost. This clever whodunit with its twists and turns is a mystery that will entertain all without being scary, gory, or creepy, just delightful fun. Oh yes, kids, take note: It always pays to read the fine print on invitations.
Themes: Adventure, Families, Friendships, Heroes, Mysteries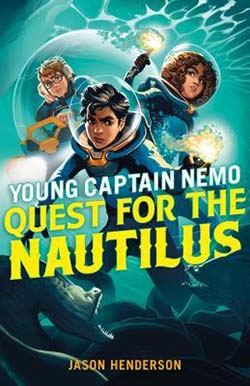 THE QUEST FOR THE NAUTILUS #2 (Young Captain Nemo)
written by Jason Henderson, (Feiwel and Friends, $17.99, March 2020, ISBN 978-1-250-17324-9), 304p, Ages 10+
This second action-packed underwater adventure from Young Captain Nemo (2019), finds twelve-year-old Gabriel Nemo, descendent of the famous Jules Verne's character, Captain Nemo, and his companions racing to rescue his kidnapped mother. When the kidnappers demand a valuable artifact in exchange for releasing Gabriel's mother, they begin to search for the Dakkar's Eye, a source of endless power, which resides on Captain Nemo's famous ship, the Nautius, lost in 1910. To find the missing wreckage, they must swipe the Captain's lost journal, currently residing on the USS Alaska and decipher the code, which should lead them to the ship. But adventures have a way of becoming complicated, especially when racing against the kidnappers' hundred-hour deadline.

Readers will love this page-turning, sci-fi adventure, full of suspense and intrigue, seafaring technology, family values, and three remarkable young heroes.
Themes: Adventure, Families, Friendship, Heroes, Motoring On, Science Fiction, Series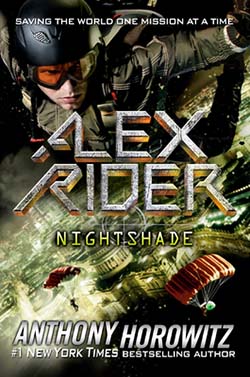 NIGHTSHADE Alex Rider series
written by Anthony Horowitz, (Philomel Books, $17.99, April 2020, ISBN 978-0-593-11531-2), 432p. Ages 12-15
This 12th installment in the Alex Rider series finds Alex hoping to return to a normal life in London after destroying the evil organization Scorpia. Circumstances change when the Head of Special Operations tries to recruit Alex to help stop a terrorist plot in London by a criminal organization called Nightshade. Alex is reluctant until Mrs. Jones reveals her personal connection to the situation.

Assuming the identity of his now-dead nemesis, Julius Grief, Alex's mission is to infiltrate a prison in Gibraltar, bond with a young incarcerated Nightshade assassin, and infiltrate Nightshade's organization. After a daring escape with Freddy to Nightshade headquarters on Crete, Alex discovers 25 children like Freddy, who have been brainwashed by Nightshade. From Gibraltar to Greece to London, readers will root for Alex as he tries to stop the most lethal attack on London in British history on his own.
Themes: Adventure, Heroes, Mysteries, Suspense, Series
Others in the Series: Stormbreaker | Point Blank | Skeleton Key | Eagle Strike | Scorpia | Ark Angel | Snakehead | Crocodile Tears | Scorpia Rising | Russian Roulette | Never Say Die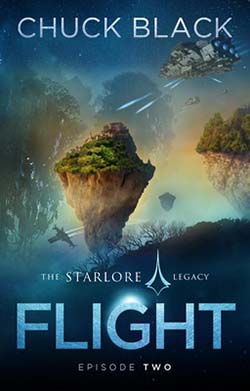 FLIGHT #2 The Starlore Legacy
written by Chuck Black, illus. by Elena Karoumpali/Reese Black, (Perfect Praise Publishing, HC $24.99, PB 11.99, May 2020, ISBN 978-0-9915735-2-3), 262p, Ages 16+
The Starlore Legacy continues, as young Daeson Starlore (NOVA, 2019) seeks the oracle Sabella, who turned his life upside down with a strange prophesy. "Royal blood flows through your veins, but you are not who you think you are. Soon there is coming a day when the façade of your life will be discovered. You are set apart to turn sorrow into joy for many people and joy into sorrow for many more. Your struggle will be long and painful, but do not be afraid. Sovereign Ell Yon will guide you and protect you."

With thousands of Rayleans under persecution and the Chancellor seeking his death, Daeson navigates his Starcraft to the dangerous floating islands where the oracle lives, discovers that his destiny lies with two powerful Immortals, and he must choose which one to follow. With the destiny of his people hanging in the balance, find out if Daeson can conquer his deepest fears, fight for the future of his people, save the entire galaxy, and face the wrath of a powerful tyrant and the dark Lord.

Readers will enjoy this sci-fi space thriller and Biblical allegory, with its space-tech gadgets, and marvelous illustrations of Conduit Gateways, futuristic spacecraft, and the Android Robot Rivet.
Themes: Adventure, Heroes, Mysteries, Science Fiction

THE BULLETPROOF GEORGE WASHINGTON
written by David Barton, (WallBuilder Press, $6.95, 2020, 5th Printing, ISBN 978-1-932225-00-6), 78p, Ages 16+
This thrilling account of God's miraculous care over George Washington during the French and Indian War once appeared in many history textbooks, but sadly has since disappeared. George Washington was a surveyor, soldier, and leader, who was creative, intelligent, driven, disciplined, and Divinely protected. Passed down from many original and first-hand accounts of his involvement in the French and Indian War, these incredible stories of a young George Washington should be retold to the next generation and never forgotten.

From George Washington: "But by the miraculous care of Providence I have been protected beyond all human probability or expectation; for I had four bullets through my coat and two horses shot under me yet escaped unhurt, although death was leveling my companions on every side of me." From an Indian Chief speaking years later to George Washington: "a power mightier far than we shielded you. Seeing you were under the special guardianship of the Great Spirit, we immediately ceased to fire at you." From an Indian Warrior: "Washington was never born to be killed by a bullet! I had seventeen fair fires at him with my rifle, and after all could not bring him to the ground!"

Numerous maps and illustrations can be found in this updated edition a well as a Time Line of Events and Bibliography. In our culture today Americans have lost the belief that Divine Providence was in our country's DNA. In this short history of the Battle of Monongahela, George Washington knew he miraculously avoided death many times by God's protection and was always grateful for God's intervention on his behalf.
Themes: Adventure, Famous People, Nonfiction
ABOUT US
The Children's Hour was created to promote and encourage reading to children and by children. We believe that reading aloud not only creates a special bond between parents and children, but it is important to the development of their imagination and curiosity.
The Children's Hour
2779 S Church St #309
Burlington, NC 27215
626-393-5899
Conditions of Use
Privacy Policy