Welcome to the Children's Hour where reading to children and reading by children is considered a high priority to their success in life. Literacy begins by reading to children, but is developed over the years when great literature is available for their listening and reading enjoyment.

The best children's books contain imaginative stories, memorable characters, beautiful illustrations, and lyrical language. Well-written stories should contain heroes and role models to imitate. Great books should be enjoyable reads, make the world a better place, and incorporate heart, humor, hope, and a happy ending.

Be sure to sign up our monthly newsletter and receive advanced information on the best in children's literature available to read and read-aloud today.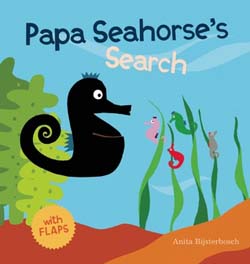 PAPA SEAHORSE'S SEARCH
written/illus. by Anita Bijsterbosch, (Clavis Publishing, $14.95, Mar. 2016, ISBN 978-1-60537-211-2), 32p, Ages 2+
Papa Seahorse has lost one of his ten babies, and readers and listeners are asked to help with the search. Papas Whale, Pufferfish, Sea Turtle, Angelfish, Sea Snake, Crab, Jelly Fish, Octopus, and Shrimp join the search, as flaps are lifted to reveal their own missing babies in this colorful search and count book. "'I think he's inside the shell,' says Papa Sea Turtle. Papa Seahorse looks inside the shell and he sees … one, two three baby sea turtles." Where is the missing Seahorse baby? In Papa's pouch, maybe? Kids will love opening the flaps and counting the missing babies.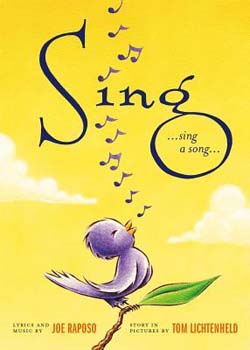 SING
written by Joe Raposo, illus. by Tom Lichtenheld, (Henry Holt Books, $8.99 Brd Bk, Mar. 2016, ISBN 978-1-62779-502-9), 32p, Ages 2-5
Those who grew up watching Sesame Street will remember the catchy, infectious, and memorable lyrics of "Sing! / Sing a song. / Sing out loud, / sing out strong. / Sing of good things, not bad. / Sing of happy, not sad." Now, another generation can enjoy the lovely words, this time accompanied by a sweet story of a sad little bird, who is the last in the nest and unable to sing and leave. When a boy comes along, sits under the nest, and begins to play his guitar, the notes drift up, lift the nest, and send the little bird soaring off singing to rejoin the other birds. The power of timeless music is always uplifting no matter what the age.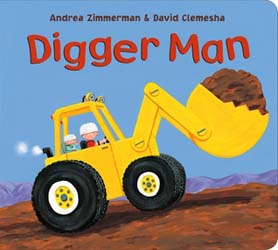 DIGGER MAN
written by Andrea Zimmerman, illus. by David Clemesha, (Henry Holt Books, $7.990 Brd Bk, Mar. 2016, ISBN 978-1-62779-444-2), 32p, Ages 2-5
This clever counting adventure in two-word phrases follows two friends through an imaginative and colorful world of predicaments. Whether disgruntled over cookie distribution ("One House / Two Mice / Three cookies."), a shipwreck ("Three Rocks / Two holes / One shipwreck."), or escaping an encounter with hungry baby birds ("Three beaks / Two snacks? / One escape."), the two friends scurry home where all is forgiven, and they enjoy delicious soup together. (Three carrots / Two onions / One Soup.") All great adventures that survive mishaps, danger, and close encounters, should end well with friendship and comfort food.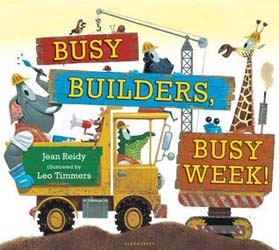 BUSY BUILDERS, BUSY WEEK
written by Jean Reidy, illus. by Leo Timmers, (Bloomsbury Publishing, $16.99, June 2016, ISBN 978-1-61963-556-2), 32p, Ages 3-6
Learning the days of the week is fun in this wonderful concept book. Each day is special as busy construction workers prepare a surprise for kids. Giraffe, gorilla, elephant, kangaroo, and tiny crew boss mouse meet to strategize and wait for the equipment to arrive. It's "Sunday! Dream day! / Study, scribble, scheme day. / Map, measure, plan a treasure. / Gather up a team day!" Monday is dig and dump day. Tuesday is mix, stack, and pour day. Wednesday is load, hoist, and haul day. Thursday is build, drill, rake, and spread day. Friday is sand, scrub, and paint day, and Saturday is the day that kids will love the marvelous results of hard work, as well as delightful details along the way.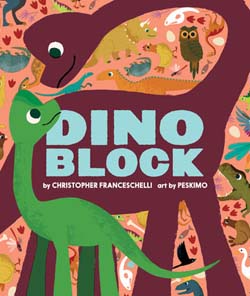 DINOBLOCK
written by Christopher Franceschelli, illus. by Peskimo, (Harry N. Abrams, $16.95, June 2015, ISBN 978-1-4197-1674-4), 96p, Ages 2-5
Little dinosaur lovers will enjoy this chunky board book featuring 23 dinosaurs. Each page is cut into the shape of a specific dinosaur, and compares it to something a child will recognize, ("I have a back like tents on a hill …, and when the page is turned, the dinosaur is revealed, ("I am a Stegosaurus.") A phonetic spelling is included to help with the pronunciation. Many of the dinosaurs are less common, and some pronunciations may prove challenging for adults (Micropachycephalosaurus), but this sturdy little board book is loaded with fun for all.
GATOR DAD
written/illus. by Brian Lies, (Houghton Mifflin, Harcourt, $17.99, May 2016, ISBN 978-0-544-53433-9), 32p, Ages 4-7
A fun-loving and playful alligator dad decides to "squeeze the day" and takes his three children on an adventure. After feeding them a breakfast of pan-fried fishtails, they run errands with dad and then onto the park for exhausting fun. "I'll be your raft on a sea of grass, / a tree for you to climb. / I might even agree to do something / that maybe we shouldn't have done." Wet from falling in the pond, they splash home, dry off, build a fort from couch cushions, and play dress up. Dad supervises bath time, comforts them with hugs during storm, reads one last book, and tells them that there is more "squeezing" tomorrow. Full of warmth, humor, heart, and a happy ending, this is what makes a fun book for any age.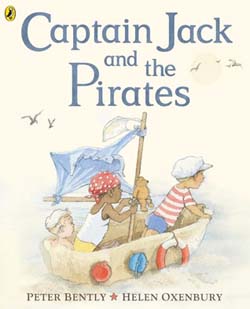 CAPTAIN JACK AND THE PIRATES
written by Peter Bently, illus. by Helen Oxenbury, (Dial Books, $17.99, March 2016, ISBN 978-0-525-42950-0), 32p, Ages 3-6
The three young characters from King Jack and the Dragon (Dial, 2011) return for a pirate adventure at the beach. Jack, Zack, and Caspar (with pacifier and teddy) build a ship in the sand. "A stick for the mainmast and one for the yard … / Tying the two sticks together was hard. / A shirt and a bib, an inflatable ring … / For cannons, three buckets were just the right thing." With an "Anchors aweigh!" Jack and his buccaneers sail after a pirate ship, experience stormy seas (the tide comes in on the beach), abandon ship, explore their island, search for the pirate's treasure, and discover ice cream and cupcakes that the pirates (parents) decide to share. Kids will delight in the details on each page, identify with the characters, and fall in love with this fanciful voyage on the high seas.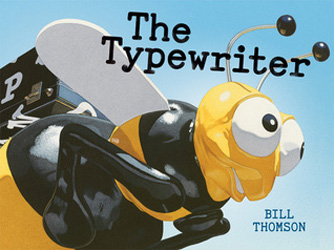 THE TYPEWRITER
written/illus. by Bill Thomson, (Two Lions, $17.99, March 2016, ISBN 978-1-477-84975-0), 40p, Ages 4-7
Three friends on their bikes follow a butterfly down the road to an abandoned carousel, where they discover a black box covered in white letters atop a merry-go-round bumblebee. Opening the box, they find an old manual typewriter labeled "Spelling Bee." Retrieving paper from a backpack, they type the word "Beach" and instantly find themselves on a beach. Typing the words "Ball" and "Ice Cream" result in a fun and delicious time, until the word "Crab" is entered into the machine, and a monster crustacean comes forth. Kids will love this intriguing and imaginative wordless tale loaded with curiosity, surprises, awe, and clever solutions.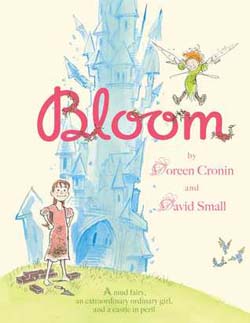 BLOOM
written by Doreen Cronin, illus. by David Small, (Atheneum Books, $17.99, Feb. 2016, ISBN 978-1-4424-0620-9), 40p, Ages 4-8
"Once upon a time, in a beautiful glass kingdom, there lived an unusual fairy named Bloom. Her boots were caked with mud. There was dirt between her teeth. Beetles rested in her wings. Bloom's magic could spin sand into glass, turn weeds into blossoms, and grow a trickle of rainwater into a racing river." However the Kingdom is tired of her leaving mud and dirt wherever she goes, and they cast her out. When the Kingdom begins to crack, the royals become anxious and search for the fairy, but fail in their quest. Desperate to locate Bloom, they send a tiny, ordinary, servant girl, Genevieve, to find the magic fairy. Genevieve finds Bloom, who teaches her the power of self-confidence. Becoming a little messy in the process, Genevieve discovers the solution for saving the Kingdom, and realizes that she will never be an ordinary girl again.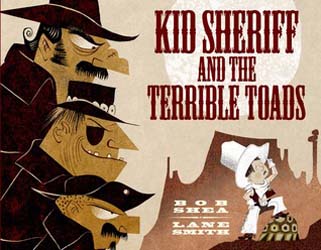 KID SHERIFF AND THE TERRIBLE TOADS
written by Bob Shea, illus. by Lane Smith, (Roaring Brook Press, $17.99, Oct. 2014, ISBN 978-1-59643-975-7), 32p, Ages 4-8
Mayor McMuffin of Drywater Gulch has a toad problem. Not the four-legged kind, but the three lawless Toad brothers, who "would steal your gold, kiss your cattle, and insult your chili. Hootin', hollarin', and cussin' all the while." When a young dinosaur expert rides into town slowly on his tortoise, he claims to be qualified as sheriff, has an unusual knowledge of paleontology, and attributes the robberies to Velociraptors and Triceratops. Annoyed at not getting credit for the robberies, the three criminals stomp into the jail. "HA! You can blow them dinersores out your nose, Sheriff, this here jail is full up of real bonafide criminals!" With the crime wave solved and the robbers locked up, Sheriff Ryan rides out of town, over the next three days, on his trusty tortoise. The Wild West may never be the same again!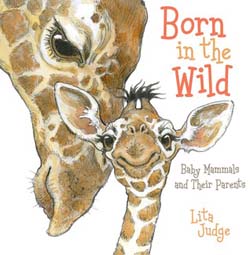 BORN IN THE WILD: Baby Mammals and Their Parents
written/illus. by Lita Judge, (Roaring Brook Press, $18.99, Oct. 2014, ISBN 978-1-59643-925-2), 48p, Ages 5-8
Publishers Synopsis: What do grizzly bear cubs eat? Where do baby raccoons sleep? And how does a baby otter learn to swim? Every baby mammal, from a tiny harvest mouse "pinky" to a fierce lion cub, needs food, shelter, love, and a family. Filled with illustrations of some of the most adorable babies in the animal kingdom, this awww-inspiring book looks at the traits that all baby mammals share and proves that, even though they're born in the wild, they're not so very different from us, after all.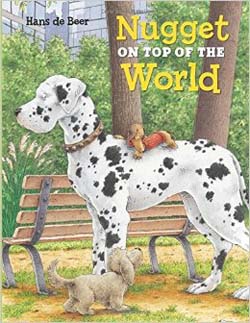 NUGGET ON TOP OF THE WORLD
written/illus. by Hans de Beer, (NorthSouth Books, $17.95, Dec. 2015, ISBN 978-0-7358-4242-7), 32p, Ages 4-8
"In the big city there lived a little dachshund whose name was Nugget. Nugget had nice owners and a soft bed There was just one problem—a BIG problem. Nugget thought he was far too small." Deciding to expand his world view, Nugget ventures out into the city, but friends remind him to return before dark. His travels take him to the top of a bridge with a marvelous view of the city, and he discovers another perspective on size. As night descends, Nugget finds his way home with the help of a friendly cat, and decides that there is no place like home. The problem of being small is solved, when he decides that there is still time to grow up.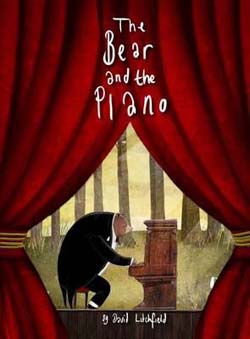 THE BEAR AND THE PIANO
written/illus. by David Litchfield, (Clarion Books, $16.99, Apr. 2016, ISBN 978-0-544-67454-7), 40p, Ages 4-7
One day in the forest a young bear discovers a piano and begins to play. After years of practice he and his friends come to love his piano and the beautiful music. Encouraged to leave the forest and his friends, the bear moves to the city, where he becomes a sensation to sell-out crowds. Realizing that fame can be a lonely place and missing his forest friends, he returns home. Thinking that his friends may be angry with him for leaving, he discovers that they have been protecting the piano and were eagerly awaiting his return. This sweet and engaging story will help readers and listeners understand the power of friendship versus the pursuit of happiness and the price of success.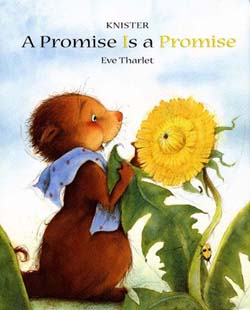 A PROMISE IS A PROMISE
written by Knister, translated by Kathryn Bishop, illus. by Eve Tharlet, (minedition, 2006/2016), 32p, Ages 4-7
In a sweet story of trust and friendship, a young marmot awakes after a long winter to discover a beautiful dandelion. Over the summer, their friendship grows. They laugh together, play together, and dance together. "… and when it was time to sleep Bruno looked after her." One day the dandelion asks Bruno for a promise (to blow on her), and she assures him that all will be fine. Bruno fulfills the promise, but is heartbroken when he realizes that his friend is gone. Upon awakening the next spring, he discovers hundreds of new dandelions and just as many new friends.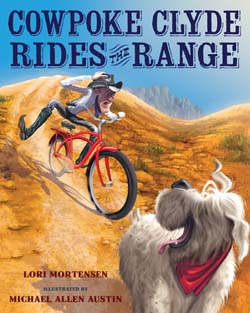 COWPOKE CLYDE RIDES THE RANGE
written by Lori Mortensen, illus. by Michael Allen Austin, (Clarion Books, May 2016, ISBN 978-0-544-37030-2), 32p, Ages 4-8
The lanky cowboy from Cowpoke Clyde and Dirty Dawg, (Clarion, 2013), is in the saddle again, only this time it's on a shiny, red bicycle from a mail-order catalog. Confident that riding is a "piece of cake," Clyde takes off followed by his trusty Old English sheepdog, narrowly missing a "horny toad," a horrified hare, a prickly porcupine, and bug-eyed bighorn sheep. "'Look out!' cried Clyde. 'I'm comin' through!' / If only he knew what to do. / Brakin'? Steerin'? How'd it work? / Ridin' bikes was plumb berserk!" Disgusted and about to give up, Clyde remembers that cowboys aren't quitters, gets back on the bike, and discovers that he can ride like a pro (with a little help from dawg). The facial expressions in this cowboy adventure are worth the read.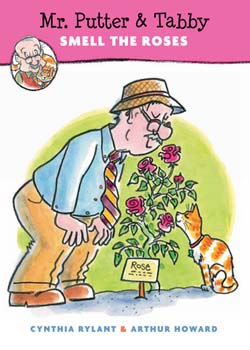 MR. PUTTER & TABBY SMELL THE ROSES
written by Cynthia Rylant, illus. by Arthur Howard, (Houghton Mifflin Harcourt, $14.99, Sept. 2015, ISBN 978-0-15-206081-7), 40p, Ages 7-10
The 24th book in the Mr. Putter & Tabby series finds Mr. Putter taking his neighbor Mrs. Teaberry to the Conservatory for her birthday. Along with his cat, Tabby, and Mrs. Teaberry's dog, Zeke, they thoroughly enjoy the beautiful trees, flowers, and plants, until Zeke finds the banana tree. "So he jumped up and grabbed a bunch which made the guard blow his whistle, which made Tabby jump into a lemon tree, which made lemons hit everybody on the head, which made the Conservatory not so heavenly." Wearing leaves on her head and fruit in her lap, Mrs. Teaberry enjoys the ride home via a stop at the ice cream parlor to celebrate, where Zeke behaves himself even around fifteen balloons. Endearing and funny, this new adventure will be enjoyed by all who love the series about friendships and pets.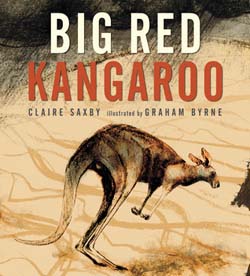 BIG RED KANGAROO
written by Claire Saxby, illus. by Graham Byrne, (Candlewick Press, $16.99, Jan. 2015, ISBN 978-0-7636-7075-7), 32p, Ages 5-8
Publishers Synopsis: In the center of Australia, far inland, the sun is setting over the baked earth, and Red Kangaroo stirs from his rest. It's breakfast time, and Red must lead his mob of kangaroos to find grasses for grazing. But Red is also on the watch for young male kangaroos who are ready to challenge him and try to take his place as leader. Striking illustrations set the mood for a compelling, fact-filled story of red kangaroos in the wilds of Australia.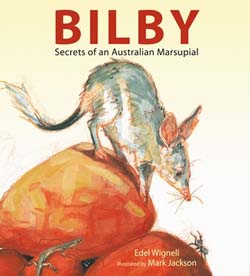 BILBY: Secrets of an Australian Marsupial
written by Edel Wignell, illus. by Mark Jackson, (Candlewick Press, $16.99, Jan. 2015, ISBN 978-0-7636-6759-7), 32p, Ages 5-9
Publishers Synopsis: You've heard of a kangaroo and of a koala, but have you ever heard of a bilby? Uncover the secrets of this endangered Australian marsupial, with its silky fur, long ears, and bright eyes. Bilby and her baby live in the hostile Australian desert, but nestled in their burrow deep underground, they know how to survive in this harsh environment. Follow the mother bilby and her baby as he grows up and learns to explore the world around him!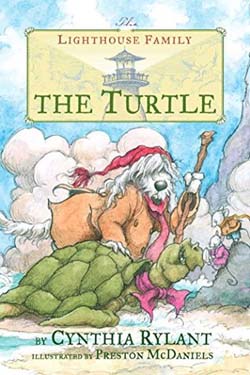 THE LIGHTHOUSE FAMILY: The Turtle
written by Cynthia Rylant, illus. by Preston McDaniels, (Beach Lane Books, $15.99, Mar. 2005/2015, ISBN 978-0-689-86244-I), 48p, Ages 6-10
This 4th installment in the Lighthouse Family series finds a 100-year-old sea turtle, Aurora, washed up on the rocks below the lighthouse. When she tries to return home from watching the northern lights of the Aurora borealis, she is blown off course by a gale and rescued by Seabold, the orphaned mice, Whistler, Lila, and Tiny, and Pandora, who provides Aurora with warmth and food. "As the children carefully encircled Aurora's shell with the toasty stones, Pandora pulled from her pockets hot acorn muffins wrapped in warm towels and a jar of canned beets." When Pandora remembers that the migrating pelicans owe her a favor, she enlists their help. As the family watches, Aurora departs in a rope sling beneath six strong pelicans. Kids will love this warm, loving, blended family and their care for others in need. The final image is a memorable one for children.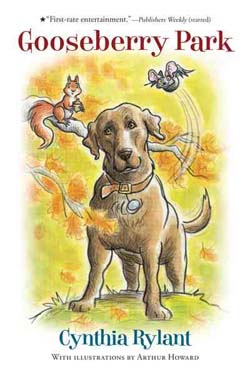 GOOSEBERRY PARK
written by Cynthia Rylant, illus. by Arthur Howard, (Harcourt Brace & Co., $15.00, Oct. 1995, ISBN 0-15-232242-6), 144p, Ages 7-10
Kona, a brave Chocolate Lab, Stumpy, a caring mother squirrel, Murray, a Oreo-loving bat, and Gwendolyn, the wise hermit crab work together to save Stumpy's babies, when an ice storm destroys their pine oak home. Devising a plan to reunite Stumpy with her children, Top, Bottom, and Sparrow, the animals concoct a scheme involving a glow-in-the-dark watch, a "sharp little nose twitching" weasel, and five egg rolls. Kids will love this fun-filled tale about courage, family, friendship, and loyalty.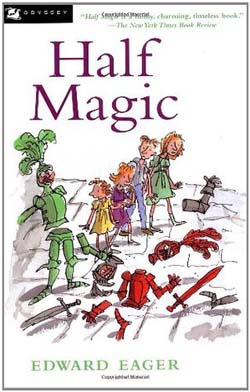 HALF MAGIC
written by Edward Eager, illus. by N. M. Bodecker, (Harcourt Children's Books, 1954, 2004, May 2016 PB), 240p, Ages 8+
One summer four children's lives are suddenly changed when the oldest finds what she thinks is a nickel on the sidewalk. They discover that the mysterious coin grants half wishes, so they learn to wish for twice as much. Of course, there are complications, when some doubled wishes cause strange happenings (What is half of a twice talking cat?) The magic and humor of this classic is sure to delight each new generation of children.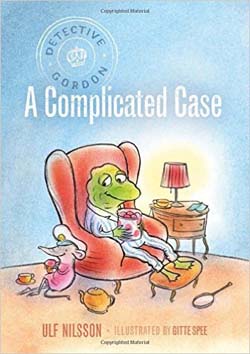 DETECTIVE GORDON: A Complicated Case
written by Ulf Nilsson, illus. by Gitte Spee, (Gecko Press, $16.99, Mar. 2016, ISBN 978-1-7765-7059-1), 96p, Ages 7-10
This second case in the Detective Gordon series finds the pudgy, cake-loving toad, and his assistant, Buffy, searching the forest for a reason why the animals are "sad and serious." They investigate, interview several witnesses, and discover that someone is intentionally and cruelly teasing the gentle animals. Through careful detective work and their Book of Law, which lists forbidden activities and provides positive solutions, ("Everyone should always be able to play with everybody."), bullies are exposed, severe penalties are assigned, and several young ones are added to the Kindergarten walking group. Buffy, who has learned to read, is elevated to Chief of Police, and Gordon takes a well-deserved vacation. Translated from the original Swedish, Nilsson's comfortable, gentle, and charming world of endearing characters, friendship, and kindness should be included in all book collections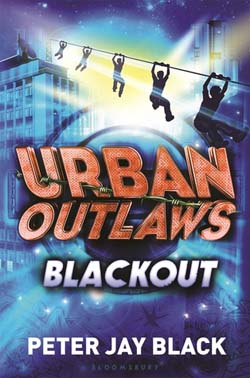 BLACKOUT (Urban Outlaws)
written by Peter Jay Black, (Bloomsbury, $16.99, June 2015, ISBN 978-1-61963-592-0), 304p, Ages 10-14
Jack, Charlie, Slink, Obi, and Wren, five extraordinary kids, continue their mission to stop and contain the world's most destructive computer virus. When they meet Hector, a talented hacker with skills on par with Jack's, he is accepted into the group by everyone but Jack. With time at a premium, the Urban Outlaws outwit an evil corporation, the government, and a traitor from accessing and using the virus. High-speed chases, clever gadgets, challenging solutions, loyal friendships, and cutting-edge adventure make this second installment a keeper.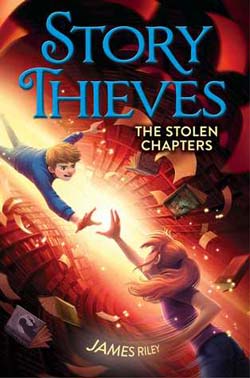 THE STOLEN CHAPTERS (Story Thieves)
written by James Riley, (Aladdin Books, $16.99, Jan. 2016, ISBN 978-1-4814-0922-3), 368p, Ages 10-13
In this second installment of the Story Thieves series, most of the first nine pages are blacked out, representing Owen and Kiel Gnomenfoot's lost memories. In chapter 10, the two friends are informed by masked Doyle Holmes (descendent of Sherlock Holmes) that pal Bethany has only two hours to live. Surviving a library explosion, they cope with Kiel's lost powers, avoid police capture, experience memory flashbacks, and try to save Bethany, who is hiding secrets from them. Fans of Story Thieves will love the rescues, flashbacks, cliffhangers, and plot switches. Readers are advised to keep the previous volume handy for reference purposes.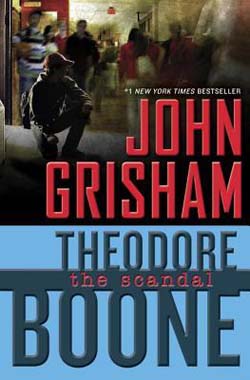 THEODORE BOONE: The Scandal
written by John Grisham, (Dutton Children's Books, $l7.99, May 2016, ISBN 978-0-525-42639-4), 224p, Ages 10-13
Thirteen-year-old Theodore Boone belongs to a family of attorneys, and is fortunate to know every judge, police officer, and court clerk in Strattenburg. This sixth book in the series finds Theodore dealing with the detested eighth grade state testing exams. Missing the top 10% of his grade level by one point, he is unable to take AP classes in high school the following year. When he learns that scores in another middle school were altered by teachers, Theodore becomes involved in the cheating scandal after his mother represents one of the teachers as a client. With his insider knowledge and his instinct to help, Theodore jumps in to fight against the nightmare of the state mandated standardized testing.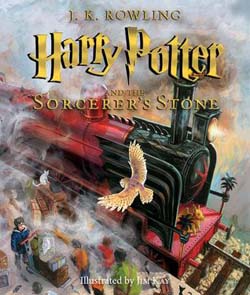 HARRY POTTER AND THE SORCERER'S STONE
written by J. K. Rowling, illus. by Jim Kay, (Arthur A. Levine Books, Scholastic Press, $39.99, Oct. 2015, ISBN 978-0-545-79035-2), 256p, Ages 11+
After years of neglect and abuse by an aunt and uncle, young Harry Potter is rescued from his dismal life on his 11th birthday, when an invitation to attend a famous wizard school arrives via a message-carrying owl. Greeted by Hogwarts' lovable gamekeeper, Hagrid, Harry finds friendship and adventure with fellow students, Hermione Granger and Ron Weasly. Together they attempt to solve a mystery surrounding the legendary Sorcerer's Stone, the dastardly evil Voldemort, and the lightning-shaped scar on Harry's forehead. Kids will love the imaginative details from wand waving, broomstick riding, chocolate frogs, and oddly flavored jelly beans, to unicorns, mid-air Quidditch games, and dragon eggs. Originally published in 1998, this impressive illustrated edition contains over 100 stunning images and features the unabridged text from the original British edition.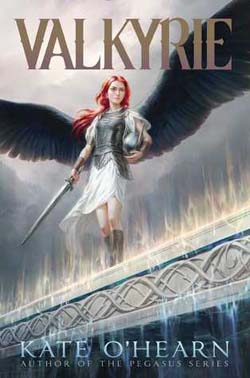 VALKYRIE
written by Kate O'Hearn, (Aladdin Books, $17.99. Jan. 2016, ISBN 978-1-4814-4737-9), 352p, Ages 12-15
Freya is a Valkyrie, one of the beautiful winged women in Norse mythology, who on her First Day Ceremony must bring the soul of a brave warrior from Earth's battlefields to Asgard, the land of the Norse Gods, where they are treated as heroes. Disgusted by war and dissatisfied with humanity, Freya is reluctant to reap souls, but brings back Tyrone, a soldier, who is concerned about leaving his endangered family back in Chicago. Assuring him that she will visit his family in the mortal world and ensure their safety, Freya finds friendship, allies, and purpose to her life there. Soon she becomes the center of a battle between the forces of Asgard (Odin, Thor, and Loki) and the humans that she has come to love. Kids will enjoy this intriguing heroine with her talkative raven and winged horse, her desire to rescue humans from gangs, and help families survive in modern day Chicago.
ABOUT US
The Children's Hour was created to promote and encourage reading to children and by children. We believe that reading aloud not only creates a special bond between parents and children, but it is important to the development of their imagination and curiosity.
The Children's Hour
150 N. Santa Anita Ave.,
Suite 300
Arcadia, CA 91006
626-791-4848
Conditions of Use
Privacy Policy