Welcome to the Children's Hour where reading to children and reading by children is considered a high priority to their success in life. Literacy begins by reading to children, but is developed over the years when great literature is available for their listening and reading enjoyment.

The best children's books contain imaginative stories, memorable characters, beautiful illustrations, and lyrical language. Well-written stories should contain heroes and role models to imitate. Great books should be enjoyable reads, make the world a better place, and incorporate heart, humor, and hope.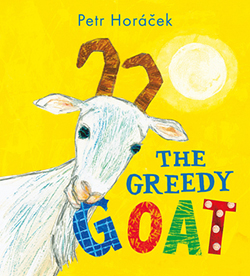 THE GREEDY GOAT
written/illus by Petr Horácek, (Candlewick Press, May 2018, $15.99, ISBN 978-0-7636-9497-5), 32p, Ages 2-5
"One Saturday morning, Goat decided that she was tired of eating herbs and grass. She wanted to try something new," The dog's food made a delicious breakfast, and the cat's milk washed it down. Lunch consisted of the pig's potato peelings and a potted flower, followed by tasty shoe. That night Goat ate the farmer's polka dotted underwear for dinner. Suddenly feeling queasy, Goat began to turn from white to red, blue, yellow, and green. After a week of recovery, does she return to her previous diet of grass and herbs, or has her appetite changed forever? Find out in this silly, cautionary tale of over-eating. Kids will love the amusing and colorful illustrations and ask for more readings.
Themes: Animals, Concept Humor, Food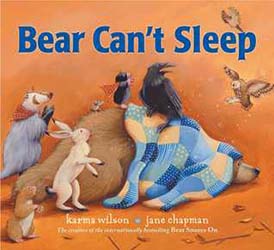 BEAR CAN'T SLEEP
written by Karma Wilson, illus. by Jane Chapman, (Margaret K. McElderry Books, Oct. 2018, ISBN 978-1-4814-5973-0), 40p, Ages 3-6 yrs
"In his home in the forest, / while the cold wind blows, / Bear snuggles in his quilt / from his nose to his toes." But what's a bear to do when he can't sleep through the winter? His friend Mouse stops by to brew some mint tea, Hare fixes some warm milk, Badger, Gopher, Mole, Wren, Owl, and Raven arrive and sing him a lullaby. Nothing helps, until Bear decides to tell them a new story, a Once Upon a Time Tale, and everyone settles down to listen to a tale about Strawberry Vale. "But just before the end … / there comes a rumbling snore." Looks like Bear's friends will have to wait until spring to hear the end of the story. As always, Jane Chapman's illustrations are perfect for this wonderful bedtime story.
Themes: Bears, Friendship, Rhythm & Rhyme, Series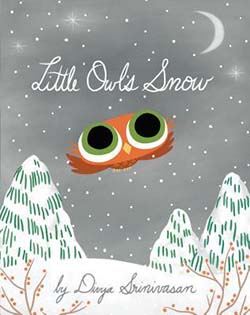 LITTLE OWL'S SNOW
written/illus. by Divya Srinivasan, (Viking Books, Dec. 2018, $17.00, ISBN 978-0-670-01651-8), 40p, Ages 3-5
"A chill cut through the forest. Little Owl fluffed his feathers. 'Something is happening!' he thought." As the leaves change colors and drop, geese fly to warmer climates, and friends gather food and retreat into winter hiding places, Little Owl and his friend Raccoon discover the magic of winter and the wonder of a first snowfall. They find deer, fox, and skunk tracks in the snow and watch as fish swim underneath a frozen pond. When he begins to miss his hibernating friends, Bear and Hedgehog, Mama tells him that he will see them soon enough, but in the meantime he should enjoy the pleasures of snow—and that he does! Divya Srinivasan's illustrations are a fetching introduction to the changing of the seasons.
Themes: Adventure, Animals, Friendship, Seasons, Series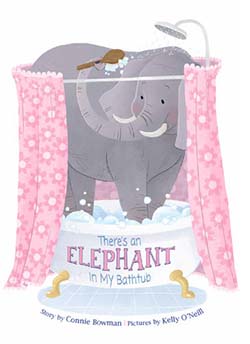 THERE'S AN ELEPHANT IN MY BATHTUB
written by Connie Bowman, illus. by Kelly O'Neill, (Belle Isle Books, 2019, HC $22.95, ISBN 978-1947860254, PB $14.95 ISBN 978-1947860261), 40p, Ages 4-7
At bedtime a father tells a story to his young son of his encounter with a menagerie of wild animals in their house that day. "This morning I was rather shocked to find an elephant in my bathtub. Thinking quickly, I said to him in a gentle voice, 'Come on, love. It's time to go now.' He didn't make a trumpet sound with his mighty trunk. He didn't charge at all." As the day progresses, dad discovers a shy gorilla in the kitchen, a camel in the study, a slithering cobra in the bedroom, a cereal-eating bear in the pantry, a napping lion in the living room, and a rhinoceros in the laundry room washing clothes. With an "Off we go now, love," a "This way, darling," and a "Come along, dearie," the animals happily follow dad to the boy's bedroom, where the stuffed animals cheerfully await the young master's return from school. With delightful imagination, Connie Bowman weaves a charming story that will have children begging for more tales surrounding their favorite stuffies.
Themes: Adventure, Animals, Families, Toys
GOT TO GET TO BEAR'S!
written/illus. by Brian Lies, (Houghton Mifflin Harcourt, $17.99.Oct. 2018, ISBN 978-0-544-94882-2), 32p, Ages 4-7
As snow begins to fall in the forest, Izzy, the chipmunk, receives a letter from her friend Bear requesting her immediate presence. Since the letter sounds urgent and serious, Izzy rushes out the door, but soon becomes buried in snow from a blizzard. One by one her friends, Scritch, the squirrel, Bingle, the duck, and Snaffie, the raccoon, offer to pitch in and help. With sheer determination they make it to Bear's house where Izzy finds a surprise that the animals will remember for a lifetime. The next morning Bear helps everyone home as they sing, "No matter how steep or tough the climb, a friend is worth it every time." The whole family should enjoy this sweet message of friendship and generosity.
Themes: Adventure, Animals, Bears, Friendship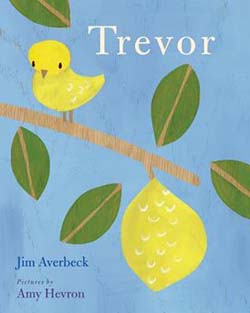 TREVOR
written by Jim Averbeck, illus. by Amy Hevron, (Roaring Brook Press, $17.99, July 2018, ISBN 978-1-250-14828-5), 32p, Ages 4-6
"Trevor stretched his wings the width of his safe, boring cage. Just a tiny peck and the door would pop open, but Trevor stayed—for the seeds." When he sees a little yellow lemon dangling from a branch outside his window, he thinks it is another plump canary, and asks it to sing. Receiving no reply, Trevor thinks the canary is shy, and shares one of his seeds with it. Day after day the one-sided friendship blossoms, and Trevor interprets the silence as friendship. Through summer rains and sunny days, Trevor sits in his new nest with his friend, until a storm knocks the lemon onto a sunflower, shattering seeds over the ground. Find out how Trevor finds new friends, who also love sunflower seeds, and the yellow lemon finds another new friend. Children, who take comfort in blankets or stuffed animals, will understand that love, support, and encouragement come in all forms.
Themes: Animals, Humor, Friendship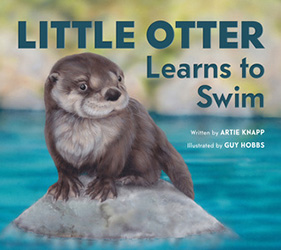 LITTLE OTTER LEARNS TO SWIM
written by Artie Knapp, illus. by Guy Hobbs, (Ohio University Press, $15.95, Sept. 2018, ISBN 978-0-8214-2340-0)32p, Ages 4-8
On the day of her first swimming lesson, a little North American River Otter is extremely nervous. "Little Otter started to quiver. / She was scared of the mighty river. / It was the first time away from her den, / But Mother Otter told her to jump in!" After a few splashes, excitement begins as Mother Otter patiently teaches about swimming underwater, floating, diving off logs, sneaking up on frogs, and staying safe around their river home. Setting out to explore on her own one day, Little Otter encounters a young hissing bobcat, a hungry adult eagle, and several woodland creatures, but soon realizes that the river and Mom are the safest places away from predators. Endpapers feature information on North American Otters, The River Otter Ecology Project, and saving watersheds. Children will enjoy this simple and gentle story surrounding the world of a little North American River Otter.
Themes: Adventure, Animals, Nature, Rhythm & Rhyme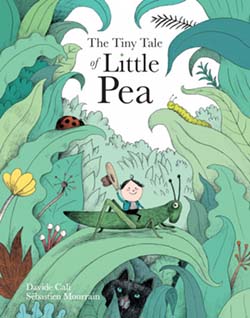 THE TINY TALE OF LITTLE PEA
written by David Cali, illus. by Sébastien Mourrain, (Kids Can Press, $17.99, Sept. 2017, ISBN 978-1-77138-843-6), 36p, Ages 4-7
"When he was born, Little Pea was tiny. Teeny-tiny." With a cereal bowl for a bathtub, a matchbox for a bed, and a wind-up car for transportation, Little Pea's miniature world is full of wonderful adventures with tomato plants, grasshoppers, lady bugs, and lily pads, until he begins school and realizes just how tiny he is. Too small for chairs, or playing instruments, even gym class, Little Pea turns to drawing. Discover how this little guy finds his place in the world, builds a cozy little house, and settles into the perfect job involving postage stamps. Kids will love Little Pea's perseverance, creativity, and ingenuity in overcoming obstacles along with lessons of self-confidence, regardless of appearance or size.
Themes: Concept, Families, Heroes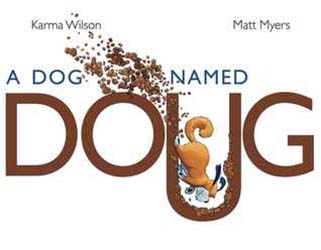 A DOG NAMED DOUG
written by Karma Wilson, illus. by Matt Myers, (Margaret K. McElderry Books, $17.99, June 2018, ISBN 978-1-4424-4931-2), 40p, Ages 4-8
Take one lovable, curious, adventurous, persistent canine, a lot of dirt, and an obsession to dig, and what do you get? Of course, ditches the size of tractors, tunnels through gold mines, a visit to the White House, and on to England, Africa, and China. "He dug to the North, he dug to the South. / There was grit in his eyes and sand in his mouth, / but Doug kept scratching and scratching on, / till his head popped up on the White House lawn." Illustrations cleverly depict various letters as mounds of dirt, gigantic holes, horizontal tunnels, and arrows. Kids will love this fantastic little digger with a nose for adventure and action-packed paws.
Themes: Adventure, Animals, Humor, Pets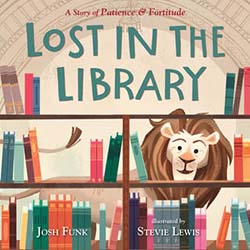 LOST IN THE LIBRARY: A Story of Patience & Fortitude
written by Josh Funk, illus. by Stevie Lewis, (Henry Holt & Co., $17.99, Aug 2018, ISBN 978-1-250-15501-6), 40p, Ages 5-7
Patience and Fortitude are two lion statues that guard the entrance to the New York Public Library. One morning just before dawn, Fortitude awakes to find Patience missing. Since they must be in place before the sun rises, steadfast Fortitude abandons his post to search for curious Patience through the library's labyrinth of halls and rooms, past statues, gossiping portraits, the Astor Hall, and the Rose Main Reading Room. Along the way, he remembers the wonderful stories Patience would share with him. "Patience told stories of ducklings and moons, / Of wardrobes and buttons and fun. / On cold snowy evening or hot afternoons, / Fortitude cherished each one." Sure enough, he finds Patience in the Children's Center pouring over children's books, but will they make it back to the main entrance before the sun rises? Children will enjoy sneaking through this famous library with Fortitude on a quest to find his best friend. Endpapers contain information on Patience, Fortitude, famous rooms featured in the story, paintings of historical figures, the map division, and the Children's Center.
Themes: Adventure, Animals, Friendship, Humor, Rhythm & Rhyme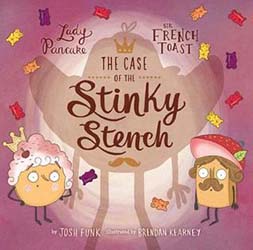 THE CASE OF THE STINKY STENCH
written by Josh Funk, illus. by Brendan Kearney, (Sterling Children's Books, 2017, $16.95, ISBN 978-1-4549-1960-5), 40p, Ages 5-8
"'Uncle,' Croissant said, 'the fridge is in trouble! / A horrible stench turned a whole shelf to rubble! / I'm the last hope, or the fridge will be lost! / Help me, or else we'll be cooked, served, and sauced." From Lady Pancake and Sir French Toast (Sterling, 2015), the favorite food friends return to assist Uncle Croissant in solving a smelly order in the refrigerator. Following clues, they cross the Salsa Ravine, circle Mount Everbean, creep through Onion Ring Cave, and stumble across Applesauce River to Corn Chowder Lake to mistakenly confront a red herring. Could it be Baron Von Waffle again? When the culprit is revealed in Casserole Cliff, adults will have a good laugh, and kids will feel sorry for him. With the help of his fruit and vegetable friends he showers, shaves, and soon is good as new. Endpapers feature a fold-out page revealing an adventurous refrigerator with Spuddy Holly and the Croquettes providing entertainment.
Themes: Adventure, Food, Friendship, Humor, Mysteries, Rhythm & Rhyme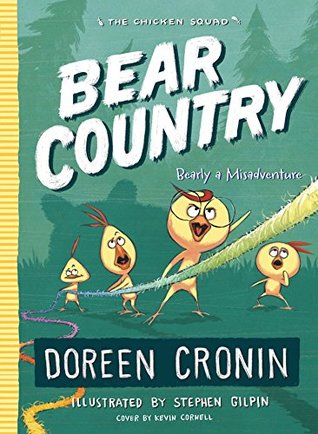 THE CHICKEN SQUAD #6: BEAR COUNTRY: Bearly a Misadventure
written by Doreen Cronin, illus. by Stephen Gilpin, (Atheneum Books for Young Readers, August 2018, ISBN 978-1-5344-0574-1), 112p, Ages 7-10
In this sixth adventure of The Chicken Squad, there's a headless bear on the loose and their beloved caretaker, Barbara is missing. So believe Dirt, Sugar, Poppy, and Sweetie when Barbara doesn't feed them one morning. On a mission to save her, they gather clues from Zippy, the hamster, Dangerous Danny Finnegan, the guinea pig, Hammer, the resident mouse, Nancy Lee, the local mail carrier, Knuckles, the cat, male honeybees, and a few noisy birds. Gathering clues and ignoring important instructions from a flyer, they head for the city with Sugar shouting, "It's our turn to save everyone from the headless bears! We are the town's only hope, and we won't let them down. Hang on, everyone. We're going in!"
Themes: Adventure, Animals, Chapter Books, Families, Humor, Mysteries, Series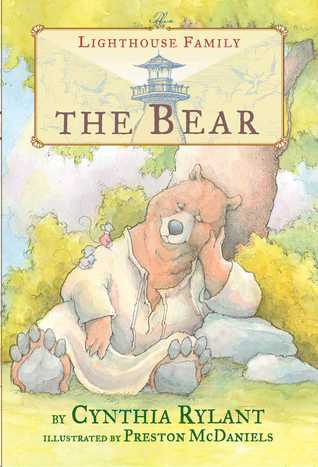 THE LIGHTHOUSE FAMILY #8: The Bear
written by Cynthia Rylant, illus. by Preston McDaniels, (Beach Lane Books, Mar. 2018, $15.99, ISBN 978-1-4814-6028-6), 48p, Ages 7-10
This eighth book in the Lighthouse Family series finds the mice children, Whistler and Lila, enduring a long winter at the Lighthouse. When spring arrives early, they are overjoyed and anxious to explore the forest, and on their first adventure, they discover a huge tree. "A deep dark hole had been made by the large roots of the tree, and from this hole a wisp of vapor was rising." When the children believe that a bear may be hibernating in the tree, they leave small presents and a note inviting him to breakfast when he wakes up. Thomas soon awakens, takes them up on their offer of breakfast, and consumes thirty-four pancakes. On a tour of their garden, Thomas spies a hammock and promptly returns to sleep for forty-three more days. Kids will love this sweet bear, his love of pancakes, a new home beneath a waterfall, and the gift of music he gives the family. "The lovely sound of music could be heard coming from the lighthouse on the cliff. The notes floated out and across the sea. And, sometimes, a humpback whale who loved to sing even answered."
Themes: Adventure, Animals, Families, Friendship, Heroes, Series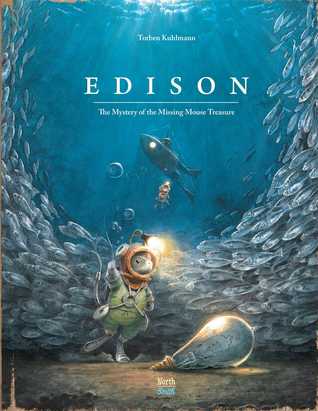 EDISON: The Mystery of the Missing Mouse Treasure
written/illus. by Torben Kuhlmann, translated by David Henry Wilson, (North South Books, $19.95, Oct. 2018, ISBN 978-0-7358-4322-6), 112p, Ages 8-11
The adventures from Torben Kuhlmann's Lindbergh: The Tale of a Flying Mouse (2014) and Armstrong: The Adventurous Journey of a Mouse to the Moon (2016) continue in the newest tale of underwater exploration. A young mouse brings an old letter to a professor at the University of Mice and explains that, "Many years ago, one of my ancestors sailed across the Atlantic. And he took a large treasure with him." Thus Pete and the Professor begin a search for clues in newspaper clippings and discover that the transatlantic liner, carrying Pete's ancestor, sank. It doesn't take long to locate the wreck. Now begins the arduous and sometimes dangerous task of experimenting with trial and error to build a submarine. The day finally arrives when they and their submarine stowaway in a shipping container on a cargo ship and make the journey across the Atlantic to dive for the sunken ship and treasure. Their amazing underwater adventure becomes unforgettable as they discover secrets beyond their wildest imaginations. Could it be that young Pete's ancestor survived the sinking and went on to help a famous human inventor? Kids will pour over the illustrations, especially antique-like drawings of the various underwater inventions.
Themes: Adventure, Animals, Fantasy, Heroes, Inventions, Series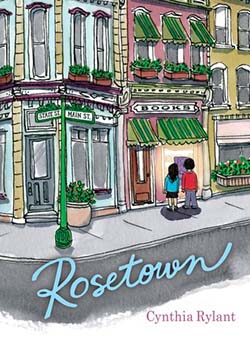 ROSETOWN
written by Cynthia Rylant, (Beach Lane Books, $16.99, May 2018, ISBN 978-1-5344-1277-4), 160p, Ages 9-11
The year is1972 in the small community of Rosetown, Indiana, where nine-year old Flora Smallwood has just begun fourth grade, discovers the wonders of friendships, and wrestles with the twists and turns of life during the Vietnam War era. Flora loves the slow pace of Rosetown, where her mother works part-time at the Wing and a Chair vintage bookstore and her father is a newspaper reporter. Although her parents are newly separated and her dearly beloved dog recently died, Flora finds comfort with a friend, Nessy, as they begin piano lessons at the Three Part Harmony music store. She also finds enjoyment helping a new friend, Yuri, train his new puppy, spending hours after school in the bookstore reading, adopting a stray cat she names Serenity, and submitting stories to the new Cricket magazine, suggested by her teacher. Through happy and sad times, Flora's family and friends support each other and work together to overcome obstacles. Family surprises are in store for Flora, along with an 1890 letterpress, a paper and printing shop, and stained glass windows on the second floor. Master storyteller, Cynthia Rylant weaves a beautiful and reassuring story that stresses the importance of home, family, friends, and the finer things in life. This is indeed fiction at its finest and begs to be read aloud.
Themes: Families, Friendship, Historical Fiction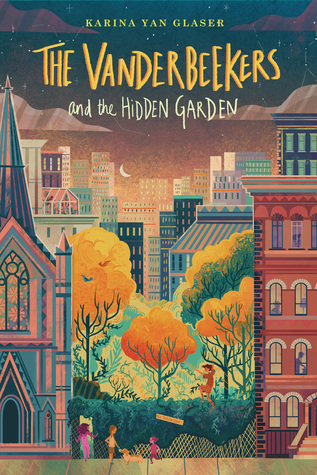 THE VANDERBEEKERS AND THE HIDDEN GARDEN #2
written by Karina Yan Glaser, (Houghton Mifflin Harcourt, $16.99, Sept. 2018, ISBN 978-1-328-77002-8), 336p, Ages 9-12
In this heart-warming sequel to The Vanderbeekers of 141st Street (2017), the Vanderbeeker children, Jessie 13, Oliver 9, Hyacinth 7, and Laney 5, decide to create a magical garden for their upstairs elderly neighbor, Mr. Jeet, who is recovering in the hospital from a stroke. They have 19 days to transfer the abandoned lot next to the church into the best community garden in Harlem, in spite of little money, no gardening experience, and a padlocked gate. After Oliver picks the padlock, they discover a dumping ground of trash, but help comes from neighborhood kids, donations, selling personal items, and fundraising to cover the cost of plants and flowers. All seems lost, when a developer seeks to build a luxury condominium complex on the property. Discover how one family's shared love overcomes obstacles and brings their Harlem neighborhood together. Readers and listeners will enjoy REP (Roof of Epic Proportions), music to entertain the plants, and yarn bombing.
Themes: Families, Friendship, Humor, Series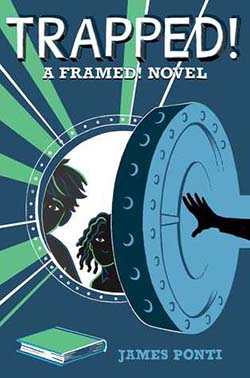 TRAPPED! (A Framed Novel) #3
written by James Ponti, (Aladdin, $17.99, Sept. 2018, ISBN 978-1-5344-0891-3), 384p, Ages 10+
In this third installment of the Framed series, Florian and Margaret's friend and their FBI Supervisor, Marcus Rivers, finds himself accused of stealing rare and valuable books from the Russian Imperial Collection at the Library of Congress. Feeling that the evidence was planted, they begin to investigate an unsolved case that Marcus had worked on years ago. Crashing a fundraiser to obtain information, the duo investigates four of the most likely suspects, who have ties to books, libraries, as well as personal ties to Marcus. As they narrow down the field of suspects using Florian's T.O.A.S.T. (Theory of All Small Things), they hope to solve the case in time to save Marcus' job. Florian's mom joins the investigation, as well as Nic the Knife, who helps corner the Russian spy. Interesting details of Washington D.C. libraries, spy communication techniques surrounding the Dewey Decimal System, and amazing intrigue will have readers demanding more installments of these young Sherlocks, who solve mysteries using T.O.A.S.T.
Themes: Adventure, Friendship, Mysteries, Series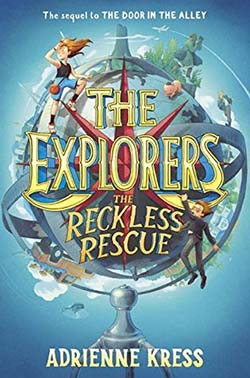 THE EXPLORERS #2: The Reckless Rescue
written by Adrienne Kress, illus. by Matthew C. Rockefeller, (Delacorte Press, $16.99, April 2018, ISBN 978-1-101-94009-9), 384p, Ages 11+
This second book in The Explorers series finds Sebastian escaping his kidnappers and joining the Lost Boys, a K-Pop band in Seoul, Korea. Using the band as a cover to escape and return home, Sebastian becomes a member, learns to play drums, and performs at one of their concerts, only to meet his kidnappers again. Meanwhile Evie desperately tries to convince the Explorers Society to mount a rescue for him. With Catherine's help, they track down another member of the Filipendulous Five, Benedict Barns, to find further clues to Evie's missing grandfather. As Evie, Catherine, Sebastian, and the kidnappers converge on Barns at the Vertiginous Volcano, readers will enjoy another daring escape through an underground volcano and, of course, another cliffhanger. Dangerous villains, two Great White sharks, a friendly python, a pig in a teeny hat, and two courageous kids in search of truth, will have readers anxiously awaiting book three, "The Explorers: The Quest for the Kid."
Themes: Adventure, Friendship, Heroes, Mysteries, Series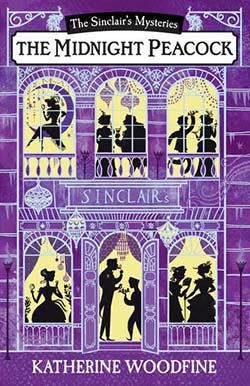 THE MYSTERY OF THE MIDNIGHT PEACOCK #4 (The Sinclair's Mysteries)
written by Katherine Woodfine, illus. by Julia Sardà, (Kane Miller Books, Oct. 2018, $6.99, ISBN 978-1-61067-842-1), 352p, Ages 13+
This thrilling conclusion to The Sinclair's Mysteries series finds Sophie and Lil helping with the preparations for Mr. Sinclair's New Year's Eve Midnight Peacock Ball. Little do they realize that Sophie's nemesis, the Baron, has planned his own New Year Eve party, which includes a royal assassination and explosions in Piccadilly Circus. Friends come together to thwart the Baron, and Sophie finally discovers answers to her family's fate. Readers, who love the series, will look forward to the new series, "Taylor & Rose."
Themes: Adv, FR, Heroes, Mysteries, Series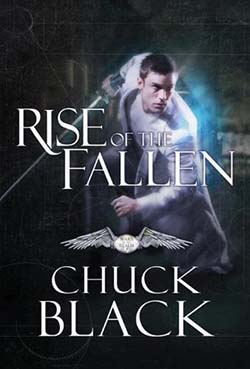 RISE OF THE FALLEN #2 (Wars of the Realm)
written by Chuck Black, (Multnomah Books, $11.99, Feb 2015, ISBN 978-1-60142-504-1), 320p, Ages 16+
This second book in Chuck Black's War of the Realm trilogy, (Cloak of the Light #1, 2014), centers around one of the angels from the first book, Validus, who is assigned to protect Drew Carter, and backtracks to tell the same story from the angel's perspective. As the last created angel, Validus has witnessed Lucifer's rebellion, Creation, the fall of man, Noah, the Tower of Babel, the rise and fall of empires, and more, but now his assignment is to protect Drew from the onslaught of Fallen angels, who seek his demise. Validus and his legion of angels race against time to discover Drew's importance to the survival of humanity, while battling overwhelming odds as they face the fierce demonic Fallen for the protection of one unbelieving man. This page-turning, thrilling account of the spiritual world will leave readers yearning for the final book in the series. Endpapers provide readers with Biblical facts versus the author's fictional account of each chapter.
Themes: Adventure, Friendship, Heroes, Historical Fiction, Suspense & Intrigue, Series
ABOUT US
The Children's Hour was created to promote and encourage reading to children and by children. We believe that reading aloud not only creates a special bond between parents and children, but it is important to the development of their imagination and curiosity.
The Children's Hour
2966 S Church St #309
Burlington, NC 27215
626-393-5899
Conditions of Use
Privacy Policy