Welcome to the Children's Hour where reading to children and reading by children is considered a high priority to their success in life. Literacy begins by reading to children, but is developed over the years when great literature is available for their listening and reading enjoyment.

The greatest bargain in America today is located in the public libraries. Usually the only cost involved is time. Unlike toys, books are difficult to break and are ready-made with no assembly or batteries needed. Portable, they can be enjoyed anywhere, any time, and they take up less space than most toys. They never go out of style and are the best source of entertainment for children.

Sign up our monthly newsletter and receive advanced information on the best in children's literature available to read and read-aloud today.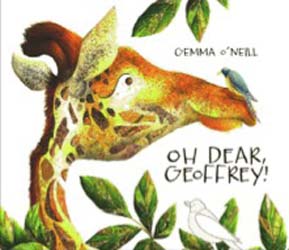 OH DEAR, GEOFFREY!
written/illus. by Gemma O'Neill, (Templar Books, $15.99, ISBN 978-0-7636-6659-0), 32p, Ages 3-7
"Meet Geoffrey, the young giraffe. He's very, very tall, with a very, very long neck … and sometimes he's very, very, clumsy." Geoffrey's wibbly-wobbly, bendy-buckly legs are hazardous to smaller animals around him, and he has problems making friends. Exasperated with his clumsiness, Geoffrey lumbers off in search of tasty leaves, only to discover treetop friends who accept and love him. Gorgeous illustrations accompany this fine tale of differences, acceptance, and friendship on the African Savannah.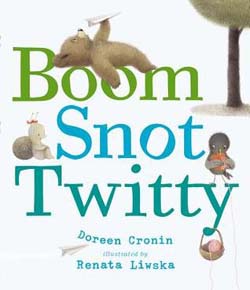 BOOM SNOT TWITTY
written by Doreen Cronin, illus. by Renata Liwska, (Viking, $16.99, ISBN 978-0-670-78575-9), 32p, Ages 3-5
"Three unlikely friends, and three different ways of being in the world. This simplest of stories is a fable for life." Boom, an impetuous bear, Snot, a patient snail, and Twitty, a careful bird spend a day climbing, reading, crocheting, unraveling yarn, and braving a storm. When the rain begins, Boom stands against it, Twitty hides in the trees, and Snot happily rides a leaf on the water. The crochet project undergoes many changes, from a tree cozy to a collar for Boom. Friendship can always be fun and pleasurable, regardless of the personalities and approaches to life.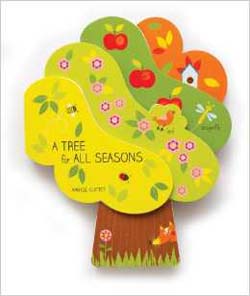 A TREE FOR ALL SEASONS
written/illus. by Maryse Guittet, (Twirl, $9.99, ISBN 978-2-8480-1945-1), 8p, Ages 3+
Young children will enjoy the seasons in all their splendor presented in this tree-shaped board book. Birds, bees, ladybugs, butterflies, flies, caterpillars, dragonflies, and spiders flit through the trees, while questions on the flaps ask, "Who's hiding here?", "Who is munching these apples?", "Who is making that crunching sound?", and Who's there?" This colorful and attractive board book is a great introduction for little ones to the yearly seasons.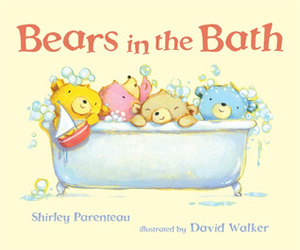 BEARS IN THE BATH
written by Shirley Parenteau, illus. by David Walker, (Candlewick Press, $15.99, ISBN 978-0-7636-6418-3), 32p, Ages 2-5
After conquering chairs and beds (Bears in Chairs, Bears in Beds), Floppy, Fuzzy, Calico, and Yellow Bear return in an adorable story about bath time. Full of cobwebs, dirt, mud, sweat, and all over stinky, they rebel against taking a bath. Coxing and prodding by Big Brown Bear fails to work, until he leads by example. "He jumps in the tub! / He grabs some soap / and starts to scrub. / He splashes water. / He splashes bears. / He sure is having / fun in there." Not to miss the fun, the four hop in and join the giggle party. Full of rhythm and rhyme and bouncy fun, little ones will enjoy this read aloud.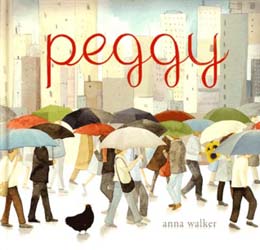 PEGGY: A Brave Chicken on a Big Adventure
written/illus. by Anna Walker, (Clarion Books, $16.99, ISBN 978-0-544-25900-3)32p, Ages 3-7
Peggy's quiet life in her backyard involves eating, playing, and watching the pigeons. One day a gust of wind picks her up from a trampoline and deposits her onto a bustling city street. Undaunted by her surroundings, Peggy "picked herself up, ruffled her feathers, and went for a walk." Fascinated by department stores, escalators, and storefront displays, Peggy soon tires and grows homesick. Challenged by the subway system, she loses her way, only to be rescued by a flock of pigeons. Safely home, Peggy now eats, plays, chats with the pigeons, and sometimes catches the train back into the city. Adventure can be an exciting experience with the right attitude and a little help from friends.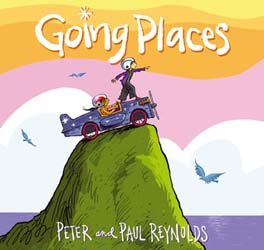 GOING PLACES
written by Peter H. Reynolds/Paul A. Reynolds, illus. by Peter H. Reynolds, (Atheneum Books, $15.99, ISBN 978-1-4424-6608-1), 40p, Ages 4-8
"Rafael had been waiting all year long for the Going Places contest, a chance to build a go-cart, race it … and win." Twenty-two students in Mrs. Chanda's classroom are given identical kits with instructions to construct a go-cart. Rafael, a stickler for following instructions, and his classmate Maya, a dreamer, combine their kits and build a small airplane instead. On the day of the race after a slow start, they soar above the other go-carts to the finish line, land, and roll across the ground to the edge of a lake. There, they watch a frog leap from a lily pad into the water. Inspired again, the friends begin another project—an amphibious craft. The curiosity, imagination, fun, and action of this creative story will have kids longing for their own go-cart kit.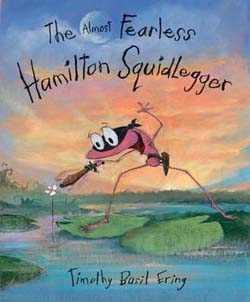 THE ALMOST FEARLESS HAMILTON SQUIDLEGGER
written/illus. by Timothy Basil Ering, (Candlewick Press, $16.99, ISBN 9778-0-7636-2357-9), 48p, Ages 4-7
With a little bribery, a young frog faces his fear of monsters at night by calming his imagination. During the day Hamilton Squidlegger is fearless in his quest to rid the scrintalberry swamp of threats—the fire-breathing frackensnapper, skelecragon claws, and bracklesneeds. His bravery disappears at night and he takes refuge in his parent's bed from the monster shadows. Desperate, dad offers Hamilton, "a double-decker grasshopper worm-cake, with snake-belly frosting" if he will spend the night in his own mud. In a series of crazy dreams, Hamilton finds friendship and peace with the monsters and dad's special treat at sunrise. Clever and intriguing artwork makes this bedtime story one to keep.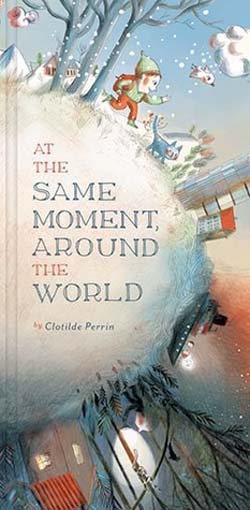 AT THE SAME MOMENT AROUND THE WORLD
written by Rue de monde, illus. by Clotilde Perrin/Rue de monde, (Chronicle Books, $17.99, ISBN 978-1-4521-2208-3), 36p, Ages 5-8
Each of Earth's twenty-four time zones follow everyday activities of kids around the world. What begins with, "It is six o'clock in the morning in Dakar, Senegal. Keita wakes up early to help his father count the fish caught during the night," and follows with "At the same moment … " in the next time zone with another child's activities. Time zones travel hourly eastward to France, Bulgaria, Iraq, United Arab Emirates, Uzbekistan, Himalayan Mountains, Vietnam, China, Australia, New Caledonia, Russia, Samoa, Hawaii, Alaska, California, Arizona, Mexico, Peru, Brazil, Greenland, Fernando de Noronha Island, and the middle of the Atlantic Ocean. Endpapers describe timekeeping and time zones with a foldout world map. Unique illustrations make this enjoyable and informative book one to treasure.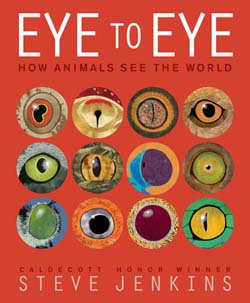 EYE TO EYE: How Animals See the World
written/illus. by Steve Jenkins, (Houghton Mifflin Harcourt, $17.99, ISBN 978-0-547-95907-8), 32p, Ages 6-9
"Most animals rely on their vision, more than any other sense, to find out what is going on around them. For these creatures, the eyes are the most important link to the world." Steve Jenkins explains the varieties of animal eyes that evolve from four types (eyespot, pinhole, compound, and camera) with descriptions of each type of animal. Size, color, number of eyes, and heat-sensing organs depicted, ranging from starfish to the colossal squid. Eyes not only allow animals to locate food and avoid predators, but also permit them to swallow food and attract mates. Large, colorful illustrations of more than twenty animal heads are accompanied by small pictures of the entire animal and a brief paragraph featuring fascinating information on each. Animal facts, bibliography, and a glossary complete this wonderful fact-filled informative book for kids.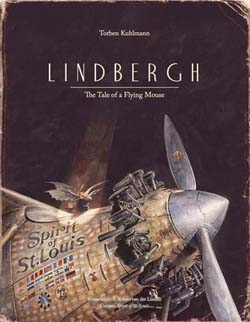 LINDBERGH: The Tale of a Flying Mouse
written/illus. by Torben Kuhlmann, translated by Suzanne Levesque, (North South Books, $19.95, ISBN 978-0-7358-4167-3), 96p, Ages 7-11
To escape terrifying mousetraps in his German homeland, a heroic mouse invents a way to cross the Atlantic to freedom in America. Inspired by his bat- flying cousins, Lindbergh uses intelligence, perseverance, and strength to build a mouse-size plane, while avoiding close encounters with owls and cats. With map in paw and goggles in place, he begins the trans-Atlantic flight. "Night fell, and the air grew cold. The mouse chewed on a hunk of cheese and tried to ignore his exhaustion while swishing through the dark." Arriving safely in New York City, he soon becomes famous. Newspapers tell of his spectacular adventure and legend states that he inspired a young Charles Lindbergh. Endpapers include A Short History of Aviation, information on Otto Lilienthal, a German aviation pioneer, the Wright Brothers, and Charles Lindbergh. The illustrations are so plentiful and stunning that this wonderful tale might also be read a wordless book.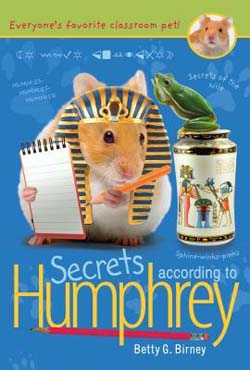 SECRETS ACCORDING TO HUMPHREY
written by Betty G. Birney, (G. P. Putnam's Sons, $15.99, ISBN 978-0-399-25796-4), 134p, Ages 7-9
Secrets abound in Room 26 where Humphrey resides as the classroom pet. Helping the students solve their problems is Humphrey's job, but neither he nor OG, the classroom frog, can decipher which student is leaving. In Betty Birney's 10th installment in the series, the beloved hamster juggles secret student clubs, the loss of his journal, supervising an Egyptian class project, enjoying weekends with students, and sneaking around the school at night. Who is leaving? Is it Stop-Talking Sophie, Slow-Down Simon, Tell-the-Truth Thomas, or Forgetful Phoebe? Chapters end with "Humphrey's Top Secret Scribbles" and his rhyming comments, "The Sphinx and her riddle give me quite a fright. / To solve her ancient secret, I might stay up all night!" Kids who love this series will eagerly await the next adventure.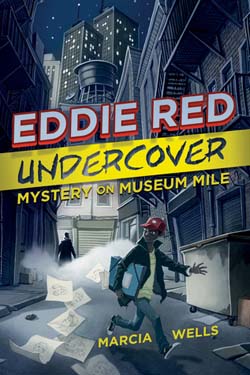 EDDIE RED UNDERCOVER: Mystery on Museum Mile
written by Marcia Wells, illus. by Marcos Calo, (Houghton Mifflin Harcourt, $16.99, ISBN 978-0-544-23833-6), 248p, Ages 9-12
Edmund Xavier Lonnrot, a 14-year-old African American student in a New York City exclusive prep school, uses his photographic memory and artistic talent to help police solve an art theft. Witness to an alley mugging, Eddie sketches an exact likeness of the perpetrator for police. With the promise of wages and school funding, (his out-of-work father cannot continue tuition payments), the police hire Eddie to work undercover at museums to identify members of the Picasso Gang. Working with a surly detective, who nicknames him "Eddie Red," is challenging. His hyperactive, obsessive, and compulsive best friend, Jonah, secretly joins Eddie to outsmart the police, discover a mole in the police department, and determine the gang's next target. Kids will enjoy the boldness and persistence of this young sleuth, as well as the bullet-flying climax. The amazing portrait illustrations complete this clean and fun mystery, the first in a planned series.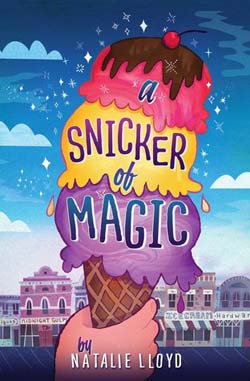 A SNICKER OF MAGIC
written by Natalie Lloyd, (Scholastic Press, $16.99, ISBN 978-0-545-55270-7), 320p, Ages 10-13
12-year-old Felicity Pickle, her 6-year-old sister, Frannie Jo, dog Biscuit, and mother arrive in Midnight Gulch, Tennessee, a remote mountain town where she hopes for a permanent home. "They say that Midnight Gulch was the happiest place in the world, back when the magic was still there." Due to a duel between famous magician brothers resulting in a town curse, most of the magic is gone. With her own ability to see words that reflect the secret thoughts of others, Felicity makes friends with a local wheelchair bound boy, Jonah. He informs her of the town's magical history, performs acts of random kindness anonymously, and helps Felicity to enter a talent show to overcome her shyness. Together they work to return Midnight Gulch's lost magic and reverse the curse caused by Felicity's great-great-grandfather. Friendship, helping others, snickers (left over magic), colorful characters, and an endearing heroine make this a "spindiddly" read.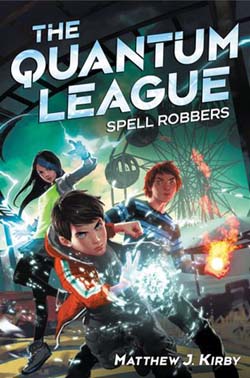 QUANTUM LEAGUE: Spell Robbers
written by Matthew J. Kirby, (Scholastic Press, $16.99, ISBN 978-0-545-50226-9), 272p, Ages 9-12
When Ben Warner joins an after school science camp, he discovers a unique organization, the Quantum League, and its powerful science of Actuation. With the ability to alter reality with imagination, agents create fire, lightning, rain, clouds, wind, and manipulate emotions. Dealing with his own newfound special abilities, Ben realizes too late that his recruitment results in the loss of his family and former life. When his mentor, Dr. Hughes, is kidnapped by a rival o rganization and an experimental weapon is stolen, Ben becomes enmeshed in a power struggle between the two organizations. Joining forces with a former rogue member, they infiltrate the Dread Cloaks to rescue both scientist and equipment. While trying to manage his newly discovered gift, Ben questions the Quantum League's tactics and ethics, and longs to return to his former life and mother, who no longer remembers him. Friendship, bravery, adventure, and page-turning action promise a great adventure in the planned trilogy.
ABOUT US
The Children's Hour was created to promote and encourage reading to children. We believe that reading aloud not only creates a special bond between parents and children, but it is important to the development of their imagination and curiosity. Our books are also great choices for children to read.
The Children's Hour
150 N. Santa Anita Ave.,
Suite 300
Arcadia, CA 91006
626-791-4848
Conditions of Use
Privacy Policy