Welcome to the Children's Hour where reading to children and reading by children is considered a high priority to their success in life. Literacy begins by reading to children, but is developed over the years when great literature is available for their listening and reading enjoyment.

The best children's books and filled with imagination and fun. Stories that take children into a world of delight and adventure present storytelling at its best. Children need stories for pleasure, laughter and fun; imaginative and nonsensical stories that may not have a scrap of useful information or lesson, but cheerful and delightful lunacy.

Be sure to sign up our monthly newsletter and receive advanced information on the best in children's literature available to read and read-aloud today.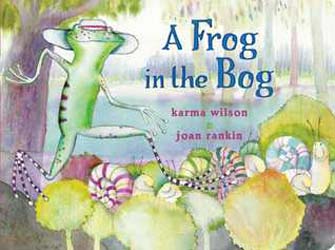 A FROG IN THE BOG
written by Karma Wilson, illus. by Joan Rankin, (Little Simon, $7.99, Sept. 2015, ISBN 978-1-4814-4452-1), 34p, Ages 3-5
In this catchy and quirky counting book, a small green frog, with an insatiable appetite, consumes one tick, two fleas, three flies, four slugs, and five snails while sitting on what he thinks is a log. Realizing that the log as two yellow eyes and wide jaws, the very fat frog panics and screams, "GATOR!" allowing the creatures in his stomach to escape in a comical countdown: "FIVE snails," "FOUR slugs (Ew, ugh!)," "THREE flies (Oh, my!)," "TWO fleas (Dear me!)," and "ONE tiny tick (ICK!)." Thankfully the gator loses interest, however, "Now . . .the bugs on the log / Keep away from the frog, / and the frog NEVER sits on a half-sunk log!" The lively illustrations and clever wordplay will have young listeners rhyming along with the fun.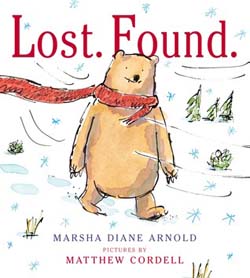 LOST. FOUND.
written by Marsha Diane Arnold, illus. by Matthew Cordell, (Roaring Brook Press, $16.99, Nov. 2015, ISBN 978-1-62672-017-6), 32p, Ages 3-6
In a series of comical mishaps, Bear's red scarf blows away and is found by various animals, who in turn lose or abandon it. Used in all manner of ways from a turban to a trampoline, the red scarf ends up in shreds. Sorry for destroying Bear's beautiful scarf, the animals collect the yarn and help Bear knit it back together. Bear serves hot beverages and everyone enjoys roasting marshmallows around a campfire. Using just two words, "Lost" and "Found," children will learn about consequences to unwise behavior, conflict resolution, and cooperation while enjoying a sweet read aloud.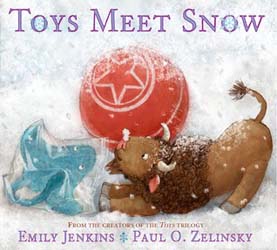 TOYS MEET SNOW: Being the Wintertime Adventures of a Curious Stuffed Buffalo, a Sensitive Plush Stingray, and a Book-loving Rubber Ball
written by Emily Jenkins, illus. by Paul O. Zelinskky, (Schwartz & Wade, $17.99, Sept. 2015, ISBN 978-0-385-37330-2), 40p, Ages 2-6
With their owner away on winter vacation, a trio of adorable toys, from the successful "Toys" chapter book series, contemplate the snow falling outside their window. Curious Lumpy asks, "Why does it decide to snow?" Romantic StingRay replys, "Because the clouds are sad and happy at the same time." Practical Plastic explains, "No, it's what rain becomes when the temperature is freezing. I read it in a book." Deciding to venture outdoors, (dry clean only StingRay slides into a baggie), they work together to open the front door, and proceed to build a snowman and make snow angels. With different outlooks and perspectives, they watch a strawberry-syrup sunset and return to the house after a remarkable and exciting day with snow. This sweet and gentle story is a must read aloud for every child.
FINDERS KEEPERS
written/illus. by Keiko Kasza, (G. P.Putnam's Sons, $16.99, Aug. 2015, ISBN 978-399-16898-7), 32p, Ages 3-5
In a series of comical scenarios an ambitious squirrel buries a new found acorn. "Then he left his hat to mark the spot. 'You stay put, hat!' said the squirrel. 'I'll be back tomorrow." The hat begins a series of adventures as it blows to a tree, where a bird uses it for a nest, and then to a river providing a boat for an ant. After a bear uses it for a clown nose, he sneezes and the hat is returned to the squirrel's acorn. Wherever the rambling hat lands, each animal has a perfect use for it and cries, "Finders Keepers!" Young listeners will enjoy the surprises, silliness, and clever twists of this charming tale, especially the final surprise.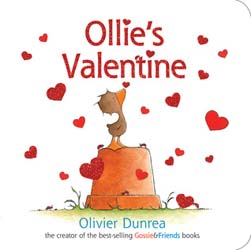 OLLIE'S VALENTINE
written/illus. by Olivier Dunrea, (Houghton Mifflin Harcourt, $6.99, Jan. 2016, ISBN 978-0-544-50269-7), 14p, Ages 2-5
All of Ollie's friends have valentines, except Ollie. Gossie explains that her valentine came from Gertie, who received hers from BooBoo. Splashing in the birdbath, BooBoo says his valentine came from Peedie, whose came from Gideon. Exasperated, Ollie honks from the top of a barrel, "Who will be MY valentine?" When the last page is turned, kids discover who Ollie's surprise valentine is from.
LITTLE BIG
written/illus. by Jonathan Bentley, (Eerdmans Books, $16.00, Sept. 2015, ISBN 978-0-8028-5462-9), 32p, Ages 3-6
It's hard being little. Little hands cannot open cookie jars, little legs do not win races, and no one listens to little mouths. However, being big also presents problems for a little boy. "If I had big legs like a giraffe, I could race my brother up the hill . . . and win. But I wouldn't be able to ride in the wagon." The little thinker knows that large hands of a gorilla could open a cookie jar, but would not enable him to eat in the playhouse. With a large crocodile mouth he could order his brother to bed, but that leaves no one to tell him stories. Pulled by his older brother in a wagon filled with his toy gorilla, giraffe, and crocodile, the toddler decides that being "Perfectly Little" is just fine. Happy and satisfied with who we are is a great lesson for everyone.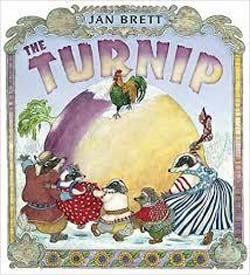 THE TURNIP
written/illus. by Jan Brett, (G. P. Putnam's Sons, $17.99, Nov. 2015, ISBN 978-0-399-17070-6), 32p, Ages 4-7
As snow begins to fall, a badger family discovers a huge turnip growing in their garden. Realizing that the tasty turnip could provide many meals during the winter, family members and friends struggle to pull it up, but with no success. Meanwhile, underground a mother bear, preparing for hibernation, discovers the turnip growing through her ceiling. As she kicks the turnip upward, a cocky rooster comes along and pulls the turnip free. Mother Badger prepares sizzling turnip pancakes, and Rooster is invited to stay forever. Kids will enjoy the side frames where other stories unfold. Based on an old Russian folktale, Jan Brett brings an unusual twist to the ending of a classic folktale.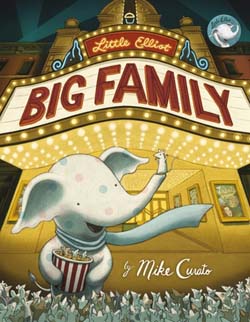 LITTLE ELLIOT BIG FAMILY
written/illus. by Mike Curato, (Henry Holt, $17.99, Oct. 2015, ISBN 978-0-8500-9826-6), 40p, Ages 4-7
Elliot and his friend Mouse from Little Elliot, Big City (Holt, 2014) return in another warm and inviting story of friendship and family in the New York City 1940's. When Mouse leaves for a family reunion with, "parents, grandparents, 15 brothers, 19 sisters, 25 aunts, 27 uncles, and 147 cousins," Elliot passes the time wandering the city and longing for a family of his own. When Mouse comes to his rescue and invites Elliot to the reunion, he is adopted into the extended mouse family. Elliot soon realizes that families and friendships come in all shapes and sizes.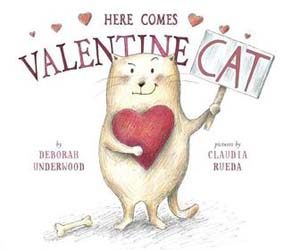 HERE COMES THE VALENTINE'S CAT
written by Deborah Underwood, illus. by Caludia Rueda, (Dial Books, $16.99, Jan. 2016, ISBN 978-0-525-42915-9), 88p, Ages 4-7
This fourth book in the non-speaking, placard-carrying Cat series finds Cat grumbling about Valentine's Day. Other than his stuffed squid, Cat has no friends and flatly refuses to send a valentine to the irritating, bone-throwing Dog next door. When a ball flies over the fence and hits Cat in the head, it's time for revenge, and he begins to build a rocket ship to send Dog to the moon. Construction is interrupted when a valentine from Dog flutters over the fence, and Cat has a change of heart. Deciding that his awful neighbor might be lonely and in need of a friend, Cat composes a valentine: "Roses are Red / Violets are Blue / Dogs are Annoying / except for you." As always, Cat is humorous and charming, as he delivers a timely moral about being quick to judge.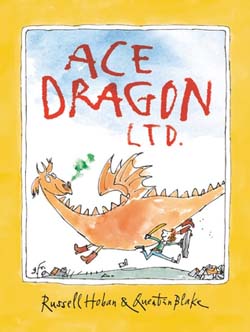 ACE DRAGON LTD
written by Russell Hoban, illus. by Quentin Blake, (Candlewick Press, $16.99, Nov. 2015, ISBN 978-0-7636-7482-3), 48p, Ages 4-8
A young boy's curiosity gets the best of him, when he notices a manhole cover with the words, "ACE DRAGON LTD" written on it. Deciding to investigate, "John took the Underground to Dragonham East. There he saw a dragon in Wellingtons." Thus begins an unusual friendship with an adventurous dragon, who wears two pairs of Wellington boots, enjoys a good fight, loves sky-writing with fire, flies to the moon, and turns gold into straw. (Straw makes good landing material when jumping off the moon.) This unusual, humorous, and quirky adventure will certainly entertain all little adventurers.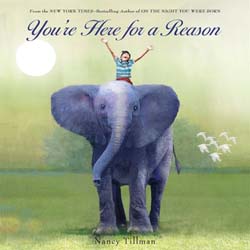 YOU'RE HERE FOR A REASON
written/illus. by Nancy Tillman, (Feiwel and Friends, $17.99, Sept. 2015, ISBN 978-1-250-+05626-9), 32p, Ages 4-8
Nancy Tillman reminds readers and listeners that everyone matters and there is a reason for every life. "You're here for a reason, you certainly are. / The world would be different without you, by far." A small boy holds a red kite while helping an elephant cross the street, but he loses the kite. Found by a mother fox, it is used as a sled for her kit. Children dance with tigers, play ball with kangaroos, rescue giraffes, and comfort pandas. "You're here for a reason. If you think you're not, / I would just say that perhaps you forgot— / a piece of the world that is precious and dear / would surely be missing if you weren't here." Character-building and uplifting verses remind not only children, but everyone of their many positive purposes in the world.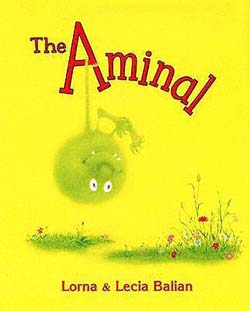 THE AMINAL
written/illus. by Lorna Balian, (StarbrighBooks, $17.95, 2005, ISBN 978-1-59572-006-5), 48p, Ages 4+
While on a picnic, a small child discovers an animal and decides it would make a nice friend. Patrick catches it, prepares a nice, cozy bed in his lunch bag, and walks home with his "Aminal." Along the way, he meets Molly and describes his new friend, "It's round and green and blinky-eyed with lots of pricky toenails and a waggy tail." Molly tells Calvin her interpretation, Calvin tells Freddie and so on, until the creature becomes more frightening with each new description. Soon Patrick's friends decide to rescue him from the monster, and everyone is in for a surprise when the real "Aminal" is revealed. Originally published in 1972, this charming story inspires imagination, and teaches about comparisons and jumping to conclusions.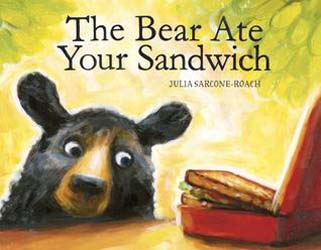 THE BEAR ATE YOUR SANDWICH
written by Julia Sarcone-Roach, (Alfred A. Knopf, $16.99, Jan. 2015, ISBN 978-0-375-85860-4), 40p, Ages 4-7
"It all started with the bear." So begins a delightful story about the consumption of an unattended sandwich on a park bench. One morning Bear awakes to discover berries in the back of a pickup truck, where he eats his fill, falls asleep, and awakes in a new forest (a city) where the truck has driven. As Bear begins to explore his surroundings, he rubs on trees (telehone poles), scratches on bark (bricks), walks in the mud (cement), and discovers a lunch box with a delicious sandwich inside. As Bear begins to gobble it down, he is interrupted by a group of hungry dogs and runs away, finds a boat, and returns home according to the storyteller (the sandwich owner's dog), who may not be telling the whole truth. This delicious tall tale will entertain kids with giggles and a reminder to keep an eye on their food!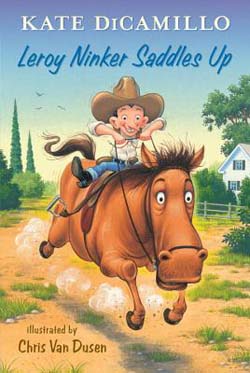 LEROY NINKER SADDLES UP (Tales from Deckawoo Drive, Bk 1)
written by Kate DiCamillo, illus. by Chris Van Dusen, (Candlewick Press, $12.99/$5.99, Aug. 2014/2015, ISBN 978-0-7636-6339-1), 96p, Ages 6-9
Employed by the Bijou Drive-In Theater to work the concession stand, Leroy Ninker dreams of becoming a cowboy and riding into the sunset like the cowboys from the double feature westerns on Wednesday nights. With a "Yippie-i-oh," hat, boots, and rope, Leroy discovers the only thing missing is a horse. When he discovers Maybelline, old and almost toothless, it's love at first sight. However, she comes with a set of instructions. She needs lots of sweet compliments, grub, and is never to be left alone for long periods. When Leroy accidentally leaves Maybelline alone, she runs away, but old friends from the Mercy Watson series come to the rescue with lots of buttered toast. Now, every evening Leroy rides Maybelline to work, where she eats popcorn, loves the movies, and on the way home, listens to Leroy's sweet compliments. Kids will love the four-toothed, spaghetti-loving Maybelline, who Leroy believes is, "the most splendiferous horse in all of creation."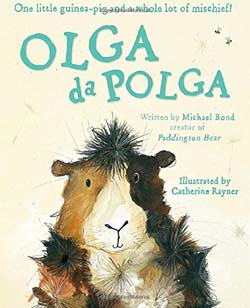 OLGA DA POLGA
written by Michael Bond, illus. by Catherine Rayner, (Kane Miller, $17.99, Oct. 2015, ISBN 978-1-61067-433-1), 176p, Ages 8-10
From the creators of the Paddington the Bear series comes the story of a lovable, cheeky, and mischievous guinea pig, who begins life in a pet store telling stories about her wild, exciting, and fabricated adventures. When adopted by a family she nicknames Mr. & Mrs. Sawdust, Olga begins a new life in a large and comfortable hutch, meets Noel the family cat, Fangio the hedgehog, and Graham the tortoise. Not wasting time, Olga begins to entertain the animals with tales of her pig ancestors in Peru, why guinea pigs have no tails, and observations of her first hailstorm, the Sawdust's Christmas celebration, and the origin of her aristocratic name. Turning scrapes into triumphs, Olga da Polga will enchant and entertain all who read and listen to her tall tales and boisterous adventures. Catherine Rayner's marvelous illustrations are delightful and greatly add to the story's enchantment.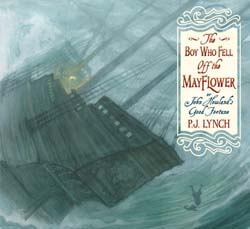 THE BOY WHO FELL OFF THE MAYFLOWER: Or John Howland's Good Fortune
written/illus. by P. J. Lynch, (Candlewick Press, $17.99, Sept. 2015, ISBN 978-0-7636-6584-5), 64p, Ages 7-10
Based on historical facts,this memorable story surrounds a young indentured servant, John Howland, who sailed on the Mayflower with his master from 1620 London to the New World. The crossing was difficult especially during a storm when John was swept overboard. "Far up above, I saw the Mayflower's keel. I thought, That's my ship … She's taking me to America! A flash of lightning lit up a long rope trailing down from the ship. I pulled myself over toward it. My lungs were bursting now, but I caught hold of the rope and held on tight in the freezing water." Once land was reached, the settlers faced more difficulties with the onset of Winter, lack of food, sickness, and aggression toward the natives, which all contributed to the death of more than half of the original settlers. With the arrival of Spring the communitiy prospered with the friendship of Squanto, the organization of a new government, and John's decision to stay in America. Endpapers feature a Bibliography and Author's Note on John Howland's future. This dynamic depiction of one Pilgrim's adventure on the Mayflower and early experiences in America is one story not to be missed.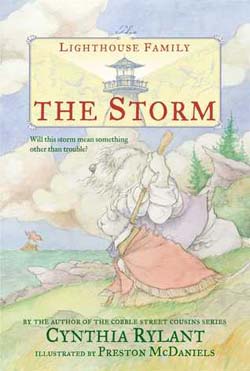 THE LIGHTHOUSE FAMILY: The Storm
written by Cynthia Rylant, illus. by Preston McDaniels, (Simon & Schuster, $15.99, 2002/2015, ISBN 978-0-689-84880-3), 80p, Ages 7-10
A lonely feline lighthouse keeper and a sea-loving dog rescue and make a home for three orphan mice in this first in a series of sweet books about love, kindness, and families. Pandora is lonely and a little weary as keeper of the lighthouse, but her life radically changes when a storm blows in a shipwrecked, crusty old sheepdog, Seabold. Over the next few months as he heals from injuries, they become good friends, and Seabold decides to stay. When he rescues three orphan mice, Whistler, Lila, and Tiny, Pandora nurses them back to health and both decide that their family is complete. "It happened because a noble young cat wished to save lives. Because a brave dog wished to sail. And because three small children wished for a family."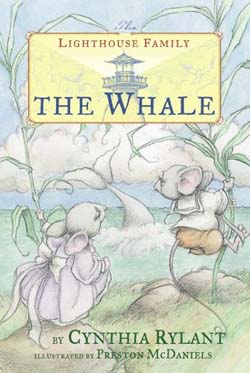 THE LIGHTHOUSE FAMILY: The Whale
written by Cynthia Rylant, illus. by Preston McDaniels, (Simon & Schuster, $15.99, 2003/2015), 64p, Ages 7-10
This second delightful story in The Lighthouse Family series, finds the mouse children, Lila and Whistler, discovering a lost baby beluga whale, Sebastian. At Pandora's suggestion, a cranky but noble old cormorant, Huck, is enlisted to fly over the ocean in search of Honey, Sebastian's mother. Riding on Huck's back Lila spies the pod of belugas just in time, for Huck is exhausted. Hitching a ride home on Honey's back, Huck and the tiny mice witness a happy reunion between mother and son. "And out in the vast dark waters of the ocean, a mother and a baby were a family again. Soon they would join their larger family, amid those happy calls with which lost ones are always welcomed home."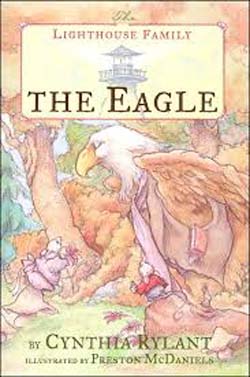 THE LIGHTHOUSE FAMILY: The Eagle
written by Cynthia Rylant, illus. by Preston McDaniels, (Simon & Schuster, $15.99, 2004/2015), 64p, Ages 7-10
Fall is in the air for the Lighthouse family. Pandora makes jellies for winter, Seabold tends the vegetable garden with Tiny tucked into his cap, and the oldest children, Whistler and Lila, explore the rocky shore and watch an eagle soar overhead, which they nickname "Higginbotham." When the children desire to venture into the woods, Seabold gives them a compass and reminds them of the rules: "Watch the compass. Never separate. And come home when the sun is directly overhead. It will be time for lunch and Pandora is baking tarts." When the children lose their compass and their way, help comes from a gentleman eagle named Stanley, who returns the compass, feeds them pine nuts, walks them home, and enjoys plum and thorn apple tarts. Charming adventure, trusted friends, and a loving family make this third book in the series a definite keeper. As always, the illustrations are enchanting.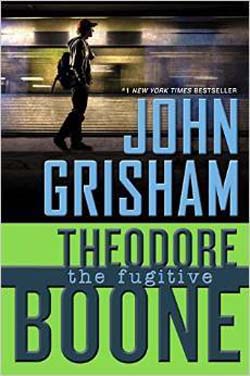 THEODORE BOONE: The Fugitive
written by John Grisham, (Dutton Children's Books, $17.99, May 2015, ISBN 978-0-525-42638-7), 272p, Ages 11-13
Returning in the fifth installment of the Theodore Boone series, 13-year-old lawyer-in-training, Theo, and his eighth grade class take a field trip to Washington D. C., where he recognizes an escaped fugitive wanted in his home town for murder. Calling his uncle Ike for assistance, who recommends collaborating with the FBI, Theo is directly responsible for the capture of Pete Duffy at the airport in his attempt to flee to South America. Convincing a key witness to cooperate is one thing, but collecting the reward money of $100,000 is another matter. Issues of homelessness, undocumented workers, the death penalty, civic responsibility, and integrity are addressed. Readers will enjoy this installment, gain an appreciation for court proceedings, and look forward to the next legal adventure.
WEBSTER: Tale of an Outlaw
written by Ellen Emerson White,(Aladdin, $16.99, Nov. 2015, ISBN 978-1-4814-2201-7), 256p, Ages 10-13
Cool, indifferent, and a loner, Webster arrives at the Green Meadows Rescue Group after three failed adoptions. Determined to remain aloof in spite of lovely accommodations, home-made treats, a soft bed, and new friends, he renames himself the Bad Hat. When Webster sees his chance to escape, he roams around town envisioning himself as a cowboy or outlaw, returning to the shelter for kibble and nightly TV episodes of Masterpiece Classics on PBS. Florence, the shelter's bossy resident cat, decides to create a buddy system and assigns other dogs to join him. His roamings become adventures when he rescues a drowning man, saves a toddler from being run over by the family car, herds lost sheep home, rescues six abandoned kittens, locates the kitten's abused mother, and captures media attention and his own Facebook page. Over the course of this heart-warming tale, Webster realizes his purpose in life, begins to trust again, and finds his forever family. Quirky and hilarious dialog between the animals will keep kids entertained throughout.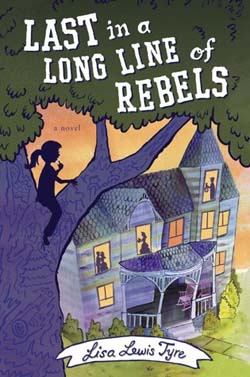 LAST IN A LONG LINE OF REBELS
written by Lisa Lewis Tyre, (Nancy Paulson Books, $16.99, Sept. 2015, ISBN 978-0-399-16838-3), 288p, Ages 10-14
It's the summer of 1999 in the Southern town of Zollicoffer, Tennessee where 12-year-old Louise Mayhew is expecting a boring summer. When Lou eavesdrops on a family conversation, she learns that her 175 year-old antebellum home, next to her father's junkyard, is slated for demolition by the city. Determined to save her family home, Lou and her friends believe that her home may qualify as a National Historic Site, and they begin an investigation into her ancestor's Civil War history, a century old unsolved mystery, and a missing cache of stolen gold. Lou soon discovers that her family owned slaves with connections to renegades, thieves, abolitionists, and the Underground Railroad. Fighting centuries old prejudices, and confronting modern racism, Lou realizes that it's never too late to correct wrongdoings. This delightful story filled with colorful characters, historical mysteries, small-town families, and loyal friendships will entertain kids from page one.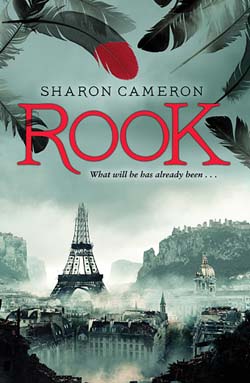 ROOK
written by Sharon Cameron, (Scholastic Press, $17.99, Apr. 2015, ISBN 978-0-545-67599-4), 464p, Ages 15+
In a futuristic world where the Earth's poles have shifted, societies have reverted to an age before technology, France is undergoing another French Revolution, and a mysterious Red Rook rescues unjustly imprisoned people from the horrors of the guillotine leaving a red-tipped feather behind. Across the sea in Great Britain eighteen-year-old Sophia Bellamy struggles with an arranged marriage to the dashing wealthy Frenchman, René Hasard, in order to save her family from poverty. Neither are what they pretend to be, but when the search for the Red Rook arrives at Sophia's door, both realize the necessity of working together to protect their families, provide for the newly rescued prisoners, build a mutual trust, and find their purpose in life. Daring rescues, non-stop action, secret schemes, swashbuckling romance, intriguing characters, and a nod to the Scarlet Pimpernel make this dystopian adventure one not to miss.
ABOUT US
The Children's Hour was created to promote and encourage reading to children and by children. We believe that reading aloud not only creates a special bond between parents and children, but it is important to the development of their imagination and curiosity.
The Children's Hour
150 N. Santa Anita Ave.,
Suite 300
Arcadia, CA 91006
626-791-4848
Conditions of Use
Privacy Policy