Welcome to the Children's Hour where reading to children and reading by children is considered a high priority to their success in life. Literacy begins by reading to children, but is developed over the years when great literature is available for their listening and reading enjoyment.

The best children's books and filled with imagination and fun. Stories that take children into a world of delight and adventure present storytelling at its best. Children need stories for pleasure, laughter and fun; imaginative and nonsensical stories that may not have a scrap of useful information or lesson, but cheerful and delightful lunacy.

Fall is in the air and what better way to enjoy it than with great stories. We hope that you enjoy our selections. They offer fun reads and read alouds into adventure, folk literature, friendship, families, mysteries, humor, nature,rhythm & rhyme, and heroes.

Be sure to sign up our monthly newsletter and receive advanced information on the best in children's literature available to read and read-aloud today.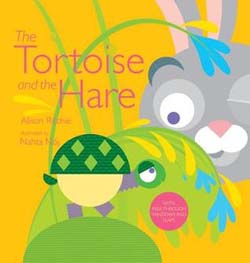 THE TORTOISE AND THE HARE
written by Alison Ritchie, illus. by Nahta Nój, (Templar Books, $15.99, May. 2015, ISBN 978-0-7636-7601-8), 32p, Ages 3-7
This classic tale for the younger crowd uses peek-through windows and flaps to tell of a prideful hare who challenges a plodding tortoise to a race. Knowing that he is the fastest runner around, only the tortoise of all the animals takes up the challenge. As tradition has it, slow and steady wins the race. This simple retelling with its fun illustrations is a great introduction to folk literature for little ones.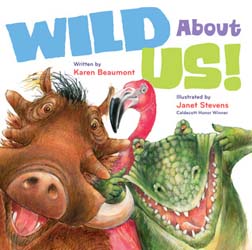 WILD ABOUT US
written by Karen Beaumont, illus. by Janet Stevens, (Houghton Mifflin Harcourt, $16.99, Apr. 2015, ISBN 978-0-15-206294-1), 40p, Ages 3-7
"We're all a little different, and that's the way we like it!" Thirteen zoo animals celebrate their different and special attributes. Warty Warthog is proud of his large tusks, Crocodile likes his toothy grin, Tortoise is fine with being slow, and Chimp loves his stick-out ears. Written in rhyme, this charming story and the wonderful illustrations celebrate and teach children the acceptance of differences in the animal kingdom. "We're glad we're all different! It would be such a shame if you came to the zoo. . . and we all looked the same!" Kids will have fun searching for the hidden fly on each page.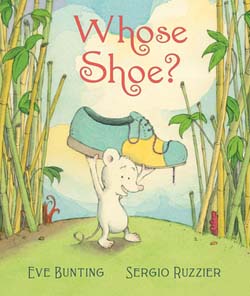 WHOSE SHOE?
written by Eve Bunting, Illus. by Sergio Ruzzier, (Clarion Books, $16.99, June 2015, ISBN 978-0-544-30210-5), 32p, Ages 3-6
An honest and conscientious mouse finds a single shoe on a bamboo branch and begins a quest to find its owner. Mouse asks everyone he meets, but soon realizes that the shoe is too small for Tiger, too big for Spider, useless for Myna Bird, and not appropriate for Elephant, who only wears heels. Kangaroo admits ownership of the shoe, but it was too painful and he tossed it away. Mouse is delighted after Kangaroo offers it to him. "Who says that shoes are just for feet? / I'm glad my search is now complete. / The stars are shining overhead . . . . / I'm happy in my king-size bed!" With enthusiasm, perseverance, and charm, Mouse is a great role model for young ones.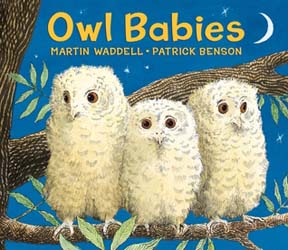 OWL BABIES
written by Martin Waddell, illus. by Patrick Benson, (Candlewick Press, $6.99, Sept. 2015, ISBN 978-0-7636-7961-3), 28p, Ages 3-6
"Once there were three baby owls: Sarah and Percy and Bill. They lived in a hole in the trunk of a tree with their Owl Mother. The hole had twigs and leaves and owl feathers in it. It was their house." Upon waking at night, the three, fluffy, wide-eyed, white owl babies realize that their mother is gone. The older two try to calm the youngest by reasoning that mom is out hunting for food. As they contemplate the situation, stay together, and take a nap, mom returns and assures them that she will always return.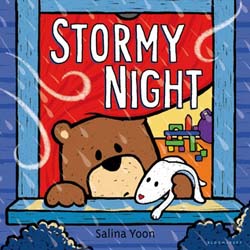 STORMY NIGHT
written/illus. by Salina Yoon, (Bloomsbury, $14.99, Jan 2015, ISBN 978-0-8027-3780-9), 40p, Ages 3-6
Bear and Floppy from Found (Walker, 2014) find themselves unable to sleep one stormy night. "The wind was whirring, the trees were crackling, and the rain was pounding against the windows." Bear comforts Floppy by singing and reading a story. When the storm increases Mama and Papa take turns comforting Bear until the storm passes. As Papa says, "Even storms need their sleep!" Excellent role models and a cozy sentimental story will comfort little ones especially on stormy nights.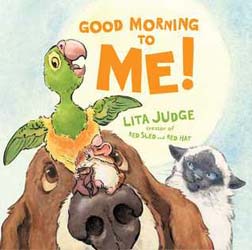 GOOD MORNING TO ME!
written/illus. by Lita Judge, (Atheneum Books for Young Readers, 17.99, May 2015, ISBN 978-1-4814-1369-6), 40p, Ages 4-8
A loud and boisterous parrot, Beatrix, has trouble using her "inside voice" in the morning and proceeds to blast out "GOOD MORNING" to her friends Mouse, Kitty, Gracie the dog and the goldfish. Her exuberance leads to capture by Kitty, rescue by Mouse, a wild ride on the dog's back, falling into the fish bowl, and rescued by Gracie. Irrepressible Beatrix expresses love for everyone, apologizes, and quiets down for a brief silence. This delightful tale will resonate with families of hyperactive and enthusiastic children.
MR. SQUIRREL AND THE MOON
written/illus. by Sebastian Meschenmoser, (North South Books, $18.95, Jan. 2015, ISBN 978-0-7358-4156-7), 48p, ages 4-8
A small German red squirrel from Waiting for Winter (Kane/Miller, 2009), discovers what he thinks is the moon on a branch of his tree. Not wanting to be accused of stealing, he pushes it off the branch, and it lands on Mrs. Hedgehog. Billy goat tries to help, but he also becomes stuck. When bees and mice realize that the yellow object is edible (a large wheel of cheese), they munch away until only a slice remains, freeing the hedgehog and billy goat. What now? "They had to get rid of the moon! The best thing would be to send it back to the sky where it belonged." This humorous and delightful tale is also a cautionary one, as Mr. Squirrel imagines a jail cell as his penalty for stealing.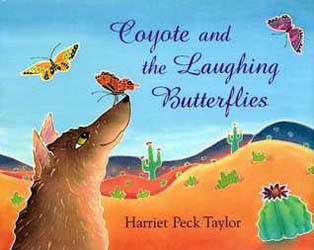 COYOTE AND THE LAUGHING BUTTERFLIES
written/illus. by Harriet Peck Taylor, (Simon & Schuster, $17.99, 1995/2015, ISBN 978-0-02-788846-1), 32p, Ages 4-8
This retelling of a Tewa tribe legend tells how butterflies trick Coyote, a trickster. When he stops to take a nap on his way to collect salt for Mrs. Coyote, the butterflies decide to carry him home without the salt. Coyote tries a second time, but with the same results. On his third trip for salt, the butterflies take pity on the sleeping Coyote and return him home with a bag full of salt. A great feast for all, prepared by Mrs. Coyote, includes the butterflies. "Even today butterflies remember the trick that was played on Coyote. They flutter high and low, to and fro, laughing too hard to fly straight, all day long in the yellow sunshine." Author's Note explains the origins of the folktale and the character of the coyote in legend. A great read-aloud for story time.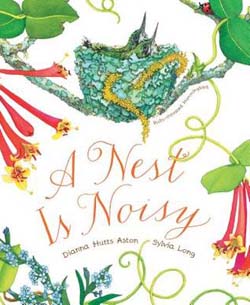 THE NEST IS NOISY
written by Dianna Hutts Aston, illus. by Sylvia Long, (Chronicle Books, $16.99, March 2015, ISBN 978-1-4521-2713-2), 40p, Ages 5-8
Next in the series of informative books on nature's fascinating world comes a smorgasbord of interesting facts on nests. Over twenty nests in various shapes, sizes, and habitats are featured from the tiny bee hummingbird nest to the orangutan nest high in the rainforest canopy. Nests are noisy, welcoming, enormous, tiny, spiky, pebbly, papery, bubbly, hot hidden, neighborly, peculiar, muddy, and adopted. "A nest is noisy . . . Buzzing, swishing, rustling, flapping, and humming with babies . . . but only until they are ready to fly, swim, or crawl away. Then a nest is . . . quiet." Gorgeous, detailed illustrations accompany this wonderful and imaginative introduction to the world of nests.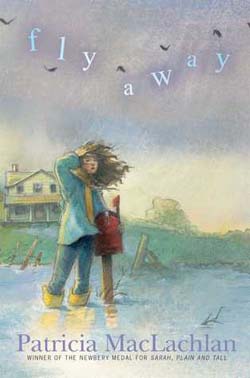 FLY AWAY
written by Patricia MacLachlan, (Margaret K. McElderry Books, $6.99, Apr. 2015, ISBN 978-1-4424-6009-6), 128p, Ages 7-10
Lucy and her family, plus Mama's chickens, travel across the Minnesota prairie in an old VW bus to help her eccentric aunt in North Dakota deal with the rising floodwaters that are threatening the house and farm. Along the way, Lucy composes poems and shares a secret with her little brother, Teddy, who does not talk, but sings only to Lucy at night. Feeling that she is the only one in her musical family with no talent, Lucy is reluctant to sing to Teddy. When the river waters rise and Teddy goes missing, Lucy's voice is the one sound that may save her brother. With gentle humor, calm wisdom, and unconditional love, family secrets, strengths, flaws, and fears are confronted, faced, and conquered. "Family means offering help when it's not asked for, accepting help when you think you don't need it, sharing joys, keeping secrets, and singing your song."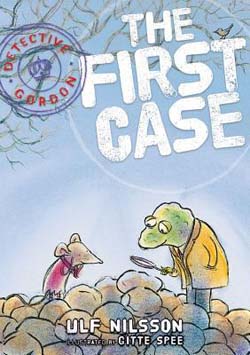 DETECTIVE GORDON: The First Case
written by Ulf Nilsson, illus. by Gitte Spee, (Gecko Press, $16.99, Mar. 2015, ISBN 978-1-927271-49-0), 96p, Ages 7-10
Detective Gordon, an aging hefty toad, loves his cakes and tea more than solving crimes, but being the only policeman in the forest, he agrees to investigate a pesky squirrel's claim of stolen nuts. In the course of the investigation, he catches a baby mouse in the act of stealing a nut, realizes that she is starving, takes pity on her, gives her a bed in the police station, names her Buffy, and deputizes her as his assistant. Explaining the fine art of police work, Detective Gordon states, "We must have a forest where everyone is happy. The crime shall be punished. But if someone is in trouble—say they're dizzy and about to faint and need a bite to eat—we're understanding. We must make allowances in our forest. All of us." Working together, they track down the thieves, enjoy cakes with jam, stamp paperwork, and outsmart criminals. Translated from Swedish, these two charming detectives will capture hearts as well as criminals. Kids will look forward to Volume 2 in this chapter book, mystery series.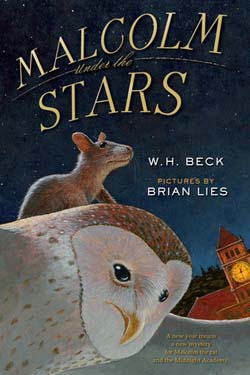 MALCOLM UNDER THE STARS
written by W. H. Beck, illus. by Brian lies, (Houghton Mifflin Harcourt, $16.99, Aug. 2015, ISBN 978-0-544-39267-0), 272p, Ages 9-12
In a sequel to Malcolm at Midnight (2012), Malcolm and the Midnight Academy (a secret society of classroom pets) return in a mystery/adventure tale of treasure, secret codes, hidden identities, and a forgotten time capsule. When Malcolm learns that the McKenna Elementary School is closing, the Midnight Academy vows to find a solution and save the school. Leading the investigation, Malcolm consults with shady "outside" animals, new friends, old enemies, and a few of his fifth-grade class students to uncover a hidden time capsule and buried treasure that may keep the school from closing. He even helps an old enemy find a new future. "Saving someone could be done with something quite small. You just needed to pay attention." As Malcolm ponders the meaning of revenge, loss, compassion, and friendship, he learns the values of perseverance and happiness in helping others. Narrated anonymously in a report to the fifth-grade teacher, Mr. Binney, Malcolm will charm even the most reluctant reader and listener.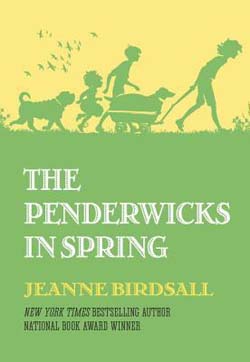 THE PENDERWICKS IN SPRING
written by Jeanne Birdsall, (Knopf Books for Young Readers, $16.99, Mar. 2015, ISBN 978-0-375-87077-4), 352p, Ages 9-12
Since the release of The Pendericks at Point Mouette (2011), seven years have passed on Gardam Street. Rosalind is away at college, Jane and Skye are in high school, Batty is nearly eleven, Ben is now seven, and the newest addition to the Penderwick blended family is Lydia, a charming and exasperating two-year-old. In need of money to pay for vocal lessons, Batty, begins a dog-walking business, still missing her recently deceased Hound. Sports-loving neighbor, Nick Geiger, returns from war, the older sisters wrestle with boyfriend relationships, and sensitive Batty overhears a family secret, which leads to emotional problems. In true form, the family bands together to resolve the situation and to correct misunderstandings. With their humorous antics, charming craziness, unconditional love, and compassionate hearts, this beloved clan is reminiscent of long ago families.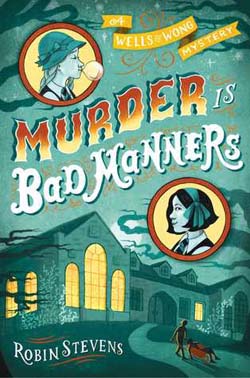 MURDER IS BAD MANNERS: A Wells & Wong Mystery
written by Robin Stevens, (Simon & Schuster, $16.99, Apr. 2015, ISBN 978-1-4814-2212-3), 320p, Ages 10+
Forming the Wells & Wong Detective Society is easy for eighth graders Daisy Wells and Hazel Wong, best friends in the 1934 English countryside boarding school Deepden School for Girls. Finding something to investigate is hard, until Hazel stumbles upon the body of their science teacher in the school gymnasium, which subsequently disappears. Before they can find the murderer, evidence, and motive, the killer strikes again. Likening themselves to the famous Sherlock and Watson, flighty Daisy and conscientious Hazel slowly eliminate each suspect from the list of staff. Along the way, their friendship is tested, until they learn to work together and escape capture by the killer. Kids will look forward to more installments.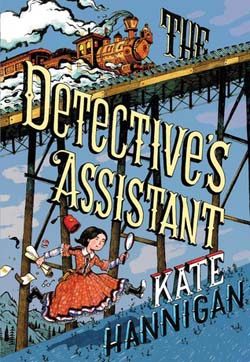 THE DETECTIVE'S ASSISTANT
written by Kate Hannigan, (Little Brown & Co., $17.00, Apr. 2015, ISBN 978-0-316-40351-1), 358p, Ages 11-14
"'You're expecting me to do what?' snapped a peevish voice from the other side of the heavy wooden door. It opened just a few inches to allow a single blue eye to survey me up and down." In 1859 Chicago, 11-year-old Nell Warne is left on her only remaining relative's doorstep. Reluctant to keep her, Aunt Kate searches for a suitable orphanage, but relents after Nell thwarts a pickpocket and helps with household chores and expenses by running errands for their landlady. As the first female detective of the legendary Pinkerton Detective agency, Aunt Kate allows Nell to use disguises, assume false identities, and go undercover on assignments. They successfully foil thieves and murderers and even protect the new president, Abraham Lincoln, from an assassination attempt. Nell's correspondence with a best friend provides answers to her own family's involvement with the Underground Railroad and the tragedy that created the estrangement between Nell's family and her aunt. Based on the life of the real Kate Warne, readers will enjoy the adventure, mystery, and pluck of a young heroine fighting for righteousness and truth. Endpapers include an Author's Note explaining the life of Kate Warne, Answers to Ciphers that are scattered throughout the book, and resources for further reading.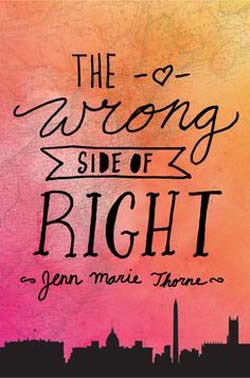 THE WRONG SIDE OF RIGHT
written by Jenn Marie Thorne, (Dial Books, $17.99, Mar. 2015, ISBN 978-0-8037-4057-0), 400p, Ages 14-18
When 16-year-old Kate Quinn suddenly meets her father for the first time, she discovers a powerful senator, who is running for President against the incumbent. Also unaware of the connection, Senator Mark Cooper of Massachusetts invites Kate into his family and on the campaign trail with his wife and their 8-year-old twins. Suddenly Kate finds herself thrust into the national spotlight, adapting to a new family, falling for the President's rebellious son, and involved in the political issue of illegal immigration and her undocumented friends. Teens will root for Kate, who works hard adjusting to a radically different life, wrestles with her own identity, and faces difficult political issues. Readers will find this engaging page-turner a wonderful insight into political campaigns and the burden placed on candidates' families. Many will hope for a sequel.
ABOUT US
The Children's Hour was created to promote and encourage reading to children and by children. We believe that reading aloud not only creates a special bond between parents and children, but it is important to the development of their imagination and curiosity.
The Children's Hour
150 N. Santa Anita Ave.,
Suite 300
Arcadia, CA 91006
626-791-4848
Conditions of Use
Privacy Policy