Welcome to the Children's Hour where reading to children and reading by children is considered a high priority to their success in life. Literacy begins by reading to children, but is developed over the years when great literature is available for their listening and reading enjoyment.

The greatest bargain in America today is located in the public libraries. Usually the only cost involved is time. Unlike toys, books are difficult to break and are ready-made with no assembly or batteries needed. Portable, they can be enjoyed anywhere, any time, and they take up less space than most toys. They never go out of style and are the best source of entertainment for children.

Sign up our monthly newsletter and receive advanced information on the best in children's literature available to read and read-aloud today.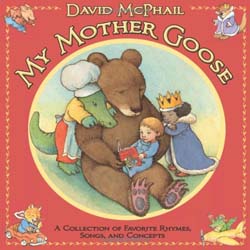 MY MOTHER GOOSE
written/illus. by David McPhail, (Roaring Book Press, $19.99, ISBN 978-1-59643-526-1), 96p, Ages 2-5
Well-known nursery rhymes, lesser known selections, songs, and concepts (numbers, letters, shapes, colors, actions, and modes of transportation) combine to make this collection a wonderful addition to a child's library and an excellent choice for new parents. The sixty-three rhymes are indexed in the back according to first lines. In addition to famous favorites (Humpty Dumpty, Baa Baa Black Sheep, Old Mother Hubbard, Jack Be Nimble, etc.), a little gem called Chook, Chook, Chook, Chock begins: "Good morning, Mrs. Hen. / How many chickens have you got? / Madam, I've got ten:" and proceeds to describe which ones are yellow, brown, and red. Whether story time, bedtime, or anytime, these wonderfully illustrated rhymes should be read, taught, and sung to all who are young and young at heart.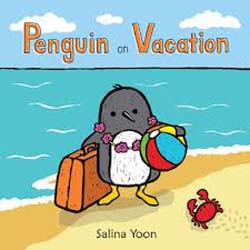 PENGUIN ON VACATION
written/illus. by Salina Yoon, (Walker Books, $14.99, ISBN 978-0-8027-3397-9), 40p, Ages 3-6
Needing a vacation from the cold and snowy Antarctic, Penguin packs his suitcase, grabs his beach ball, and rides an ice flow to a tropical island. He soon discovers that sand is not for sledding, skiing, or skating. Fortunately, he meets Crab, who teaches him to build sand castles, play beach ball, surf, climb coconut trees, and slurp coconut milk. "But all vacations come to an end. It was time for Penguin to go home." Luckily, Crab decides that he needs a vacation, too, and follows Penguin. This sweet story of friendship, fun, and beach time should not be missed, as well as Penguin's old-fashioned stripped bathing suit and Crab's mittens and scarf.

Series:
Penguin and Pinecone
Penguin in Love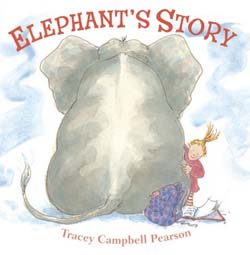 ELEPHANT'S STORY
written/illus. by Tracey Campbell Pearson, (Farrar Straus Giroux, $17.99, ISBN 978-0-374-39913-9), 40p, Ages 3-6
"The day Gracie lost her favorite book, Elephant found it." Sniffed up into his trunk, the words jiggle around until Elephant sneezes them out. Returning them to the book proves difficult and Elephant seeks help. Alligator tries to eat them, Seal juggles them, the monkeys toss them around, and Bear is too busy snoring. When Gracie finds her book, she rearranges the words to create a new story and reads it to Elephant. Fascinating endpapers feature Elephant posing as 26 letters of the alphabet.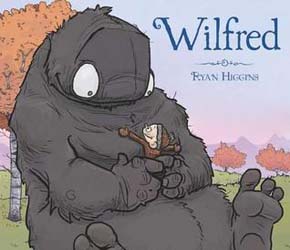 WILFRED
written/illus. by Ryan Higgins, (Dial Books for Young Readers, $16.99, ISBN 978-0-8037-3732-7), 32p, Ages 3-5
Children and adults will enjoy this heart-warming story of a hairy, lonesome giant, a brave little boy, and a town inhabited by bald people. When Wilfred comes to town, he frightens most of the children, except one small boy, who sees him as a great playmate. The townspeople view Wilfred's hair as a way to keep their heads warm for the winter, and trick him into giving it up. "If he wanted to visit he'd have to stop being big … or to stop being hairy. Since Wilfred couldn't stop being big …" Now cold and hairless, Wilfred stays in his cave, until the boy rushes to take him mittens and becomes lost in the snow. Find out how one lonely hairless giant becomes a hero, changes a town full of grumpy people, ends up with a zipper, and finds a best friend for life. Wonderful illustrations make this tale of friendship and unconditional love a fun read aloud.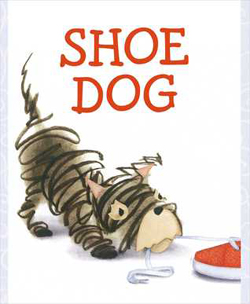 SHOE DOG
written by Megan McDonald, illus. by Katherine Tillotson, (Antheneum Books, $17.99, ISBN 978-1-4169-7932-6), 40p, Ages 3-7
"Dog wanted a home, a real home. A place full of hundreds of nose kisses, dozens of tummy rubs. A place as warm as soup and cozy as pie." The lovable puppy is adopted from the Animal Shelter by a new owner, "She, Herself", who is unaware of Dog's pesky habit. When he relentlessly searches out and chews every available shoe, punishment follows—no petting, no loving, and confinement in the basement ("The Land of Sad Puppies and Scratched-Up Cats and One-Eared Bunnies"). Undeterred, Dog continues to chew on flip-flops, sneakers, and boots, until he finds a new shoe, one that he will never chew, but love forever.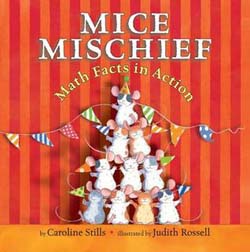 MICE MISCHIEF: Math Facts in Action
written by Caroline Stills, illus. by Judith Rossell, (Holiday House, $16.95, ISBN 978-0-8234-2947-9), 24p, Ages 4-7
Ten mice in various mathematical combinations from one to ten somersault, cook, juggle, wash, spin, hang, balance, scrub, dive, mop, fold, totter, dust, build, polish, swing, and play. From their three level bunk bed, mice begin their daily chores in combinations that total 10. From "9 mice tidy. 1 mouse somersaults, 9+1=10" to "1 mouse polishes. 9 mice swing. 1+9=10", exuberant fun overshadows the daily chores. Learning is more delightful when taught through the joyful antics of these little critters.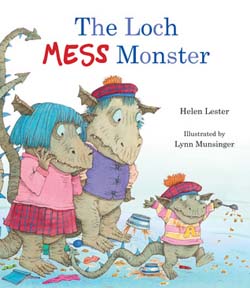 THE LOCH MESS MONSTER
written by Helen Lester, illus. by Lynn Munsinger (Houghton Mifflin Harcourt, $16.99, ISBN 978-0-544-09990-6), 32p, Ages 4-8
Who knew that in the legendary Loch Ness Lake there lived not one, but three monsters—Nessie, her husband Fergus, and their wee little Angus. Usually well behaved, Angus obeys the rules, except for rule No. 2, ("Always pick up after yourself.") The mountain of mess grows on his bed—books, rocks, laundry, utensils, and toys. At night, Angus checks for monsters under his bed, straps on his mountain climbing gear, and hikes up to the top of the pile to sleep. When the pile bursts through the lake's surface, Angus breaks rule No. 1 ("Neverever EVER go up to the surface of the loch."), and exposes himself to three local inhabitants, a duck, a goat, and a Heeland coo. Frightened by the monsters, Angus quickly begins redistributing his mountain of trash. Kids will enjoy the Glossary of Scottish Terms, including puggy-nits (peanuts), hummie-doddies (mittens), and skirps (drips).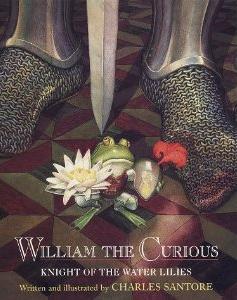 WILLIAM THE CURIOUS: Knight of the Water Lilies
written/illus. by Charles Santore, (Applesauce Press, $16.95, ISBN 978-1-60433-474-6), 40p, Ages 6-9
The Queen of the Land of Far and Wide decrees that every imperfect item in her castle is to be discarded and thrown in the moat. "William was a small green frog who lived in the moat with his brothers and sisters, and his fishy friends. William wasn't the handsomest frog in the moat, nor the largest, nor the strongest. He was, you might say, a pretty ordinary fellow." When furniture, books, garbage, and toys begin contaminating the moat, the brave little frog volunteers to confront the queen about the pollution problem. Determined in his quest, William puts on the clothes and armor of a discarded toy soldier, and carrying the moat's last surviving lily as a peace offering, fights his way past the castle guards to speak with the queen. William convinces her that little things should never be forgotten and neglected in pursuit of perfection. Realizing her mistake, the Queen promises to restore his home and knights him "Sir William, Knight of the Water Lilies, Protector of the Castle Moat." Underneath the clever tale are lessons about caring for our environment, perfection, and overcoming obstacles.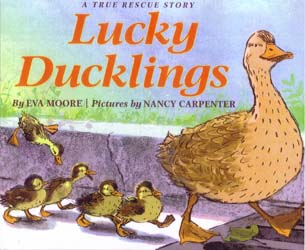 LUCKY DUCKLINGS
written by Eva Moore, illus. by Nancy Carpenter, (Orchard Books, $16.99, ISBN 978-0-439-44861-1), 32p, Ages 5-7
Based on a true story that occurred on Long Island, New York in 2000, Mama Duckling and her five ducklings, Pippin, Bippin, Tippen, Dippen, and Little Joe, waddle from their pond through the park, stop for a snack, and continue across a storm drain. The ducklings follow Mama, but disappear through the drain slats. After several attempts, three firemen and a truck driver rescue the ducklings and stop traffic as the family crosses a busy street and returns home. This charming story is reminiscent of Make Way for Ducklings.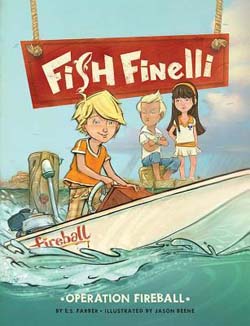 OPERATION FIREBALL: Fish Finelli
written by E. S. Farber, illus. by Jason Beene, (Chronicle Books, $15.99, ISBN 978-1-4521-1083-7), 176p, Ages 8-12
Norman (aka Fish) from Seagulls Don't Eat Pickles and cohorts, Roger, and T. J., fix up a 1970's whaler to compete in the Captain Kidd Classic boat race to beat the Viper, bully Bryce's 9.9 horsepower boat. With $9.23, the three kids dig for oysters in exchange for engine repairs, become stranded on an island with Bryce, and institute the first law in boating—help others in trouble. Fun chapter headings and informational sidebars (gravity, lightning, planing, etc.) round out this entertaining chapter book. Boys especially will enjoy this fun, entertaining, and humorous second adventure.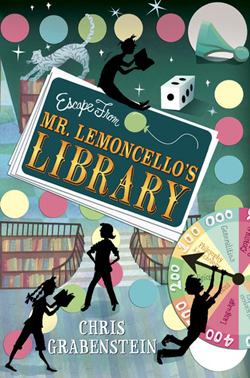 ESCAPE FROM MR. LEMONCELLO'S LIBRARY
written by Chris Grabenstein, (Random House, $16.99, ISBN 978-0-307-97496-9), 301p, Ages 9-12
12 twelve-year-olds are chosen from an essay contest to enjoy the technology and game playing of a new library, built by the eccentric game-maker, Luigi Lemoncello. Spending overnight in the locked down library, the kids are given an additional challenge. "Find your way out of the library using only what's in the library." Kyle Keeley, an avid board game, word game, and video game fan, heads up one group of kids trying to solve clues to find the hidden escape route. Learning to work together, the kids must solve the mystery and escape the library within 24 hours to become a spokesperson for the Imagination Factory, Mr. Lemoncello's multimillion-dollar business. Kids who love puzzles, mysteries, fantasy, and balloons will enjoy this treat. The author reminds readers that an additional puzzle in the book, still remains to be solved.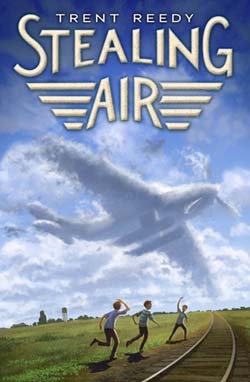 STEALING AIR
written by Trent Reedy, (Scholastic Press, $16.99, ISBN 978-0-545-38307-3), 394p, Ages 9-12
Kids who love middle grade action, adventure, humor (pigout eating contests), old-fashioned ingenuity, skateboarding, and secret labs will enjoy how three creative sixth grade boys steal air and fly. Brian, new to Riverside, Iowa and dynamic skateboarder, Max, an inventor and Star Trek nerd, and Alex, a budding entrepreneur, team up to save a struggling family business. They construct an experimental airplane, risk their lives flying without safety precautions, and teach a bully to behave. Kids interested in amateur aviation, challenges, overcoming odds, the enjoyment of success, and just deserts for bullies will love this treat.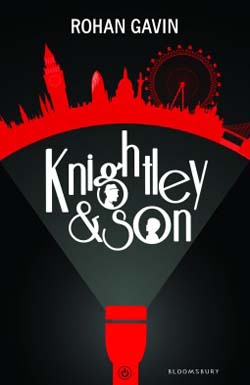 KNIGHTLEY & SON
written by Gavin Rohan, (Bloomsbury, $16.99, ISBN 978-1-61963-153-3), 272p, Ages 10-14
Alan Knightley, a brilliant, dedicated, but obsessive detective suddenly awakens from a four-year coma ready to take on the Combination, an ancient criminal organization responsible for his coma and all unexplained crime in the world. Escaping the hospital, Alan seeks out his 13-year-old son, Darkus, who holds the key to his stolen records. With the help of Darkus' deductive and observation skills, they unravel the mystery behind a self-help mystical book, THE CODE, tied to spontaneous criminal activity. When Alan is kidnapped, Darkus continues the investigation, narrowly avoiding death at the hands of his stepfather, who has been hypnotized by THE CODE to kill him. Conspiracy theories, high speed car chases, irrational criminal behavior, secret WW II underground railway stations, and blended family dynamics, make this Sherlock Holmes-like read a great page-turner for the start of a new father-son detective series.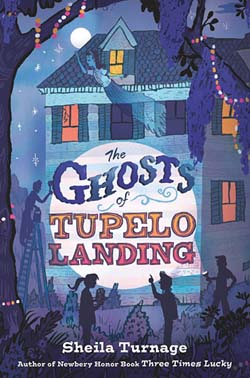 THE GHOSTS OF TUPELO LANDING
written by Sheila Turnage, (Kathy Dawson Books, $16.99, ISBN 978-0-8037-3671-9), 368p, Ages 11+
This charming Southern-flavored sequel to Three Times Lucky (2012) finds Mo LoBeau's foster mother, Miss Lana, accidentally bidding on the old historic Tupelo Inn and winning not only the inn, but its resident ghost. Six graders Mo and her partner in the Desperado Detective Agency, Dale Earnhardt Johnson III, determine to interview the young ghost for a class project. In the process, they discover buried treasure, a moonshine still, strange happenings in the inn and surrounding woods, and discover that others in town also have haunted pasts. Intrepid, plucky, and persistent, Mo finds the answers she seeks as the story confronts issues of abusive and absent parents, illegal activities, guilt, and greed. Humor, colorful characters, family dynamics, Miss Lana's pithy sayings ("All the world's a stage, sugar, so hop on up there."), and Mo's letters to her missing upstream mother, work together to make this mystery worth uncovering.
BUZZ KILL
written by Beth Fantaskey, (Houghton Mifflin Harcourt, $17.99, ISBN 978-0-547-39310-0), 368p, Ages 14-18
17-year-old Millie Ostermeyer dreams of backpacking around the world and winning a steak-eating contest are put on hold, when she discovers "Hollerin' Hank" Kildare the hotheaded football coach's body under the school stadium. Reporter for her school newspaper, Millie's investigation skills kick in as she tries to beat her vindictive newspaper editor out of a story, clear her father's name as number one suspect in the murder, outwit an inept detective, and uncover the mysterious past of one handsome new student, Chase Albright, star quarterback. As they begin to work together secrets are revealed, their friendship grows, and relationships are mended. With delightful enthusiasm Millie steamrolls her way through the investigation, similar to her favorite heroine, Nancy Drew. Buried weapons, chicken clocks, an adorable bassett hound, an awkward school dance, a sympathetic librarian, and cliffhanger chapter endings make this quirky mystery one entertaining and enjoyable read.
ABOUT US
The Children's Hour was created to promote and encourage reading to children. We believe that reading aloud not only creates a special bond between parents and children, but it is important to the development of their imagination and curiosity. Our books are also great choices for children to read.
The Children's Hour
150 N. Santa Anita Ave.,
Suite 300
Arcadia, CA 91006
626-791-4848
Conditions of Use
Privacy Policy