Welcome to the Children's Hour where reading to children and reading by children is considered a high priority to their success in life. Literacy begins by reading to children, but is developed over the years when great literature is available for their listening and reading enjoyment.

The best children's books and filled with imagination and fun. Stories that take children into a world of delight and adventure present storytelling at its best. Children need stories for pleasure, laughter and fun; imaginative and nonsensical stories that may not have a scrap of useful information or lesson, but cheerful and delightful lunacy.

Fall is in the air and what better way to enjoy it than with great stories. We hope that you enjoy our selections. They offer fun reads and read alouds into adventure, folk literature, friendship, families, mysteries, humor, nature,rhythm & rhyme, and heroes.

Be sure to sign up our monthly newsletter and receive advanced information on the best in children's literature available to read and read-aloud today.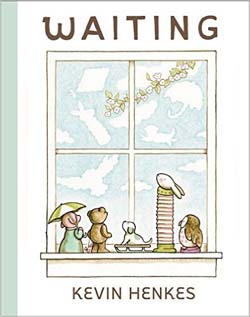 WAITING
written/illus. by Kevin Henkes, (Greenwillow Books, $17.99, Sept. 2015, ISBN 978-0-06-236844-7), 32p, Ages 3-6
Waiting is difficult, especially when watching for something marvelous to happen. Sitting on the windowsill, spotted Owl waits for the moon, Pig waits for rain with his umbrella, Bear waits for the wind with his kite, Puppy and his sled wait for snow, and Rabbit, "just liked to look out the window." As the seasons pass, visitors to their windowsill come and go, but the moon, rain, wind, snow, and sometimes rainbows and fireworks keep them happy. Little ones will enjoy the quiet, reassuring, and leisure pace of this charming story. While much is left to the imagination, it only adds to the enchantment of this keeper.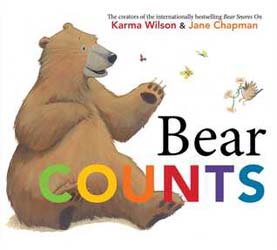 BEAR COUNTS
written by Karma Wilson, illus. by Jane Chapman, (Margaret K. McElderry Books, 16.99, May 2015, ISBN 978-1-4424-8092-6), 32p, Ages 3-6
Bear, Hare, Mouse, Raven, Owl, Wren, and Badger from Bear Sees Colors (McElderry, 2014) return in a fun concept book featuring numbers one to five. Sharing breakfast with Mouse, Bear notices a dragonfly and begins to count: "One sun floating high. / One giant dragonfly. / One robin on her nest. / Only ONE berry left!" Kids are encouraged to count along, as Bear meets Hare, who offers to share two apples. Joining Raven, Owl, and Wren, Bear notices additional groups of threes, fours, and fives, culminating on the ending page at the swimming hole, where all the groups of animals enjoy the day together.
PENGUIN'S BIG ADVENTURE
written/illus. by Salina Yoon, (Bloomsbury Books, $14.99, Sept. 2015, ISBN 978-0-8027-3828-8), 40p, Ages 3-6
The little penguin from Penguin and Pumpkin (Bloomsbury, 2014) determines to be the first to explore the North Pole. With his signature orange scarf, "Penguin planned and packed. He rolled up his adventure map and set off." Beginning his 12,436 mile trip, Penguin passes friends and admires their projects (a colorful quilt, a huge basket, and a long braided rope.) Grabbing a ride with Whale to the top of the world, he throws confetti, turns cartwheels, and plants a sign, but the ensuing silence is lonely, until he meets a cute polar bear cub and they whale watch, build ice forts, and explore the Arctic Sea. It's time to return home, when Penguin's South Pole friends appear in their completed hot air balloon project to return him to the Antarctic. Kids, who are hooked on the Penguin series, will delight in this newest installment.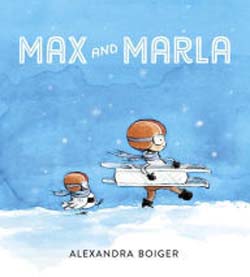 MAX AND MARLA
written/illus. by Alexandra Boiger, (G. P. Putnam's Sons, $17.99, Oct. 2015, ISBN 978-0-399-17504-6), 32p, Ages 3-5
Max and his little owl friend, Marla, are "True Olympians," who know the importance of preparation for sledding down a snowy mountain—warm-up exercises, scarves, caps, mittens, and sled. After technical difficulties, Max waxes the sled and Marla takes a nap. The next day improvements are made in their routine. Equipment is double checked, and helmets and goggles are added, but a storm takes them by surprise and they land in a tree. A day off to rest is needed, but "True Olympians never give up." The next day Max and Marla exercise again, bundle up in oversized ski jackets, tie themselves to the sled, and crash. Turning obstacles into victories, they make snow angels and reward themselves with donut medals and hot chocolate. Perseverance and a never-give-up attitude make for real Olympians at any age.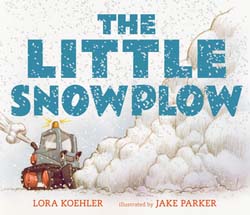 THE LITTLE SNOWPLOW
written by Lora Koehler, illus. by Jake Parker, (Candlewick Press, $15.99, Oct. 2015, ISBN 978-0-7636-7074-0), 32p, Ages 3-7
When a hearty little snowplow joins the Mighty Mountain Road Crew, the larger and seasoned trucks doubt his worthiness. Through spring, summer, and fall he clears streams, cleans up after parades, pushes leaves into piles, and trains to gain more strength by pushing gravel and pulling blocks of concrete. When a winter blizzard hits, his small size, speed, and strength enable the little snowplow to free one of the big dump trucks from an avalanche. Kids will love the determination, hard work, and upbeat attitude of this mighty little hero.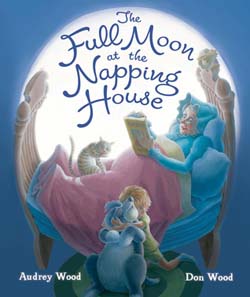 THE FULL MOON AT THE NAPPING HOUSE
written by Audrey Wood, illus. by Don Wood, (Houghton Mifflin Harcourt, $17.99, Sept. 2015, ISBN 978-0-544-30832-9), 32p, Ages 4-7
From the creators of The Napping House (HMH, 2009) comes a cumulative tale of a full moon and a restless family. A sleepless granny, a fidgeting child, a very playful dog, a cat on the prowl, and an anxious mouse are unable to quiet down due to the moon's bright light permeating their bedroom. When a cricket begins chirping on the window, it "soothes the mouse, / who calms the cat, / who gentles the dog, / who snuggles the boy, / who hugs the granny, / in the dreamy bed, / in the full-moon house, / where no one now is restless." Fans will love revisiting old friends from The Napping House, originally published in 1984.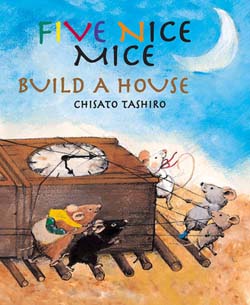 FIVE NICE MICE BUILD A HOUSE
written/illus. By Chisato Tashiro, (miniedition, $17.00, Oct. 2015, ISBN 978-988-8240-39-5), 40p, Ages 4-8
Nibble, Teeny, Bon Bon, Whisk, and Abby from Five Nice Mice and the Great Car Race (miniedition, 2014), find themselves in need of a new home, when their building is taken over by cats. "They searched and searched until they found themselves in front of an extraordinary mountain. It was full of things that people had thrown away." With ingenuity, the five mice recycle and reuse the discarded treasures to build a new house. Screws, spools, nails, pipes, jars, boxes, a clock for the kitchen and pantry, a red chair for the roof, and an old flower pot to collect rain water for baths make their house a home. Their masterpiece of engineering even includes a Ferris wheel. The wonderful house is complete, until an unexpected visitor shows up and needs rescuing. Kids will love these five nice mice and their cozy home and loving hearts.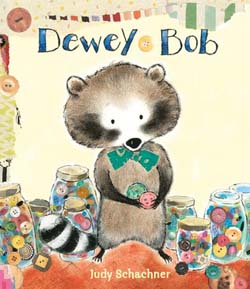 DEWEY BOB
written/illus. by Judy Schachner, (Dial Books for Young Readers, $17.99, Sept. 2015, ISBN 978-0-8037-4120-1), 32p, Ages 4-7
An adorable little raccoon sets out to find a home and build a life around his passion for collecting and cleaning objects. Soon he discovers that collecting treasures isn't enough. He wants a friend, and begins to collect animals, tossing "every critter too slow to get out of his way" into a shopping cart. Most of the animals escape, except one small "half-starved mudball," an injured kitten, which Dewey Bob promptly takes home, cleans up, and helps to walk again, proving that the best friendships are built on unconditional love and acceptance.
… AND NICK
written by Emily Gore, illus. by Leonid Gore, (Atheneum Books for Young Readers, $17.99, June 2015, ISBN 978-1-4169-5506-1), 40p, Ages 4-7
Nick, the youngest and smallest of four identical brothers, is always trying to catch up. Whatever the activity, Nick always lags behind. Even when picking flowers for Mom, he is left with a "small green sprout." When his sprout blooms into the most beautiful flower of all, Mom labels a "late bloomer." Family love, patience, and acceptance always makes for the best in read-alouds.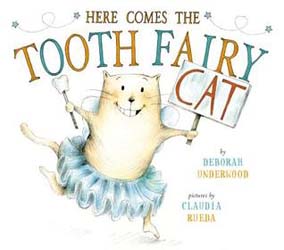 HERE COMES THE TOOTH FAIRY CAT
written by Deborah Underwood, illus. by Claudia Rueda, (Dial Books for Young Readers, $16.99, May 2015, ISBN 978-0-525-42774-2), 96p, Ages 4-7
Cat from Here Comes the Santa Cat (Dial, 2014), and Here Comes the Easter Cat (Dial,2014), is grateful for a coin left by the Tooth Fairy for his missing tooth, and devises a plan to meet her. It backfires when he receives two packages with a tutu, wings, and a mouse assistant, along with a note: "if you help me with a few deliveries, maybe we can meet. Love, Tooth Fairy." Cat and Mouse work together to deliver coins down holes, up trees, and in a bear's cave, where Cat saves Mouse's life. Discover how Cat humorously meets the Tooth Fairy in a magicial ending. As always, the narrator communicates with Cat through placards, body language, and facial expressions. Once again, Cat delivers lots of fun and giggles.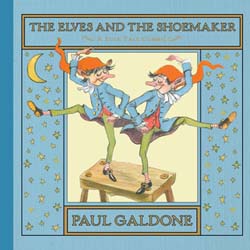 THE ELVES AND THE SHOEMAKER
retold/illus. by Paul Galdone, (Houghton Mifflin Harcourt, $8.99, Sept. 2015, ISBN 978-0-544-53099-7), 40p, Ages 4-7
A poor shoemaker cuts out his remaining piece of leather to make one last pair of shoes and goes to bed wondering how he will support his family. When he awakes in the morning, he finds an exquisite pair of finished shoes. "He took the shoes in his hand to examine them more carefully. They were so well made that every stitch was in the right place, just as if they had come from the hand of a master-workman." Morning after morning, more shoes are left, until the shoemaker and his wife are financially stable. Shortly before Christmas, they discover that two elves are responsible for crafting the shoes. To return the kindness, they make and leave little clothes for the elves, who are overjoyed, sing, and dance out the door never to be seen again. This lovely and timeless fairy tale of kindness and unselfishness has entertained children since it was first published In1806.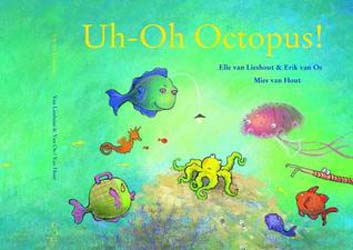 UH-OH OCTOPUS!
written by Elle van Lieshout/Erik van Os, illus. by Mies van Hout, (Lemniscaat, $17.95, Apr. 2015, ISBN 978-1-935954-39-2), 32p, Ages 3-7
"Octopus lived in a cozy home under the sea. He had nothing to complain about. He could make himself adecent meal. He had a wonderful view." Until one day, an intruder blocks the entrance to his home. Afraid to confront the stranger, Octopus seeks advice from his friends, but their solutions to eat, scare, ignore, move on, and slime the intruder, are not acceptable to Octopus. When he hears the sea whisper an answer, Octopus decides to politely confront the interloper, only to discover a beautiful mermaid who needs rescuing.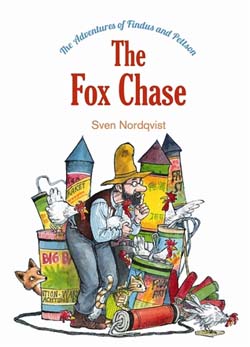 THE FOX CHASE: The Adventures of Pettson and Findus
written/illus. by Sven Nordqvist, (North South Books, $17.95, Sept. 2015, ISBN 978-0-7358-4251-1), 32p, Ages 4-8
Pettson, a kind farmer and Findus, his clever tabby cat, develop a plan to scare a fox away from their farm and prevent its demise at the hands of a gun-toting neighbor. They agree that it's better to outfox the fox than shoot him. With a balloon, pepper, feathers, firecrackers, a zip line, and a ghost costume for Findus, they set the trap. When Pettson spies the poor, skinny, limping fox that night, he has a change of heart. Discover how the neighbor gets tricked, and the sneaky fox grabs the chocolate pudding instead of the fake chicken in this hilarious and compassionate tale about caring for all creatures. Kids will love the bright, detailed illustrations that demand more attention. This Swedish import, 10th in the series, is definitely a keeper.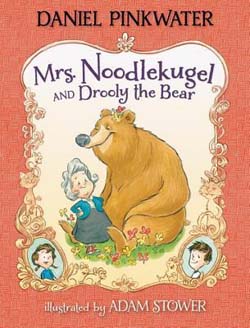 MRS. NOODLEKUGEL AND DROOLY THE BEAR
written by Daniel Pinkwater, illus. by Adam Stower, (Candlewick Press, $14.99, May 2015, ISBN 978-0-7636-6645-3), 96p, Ages 5-9
This latest tale from the Mrs. Noodlekugel series finds Nick and Maxine staying with their babysitter, Mrs. Noodlekugel and her menagerie of talking cats and bespectacled mice for a few days, while their dad competes in a speed-knitting championship. No one is more surprised than Mrs. Noodlekugel, when her long-lost sea-faring husband returns. It seems that he left the sea life and annexed a long-snouted bear named Drooly to train for the circus. Teaching Drooly to dance presents problems when he wobbles and falls asleep on Mrs. Noodlekugel's tulips. After Drooly disappears, Nick and Maxine know there is only one direction a stewed tomato, radio-loving, bear could go. Loopy conversations regarding Sardines, backward eating dinners (vegetable cake and chocolate soup), knitted suitcases, an offshore kitty, and a miniature four-tiered bunk bed for mice will charm all who read and listen to this ridiculous and delightful tale.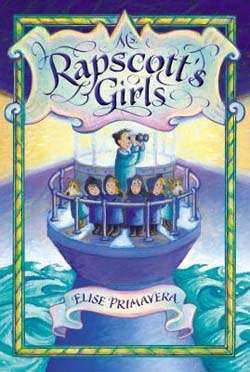 MS. RAPSCOTT'S GIRLS
written/illus. by Elise Primavera, (Dial Books for Young Readers, $16.99, Mar. 2015, ISBN 978-0-8037-3822-5), 272p, Ages 8-12
The Great Rapscott School for the Daughters of Busy Parents only admits girls from the top five busiest parents in the world. When the girls arrive in large flying cartons, one girl is missing (her parents forgot to seal her box and she fell out). Lessons and adventures begin in the Big White Lighthouse by the Sea, where Ms. Rapscott and her two corgi assistants, Lewis and Clark, teach bravery, friendship, etiquette, survival basics, note writing, and how to "cross a street without getting squished." They are graded on "pluck, enthusiasm, spirit of adventure, brilliance, and self-reliance." With breakfasts of birthday cake and ice cream, the girls are soon soaring on Skysweeper Winds, taking the Less Traveled Road to search for their missing classmate, riding Seaskimmers, dealing with the Bumbershoot Tree, and flying in Amelia Earhart's plane. Somewhere between Mary Poppins and Willy Wonka, the unflappable, charismatic Ms. Rapscott doles out inspirational remarks, urging her students to "be like a good pair of boots: sturdy, durable, and waterproof." Black and white drawings accompany this unique and quirky story with its magic, humor, and a touch of mystery. Readers will look forward to more tales, perhaps involving Mt. Everbest Academy for Boys of Busy Parents.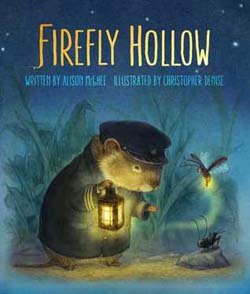 FIREFLY HOLLOW
written by Alison McGhee, illus. by Christopher Denise, (Simon & Schuster, $16.99, Aug. 2015, ISBN 978-1-4424-2336-7), 304p, Ages 8-12
Only in Firefly Hollow could three creatures and one small boy find friendship, become kindred spirits, and help one another achieve their dreams. Firefly wants to fly to the moon. Cricket sings the best baseball song ever and yearns to be a catcher like his hero Yogi Berra. Vole, the last of his kind and keeper of memories, dreams of sailing to where the river meets the sea. Young Peter is missing his best friend. They come together to build a raft, teach catching, encourage flying, and find purpose in life. Humorous, gentle, and charming, this tale of friendship, bravery, adventure, and triumphing over impossible odds is destined to become a classic. Kids will love the spiderweb hammocks, parachute formations, secret code blinks, dandelion fluff, and the Museum of Giant Artifacts.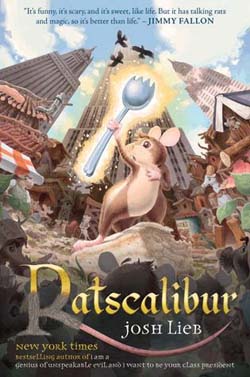 RATSCALIBUR (The Chronicles of the Low Realm)
written by Josh Lieb, illus. by Tom Lintern, (Razor Bill, $16.99, May 2015, ISBN 978-1-59514-242-9), 272p, Ages 8-12
With a nod to the Arthurian legend of Excalibur and J. R. R. Tolkein, a young boy is magically transformed into a rat and joins a quest to save the rat kingdom of Ravalon. Forced to move to New York City when his mother takes a new job, Joey is given a pet rat for company,who introduces himself as Gondorff the Gray, a powerful Ragician, and asks for Joey's help to deliver a message to King Uther of the Low Realm. "Let him know that I have failed." Transformed by Gondorff's bite, Joey evades cats, crows, and evil Berzerker rats to pull a plastic fork (Ratscalibur) from a biscuit, "the Spork from the Scone." Joining new friends and a princess, Joey begins a dangerous quest to reach a squirrel magician, who can save the Kingdom and turn Joey back into a human. Kids will love the accompanying black and white illustrations depicting battling rats, cats, and crows, a bodyguard guinea pig, paperclip swords, and cat-riding rats. Adventure, page-turning action, unlikely heroes, humor, and suspense will have kids eagerly awaiting a sequel.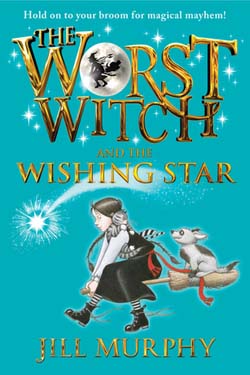 THE WORST WITCH AND THE WISHING STAR
written/illus. By Jill Murphy, (Candlewick Press, $14.99, Aug. 2015, ISBN 978-0-7636-7000-9), 280p, Ages 8-12
The seventh and last adventure in the Worst Witch series finds Mildred Hubble returning to Miss Cackle's Academy, taking more responsibility (lighting the lantern and candelabras in the East Wing), rescuing a lovable stray dog, and participating in a talent contest to win a swimming pool for the school. Trouble is never far away, especially when Ethel Hallow is around.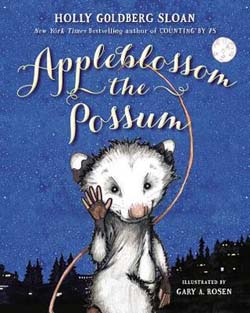 APPLEBLOSSOM THE POSSUM
written by Holly Goldberg Sloan, illus. by Gary A. Rosen, (Dial Books for Young Readers, $16.99, Aug. 2015, ISBN 978-0-8037-4133-1), 288p, Ages 8-12
Appleblossom and her 12 siblings are taught the rules of the possum world by their mama—avoid cars, people (monsters) and dogs (hairies), hide by day, and play dead when facing danger. Nomadic, nocturnal, and solitary, they are taught to fend for themselves, until one day mama leaves and they must face the world alone. Not ready for the solitary life, Appleblossom and her brothers, Amlet and Antonio, stay together for safety and food, until she accidentally falls down the chimney of a little girl named Izzy. Her faithful brothers seek out their parents and stage a daring and hysterical rescue to free Appleblossom from the monsters and a ball-obsessed hairy. Charming illustrations and a sweet, humorous tale of adventure and rescue remind us to value our families.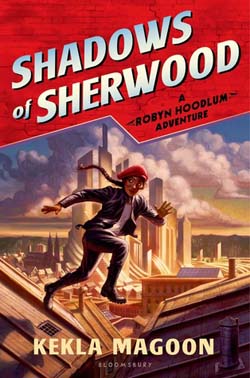 SHADOWS OF SHERWOOD (A Hoodlum Adventure)
written by Kekla Magoon, (Bloomsbury Books, $16.99, Aug. 2015, ISBN 978-1-61963-634-7), 368p, Ages 10-14
In this futuristic retelling of Robin Hood, 12-year-old Robyn Loxley's adventurous streak saves her life. One night while scavenging for electronics in a Nott City junkyard, her parents, members of Parliament, are kidnapped along with other government officials, and her town is taken over by a harsh governor, Ignomus Crown. Her technical abilities help her avoid capture as she joins with streetwise kids to survive, find her missing parents, and unlock the mystery of clues left by her father. A cryptic hologram, two pendants of shadow and light, and a moon lore prophesy tie her destiny to Nott City and Sherwood Forest, as she realizes the need to help the less fortunate, who desperately need rescuing . The first book in a new series will have kids rooting for a spunky heroine and her talented friends.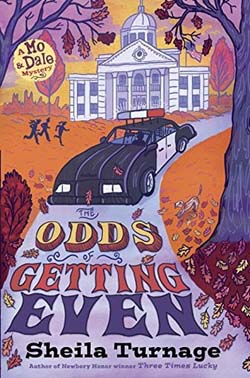 THE ODDS OF GETTING EVEN
written by Sheila Turnage, (Kathy Dawson Books, $16.99, Oct. 2015, ISBN 978-0-8037-3961-1), 368p, Ages 12-15
Shortly before Thanksgiving in Tupelo Landing, North Carolina, Mo LoBeau, Dale Earnhardt Johnson, and the newest addition to their Desperado Detective Agency, Harm Crenshaw, involve the town in an effort to find Dale's no-good, kidnapping daddy, Macon Johnson, who escaped jail before his trial. With Tupelo Landing in lock down, Dale's brother in danger, break-ins, fires, and bank robberies, evidence is mounting against Macon. Dale refuses to believe that his father is guilty of the current crime spree, but Mo wants to get even for Macon's crimes against her family. A who-done-it mystery, delightful Southern language, similes ("Miss Lana says reality is like cheap shampoo. Sometimes it takes a while to sink in."), metaphors, and non-stop action surround three amateur detectives as they cope with sixth grade, desperate criminals, and loyalties to family and friends. In this third installment in the Tupelo Landing series, Three Times Lucky, (Penguin, 2012), The Ghosts of Tupelo Landing (Penguin, 2014), charm and humor abound with screeching guinea hens, adorable puppies, a touch of Hollywood, and an unusual Thanksgiving dinner. It's a shame that these colorful characters must be left on the last page.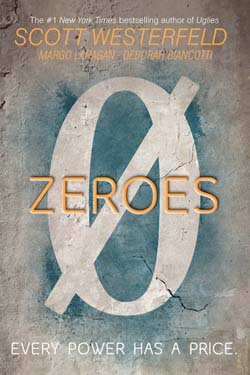 ZEROES
written by Scott Westerfeld, Margo Lanagan, and Deborah Biancotti, (Simon Pulse, $19.99, Sept. 2015, ISBN 978-1-4814-4336-4), 560p, Ages 14-18
A group of California teens with unusual supernatural powers fight crime, save lives, and right wrongs in this beginning trilogy of adventure and science fiction. Their leader Nate, a.k.a. Bellweather, calls them "Zeroes," as they all have the birth year 2000 in common. Nate and the newest member Kelsee, (a.k.a. Mob), have the ability to influence the emotions of crowds. Ethan, a.k.a. Scam, uses an inner voice to speak truth or lies. Thibault, a.k.a. Anonymous, has the ability to make everyone forget him. Riley, a.k.a. Flicker, is blind but sees through others' eyes. Chizara, a.k.a Crash, has the skill to bring down technology with thoughts. Having disbanded the previous summer due to infighting, the group comes together to rescue Scam from a bank robbery and kidnapping. Told from six viewpoints, they confront bank robbers, crime bosses, drug dealers, mobsters, and police detectives, while honing their talents and discovering new ones. Readers will enjoy the action, adventure, romance, and ethical struggles of six teens who seek their purpose in the world.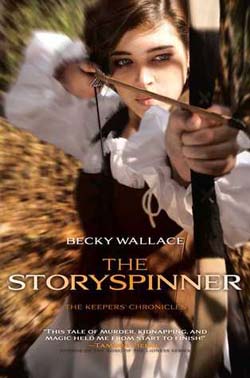 THE STORYSPINNERS (The Keepers Chronicles)
written by Becky Wallace, (Margaret K. McElderry Books, $17.99, May 2015, ISBN 978-1-4814-0565-2), 432p, Ages 14-18
A circus performer, a magical race of Keepers, a missing heir, two kingdoms divided by a magical wall, a stubborn duke, and a magical quest involve readers in a delightful new fantasy series. 16-year-old Johanna Von Arlo is a Performer, who specializes in spinning ancient tales about conquered kingdoms and a missing princess. Little does she realize that her magical stories are more than imaginary, when her father is murdered, and she is forced to work for the honor-bound Lord Rafael DeSilva. Life becomes complicated when magical warriors seek her as the missing princess, and villains, who have murdered many girls matching Johanna's description, begin to stalk her. Each chapter is told by one of seven characters, who direct the story from their various viewpoints. Political intrigue, ancient magic, unexpected romance, honorable heroes, and detestable villains make this first installment of a new fantasy series a keeper.
ABOUT US
The Children's Hour was created to promote and encourage reading to children and by children. We believe that reading aloud not only creates a special bond between parents and children, but it is important to the development of their imagination and curiosity.
The Children's Hour
150 N. Santa Anita Ave.,
Suite 300
Arcadia, CA 91006
626-791-4848
Conditions of Use
Privacy Policy