Welcome to the Children's Hour where reading to children and reading by children is considered a high priority to their success in life. Literacy begins by reading to children, but is developed over the years when great literature is available for their listening and reading enjoyment.

The best children's books and filled with imagination and fun. Stories that take children into a world of delight and adventure present storytelling at its best. Children need stories for pleasure, laughter and fun; imaginative and nonsensical stories that may not have a scrap of useful information or lesson, but cheerful and delightful lunacy.

Also featured this month are stories of heroes and role models. Children need to read and hear about brave and courageous characters, who display the highest ideals and values. They may not have started out as heroes, but somewhere along the way, through circumstances or conscience, they were changed for the better.

Sign up our monthly newsletter and receive advanced information on the best in children's literature available to read and read-aloud today.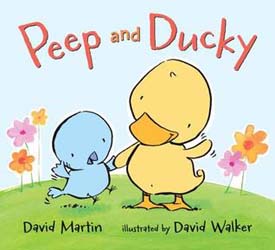 PEEP AND DUCKY
written by David Martin, illus. by David Walker, (Candlewick Press, Brdbk $6.99, Feb 2015, ISBN 978-0-7636-7243-0), 24p, Ages 2-6
Best friends, Peep and Ducky enjoy a day in the park, sharing giggles, romps, tag, slides, mud puddles, snacks, spilled drinks, and potty breaks. When the fun afternoon ends, no one wants to leave. "Then Momma says, 'Time …' / And Poppa says, 'To go!' / But Ducky and Peep cry, / 'No, no, no!'" Days are sweeter when shared with friends.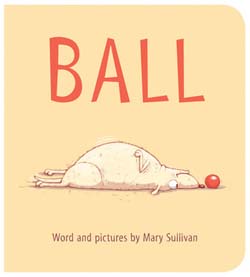 Ball
written/illus. by Mary Sullivan, (Houghton Mifflin Harcourt, Brdbk $7.99, Feb 2015, ISBN 978-0-544-31361-3), 32p, Ages 3+
Now in board book, a lovable, but relentless dog thrives on fetching a ball with a variety of emotions and a single word, "Ball." He begins the day waiting for his mistress to wake up and throw the ball. After his best pal leaves for school, he begs a meditating mom, the baby, and the family cat to play, but with no success. Forced to play alone, he soon tires, takes a nap, and dreams of wild ball chasing scenarios. When the young girl returns from school, the exuberant game begins again. Dog lovers will sympathize with the determination, frustration, anticipation, and happiness of one endearing, ball-obsessed canine.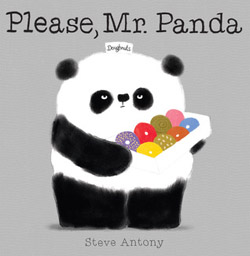 PLEASE, MR. PANDA
written/illus. by Steve Antony, (Scholastic Press, $16.99, Jan 2015, ISBN 978-0-545-78892-2), 32p, Ages 3-5
With patience persistence, and politeness, Mr. Panda asks various animals if they would like one of his colorful iced doughnuts, but receives various reactions from a penguin, ostrich, skunk, and whale. To their selfish replies, ("Give me the pink one." "No, go away." I want the blue one and the yellow one." "I want them all.") Mr. Panda answers, "No, you cannot have a doughnut. I have changed my mind." Only when a lemur asks nicely with a "please" and "thank you", does the entire box of doughnuts find a new home. Young and old will appreciate the manners lesson and the magic words that open up worlds of pleasure.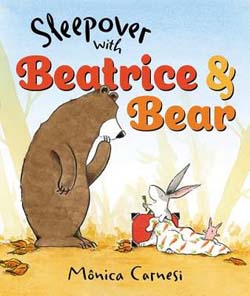 SLEEPOVER WITH BEATRICE & BEAR
written/illus. by Mônica Carnesi, (Nancy Paulson Books, $15.99, Aug 2014, ISBN 978-0-399-25667-7), 32p, Ages 3-5
Despite a rough first impression (Bear sits on Beatrice's carrots while beehive watching) both bear and bunny develop a great friendship. They share kite flying, hide-and-seek, reading aloud, swimming, and pouncing in autumn leaves. "But one day, Beatrice couldn't find Bear anywhere. Where had he gone?" When Squirrel explains that Bear went to hibernate, Beatrice assumes it is a sleepover and rushes to hibernate with him. They read stories and share a cup of warm milk, but when Bear nods off, Beatrice remains wide awake. Realizing that they cannot share everything, Beatrice decides to document her winter activities for Bear when he awakes ("The Great Scrapbook of Winter Delights and Adventures.") Little ones will enjoy the sweet illustrations, especially Beatrice's blanket decorated with carrots, sleep mask, and arms floats for swimming.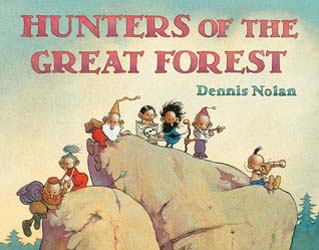 HUNTERS OF THE GREAT FOREST
written, illus. by Dennis Nolan, (Neal Porter Books, Roaring Brook Press, $17.99, Oct 2014, ISBN 978-1-59643-896-5), 40p, Ages 3-7
In this charming wordless quest, seven tiny, brave, and fearless hunters set out on a long expedition. Carrying a spear, map, bedroll, magnifying glass, and telescope, the fearless hunters travel through arid land, climb over rocks and tree roots, and narrowly escape a huge dragonfly, an angry mother bird, a giant toad, and a scary squirrel. After losing their possessions, they find protection in a cave, only to spy a human girl roasting marshmallows by a campfire. Four of the hunters snatch a gigantic marshmallow from her unguarded bag, while another fends off hungry ants. Scampering back to the village, all celebrate a well-earned victory and the pleasure of a fabulous treat. Endpapers show the clever ants sprinting away with the forgotten equipment. The excitement of adventure and the humorous drama make for an entertaining, wordless read.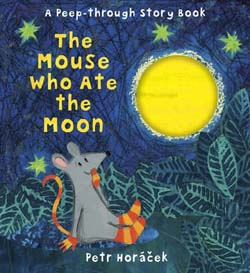 THE MOUSE WHO ATE THE MOON
written/illus. by Petr Horáck, (Candlewick Press, $15.99, Sept 2014, ISBN 978-0-7363-7059-7), 32p, Ages 3-7
At bedtime a little mouse gazes at the moon and declares, "The moon is beautiful … I would love to have my very own piece of the moon." The next morning she discovers a banana and thinks it to be a piece of the moon from the sky. Taking several nibbles until only a half remains, Little Mouse is dismayed to realize that the moon must no longer be round. She confesses her transgressions to her friends, who reassure her that the moon cannot be eaten. Her friends show her the nighttime full moon and help her eat the remaining half of the banana. Die-cut pages, bright artwork, and a delicious tale will entertain little ones.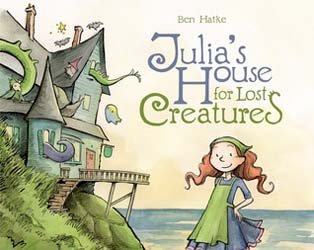 JULIA'S HOUSE FOR LOST CREATURES
written/illus. by Ben Hatke, (First Second, $17.99, Sept 2014, ISBN 978-1-59643-866-8), 40p, Ages 4-7
A resourceful redheaded girl moves her Victorian home, which resides atop a giant tortoise, to a cliff overlooking the sea. Julia settles in with her books, a lovely fire, toast, and tea. Not content with the loneliness of the quiet house, Julia hangs up a sign inviting lost creatures to stay. Soon homeless creatures of every kind arrive, take over the house, and chaos erupts. Elves overrun the kitchen, the mermaid invades the bathtub, and the troll discovers the record player. Back to her workshop, Julia creates a chore chart for her housemates. "The dragon made toast and the mermaid washed the dishes. The folletti tended the fire, the goblins mopped up, the ghost was in charge of dusting … and the troll picked out the music." With order restored, Julia hears disturbing noises from the old house, advertises for a handyman, and finds a very unique repairman. Kids will love the menagerie of creatures and the lesson of helping others less fortunate.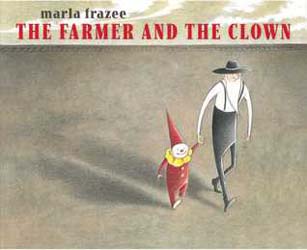 THE FARMER AND THE CLOWN
written/illus. by Marla Frazee, (Beach Lane Books, $17.99, Sept 2014, ISBN 978-1-4424-9744-3), 32p, Ages 4-8
An unexpected friendship develops between a lonely farmer and a young boy, when a passing circus train bumps on the tracks and ejects the young clown into the farmer's field. The farmer takes him home, washes his face, tries to cheer up the child, and watches over his sleeping visitor that night. The next day they eat, play, milk cows, gather eggs, and take a nap. While picnicking, they spy the returning train, rush down the hill, and meet an ecstatic clown family. Sudden surprises, affection, warmth, and compassion make this delightful wordless picture book worth reading to every young and young at heart believer.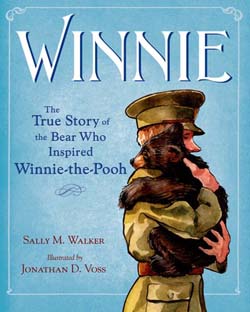 WINNIE: The True Story of the Bear Who Inspired Winnie-the-Pooh
written by Sally M. Walker, illus. by Jonathan D. Voss, (Henry Holt & Co., $17.99, Jan 2015, ISBN 978-0-8050-9715-3), 40p, Ages 6-9
During World War I, soldier and veterinarian Harry Colebourn discovers and buys an orphaned bear cub at a train station in Canada. Naming her Winnie (short for Winnipeg), Harry takes her along to his training camp in Quebec and onto England as the war progresses. Winnie becomes a favorite pet of the regiment, but when Harry goes into battle, Winnie is placed with the London Zoo. Tame and gentle, the zookeepers permit children to ride on her back. There, A. A. Milne's son, Christopher, meets Winnie, and it is love at first sight, prompting Milne to write the famous Winnie-the-Pooh books. Additional facts on Harry Colebourn, the American black bear, and Milne's writings are found in the Author's Note, as well as photos from the Manitoba Archives, Zoological Society of London, and the National Portrait Gallery in London. Children who cherish the beloved Pooh books will love this fascinating insight into the real bear behind the stories.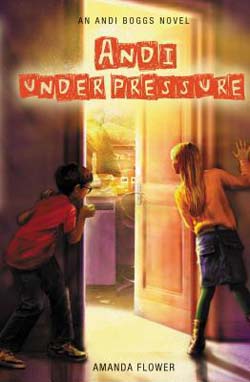 ANDI UNDER PRESSURE
written by Amanda Flower, (Zondervan Books, $10.99, Sept 2014, ISBN 978-0-310-73705-5), 176p, Ages 9-12
Sixth grader Andi Boggs and her partner/neighbor Colin Carter, are mystery solvers extraordinaire. Continuing their adventures from Andi Unexpected (2013), Andi and Colin are determined to solve a new mystery surrounding their summer science camp at a local university in Killdeer, Ohio. Discover Camp is plagued by a series of pranks (missing markers, crickets, stolen equipment) until a science demonstration explodes sending their professor to the hospital with serious burns. Campus security's prime suspect is the mysterious janitor, Polk, a gentle 80-year-old man. As Andy and Colin delve into Polk's background, they realize that some of the camp counselors have greater motives. Will they solve the case before the camp and possibly the School of Sciences are closed for good? Tragedy, revenge, and jealousy are revealed as Andi and Colin unravel secrets surrounding old mysteries and middle school hijinks.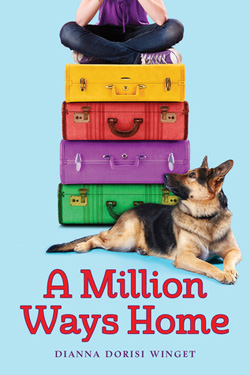 A MILLION WAYS HOME
written by Dianna Dorisi Winget, (Scholastic Press, $16.99, Aug 2014, ISBN 978-0-545-66706-7), 272p, Ages 10-13
Twelve-year-old Poppy Parker has lived with her grandmother since the death of her parents in Botswana. When her grandmother suffers a stroke, Poppy lands in children's home, where life is radically different. In a series of bad decisions, Poppy sneaks out to visit her grandmother in the hospital and witnesses an armed robbery. For her protection, Detective Trey Brannigan moves her in with his compassionate mother, where she befriends a troubled girl her own age, meets the owner of the Spokane Animal Shelter, rehabilitates a German Shepard that is scheduled to be put down, and helps police capture a killer. Through loneliness and grief, Poppy learns the importance of making good choices, helping others, and begins to trust and love again. Suspense, resolutions, and hope make this poignant story an exciting read.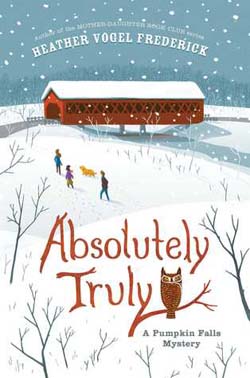 ABSOLUTELY TRULY: A Pumpkin Falls Mystery
written by Heather Vogel Frederick, (Simon & Schuster Books for Young Readers, $16.99, Nov 2014, ISBN 978-1-4424-2972-7), 368p, Ages 9-12
Twelve-year-old Truly Lovejoy, tall for her age (just under six feet) and the middle child of five children, finds her family uprooted in a move to New Hampshire, when her father loses an arm in Afghanistan. Truly quickly settles into school and community life and helps in the bookshop that her father and aunt own. Finding a mysterious note in a first edition copy of Charlotte's Web, Truly and her new friends begin a hunt through town as the Pumpkin Falls Private Eyes. Extremely busy adjusting to small town life, Truly tries out for the swim team, practices ballroom dancing for the Winter Festival, battles school bullies, investigates a theft, nearly drowns, and helps remodel the family's bookstore. An assortment of friends, eccentric citizens, quirky family, and an intriguing mystery make the first installment a fun read.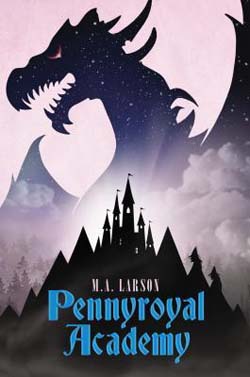 THE PENNYROYAL ACADEMY
written by M. A. Larson, (G. P. Putnam's Sons, $16.99, Oct 2014, ISBN 978-0-399-16324-1), 304p, Ages 12+
The Pennyroyal Academy exists to train and equip princesses and knights to battle witches and dragons for a coming world war. This year the Academy opens its doors to commoners, and a teenage girl arrives with no name, no memory of her human parentage, and clad in only spider webs. She brings with her Prince Remington, who she rescued from a witch's cage along the way. Given the name Cadet Eleven (Evie), she endures harsh training, jealous rivalries, and impossible tests. Raised by dragons, Evie discovers her strange human family, unexpected friendships, and a Frog Prince. Along with the remaining first year students, Evie learns courage, kindness, compassion, and discipline, the four requirements to fight evil. When discouragement begins to overwhelm Evie, her teacher, Rumpleshirtsleeves, gives wise counsel: "You are not a victim in this world unless you choose to be. And if that's your choice, then you'll never be more than a frightened girl lost in the woods." Readers will look forward to Evie's second year at the Pennyroyal Academy with friends, enemies, witches, dragons, and a bit of romance.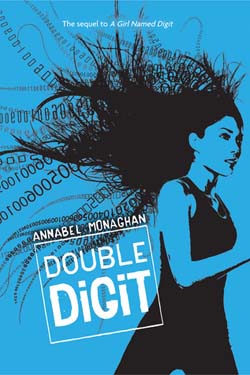 DOUBLE DIGIT
written by Annabel Monaghan, (Houghton Mifflin Harcourt, $7.99, Jan 2015, ISBN 978-0-544-33620-9), 192p, Ages 14-18
In this sequel to A Girl Named Digit (2012), eighteen-year-old Farrah Higgins (Digit) looks forward to her first year at MIT, and hopes to blend in as a normal college student, while putting her recent past with terrorists and assassins behind her. As a math and code-breaking genius, Digit makes friends, enjoys college life, and looks forward to a potential job with a nanotechnology professor. After breaking up with her FBI boyfriend, John, and foiling a campus-kidnapping attempt, Digit thoughtlessly hacks into the Department of Defense and attracts the unwanted attention of the National Security Agency and possible jail time. When an old enemy, ecoterrorist Jonas Furnis, forces her to help him overturn the government and kill millions, Digit's skills and talents are tested. High drama, interesting characters, humor, near death experiences, and a bit of romance will leave readers eagerly awaiting the next installment.
ABOUT US
The Children's Hour was created to promote and encourage reading to children and by children. We believe that reading aloud not only creates a special bond between parents and children, but it is important to the development of their imagination and curiosity.
The Children's Hour
150 N. Santa Anita Ave.,
Suite 300
Arcadia, CA 91006
626-791-4848
Conditions of Use
Privacy Policy