Welcome to the Children's Hour where reading to children and reading by children is considered a high priority to their success in life. Literacy begins by reading to children, but is developed over the years when great literature is available for their listening and reading enjoyment.

This month we feature some of the best children's books from 2013. Some of these outstanding books have been nominated for awards, others should have been, but we feel each one in the following categories should be read by and to children everywhere.

Winter is still here and there's nothing more comforting than snuggling with a good book. We hope that you enjoy our selections. They offer fun reads and read alouds in adventure, folk literature, families, nonfiction, historical fiction, rhythm and rhyme, humor, mysteries, and a bit of romance.

The greatest bargain in America today is located in the public libraries. Usually the only cost involved is time. Unlike toys, books are difficult to break and are ready-made with no assembly or batteries needed. Portable, they can be enjoyed anywhere, any time, and they take up less space than most toys. They never go out of style and are the best source of entertainment for children.

Sign up for our monthly newsletter and receive advanced information on the best in children's literature available for reading and reading aloud today.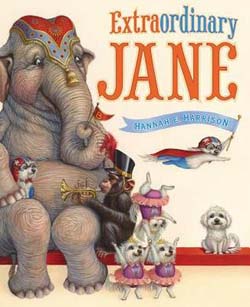 EXTRAORDINARY JANE
written/illus. by Hannah E. Harrison, (Dial Books for Young Readers, $16.99, ISBN 9778-0-8037-3914-7), 32p, Ages 3-5
Shaggy, sweet, and small, Jane belongs to a family of fearless acrobats, but she lacks the grace, acrobatic ability, strength, and daring of her theatrical family. "But heights made her dizzy … her jokes were a flop … her music lacked musicality … her paintings, pizzazz. Although lacking in circus skills, she is an adorable, lovable, faithful, helpful, and all around extraordinary dog. In a world of extravagance and glitter, sometimes the quiet, unassuming, underdogs shine brighter.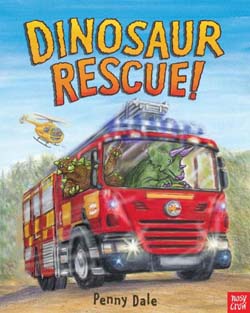 DINOSAUR RESCUE!
written/illus. by Penny Dale, (Noisy Crow, $15.99, ISBN 978-0-7636-6829-7), 32p, Ages 3-6
When a pickup truck, loaded with dinosaurs, crashes through a railroad crossing with a train approaching, the Dinosaur Rescue squad speeds to the accident. "Rescue dinosaurs rushing. / Rushing to get there in time. / To get there in time, / before it's too late!" An assortment of dinosaur rescue vehicles (police car, fire engine, ambulance, tow truck, and helicopter) race to the emergency, and work together to ensure the safety of every dinosaur. With the emergency over and first aid administered, they head back to base in time to rest, play, and bed down, until the next emergency. Dinosaurs and vehicles by name are featured on endpapers. For youngsters, who love dinosaurs, adventure, and emergency vehicles, this is a perfect treat.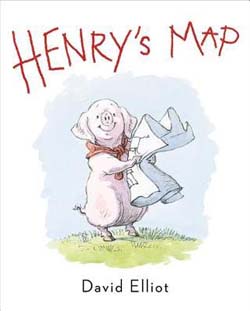 HENRY'S MAP
written/illus. by David Elliot, (Philomel Books, $16.99, ISBN 978-0-399-16072-1), 40p, Ages 4-7
Henry is an organizer, a mapmaker, and a tidy little pig. "He liked knowing exactly where everything was in his tidy little sty." In an effort to organize the messy barnyard, Henry draws a map depicting the woodshed, cow pasture, stables, and chicken coop, and each animal residing. When the animals follow Henry to a hill overlooking the farm, they are horrified to see the animals missing. With the animals back in their places, Henry hurries to his sty only to find it empty—until he looks into the mirror. Fun, humor, and a mapmaking lesson await all who read and listen to this charming tale of a sweet well-meaning organizer.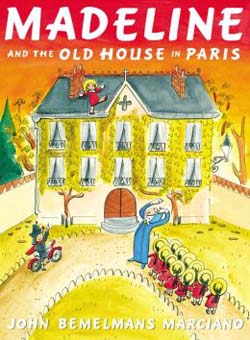 MADELINE AND THE OLD HOUSE IN PARIS
written/illus. by John Bemelmans Marciano, (Viking, $17.99, ISBN 978-0-670-78485-1), 48p, Ages 4-8
This fourth tale in a new series, based on John Bemelmans' original classic, Madeline, finds the feisty little orphan helping a ghost. Madeline, the other orphans, and Miss Clavel are unaware that a ghost resides in their Parisian home attic. When Lord Cucuface removes the ghost's telescope, Madeline and neighbor Pepito devise a plan to return the ghost's property. With the help of costuming and drama, they give Lord Cucuface a fright, grab the telescope, and return it to the ghost in time to watch a rare comet pass by. "While the rest of the world was soundly sleeping, / a girl and a boy and a ghost were peeping / at a rare and brilliant sight, / a comet streaking through the night."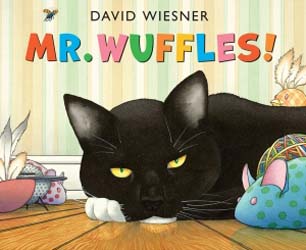 MR. WUFFLES!
written/illus. by David Wiesner, (Clarion Books, $17.99, ISBN 978-0-618-75661-2), 32p, Ages 4-8
Being a very particular cat, Mr. Wuffles passes up his regular cat toys for one that resembles a tea strainer, but contains five miniature aliens. Experiencing mechanical problems after a crash landing, the little green aliens take refuge beneath the radiator. There they discover cave drawings of battles between Mr. Wuffles, ants, and ladybugs. Joining forces, the bugs and aliens find an ingenious way to repair the spacecraft, defeat Mr. Wuffles, and return home. Fans of David Wiesner will love the subtle details of the cave drawings, the master plan, and the alien/insect speech. This is master storytelling at its best.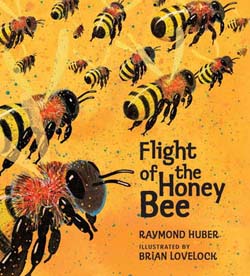 FLIGHT OF THE HONEY BEE
written by Raymond Huber, illus. by Brian Lovelock, (Candlewick Press, $16.99, ISBN 978-0-7636-6760-3), Ages 4-8
"The honey bee is one of the smallest creatures in the world, but it may be the most important for life on earth." With winter coming, a tiny scout emerges from the hive and searches for the last flower of fall. Through harsh weather, past hungry birds, Scout uses her navigational skills and sense of smell to locate pollen and nectar that will sustain the hive through winter. Beautiful illustrations, supplemental facts about bees (appearance, enemies, lifespan, behavior, communication), an author's note on saving the bees, and an Index provide an interesting read for young minds.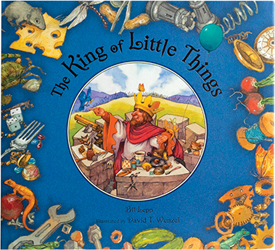 THE KING OF LITTLE THINGS
written by Bil Lepp, illus. by Daniel T. Wenzel, (Peachtree, $16.95, ISBN 978-1-56145-708-3), 32p, Ages 4-9
Long ago in medieval times, there lived the King of Little Things, who ruled over everything small, and his kingdom was very contented. In another kingdom lived a greedy King Normous, who desired to conquer the world. When King Normous invades and imprisons him, the King of Little Things sends out a plea to his loyal subjects to strike and resist the invasion. "Cookies crumbled. Blocks tumbled. Ticks and tocks left their clocks. Boats listed. Words twisted. Lights unlit. Scarves unknit. And every little thing, everywhere, REFUSED TO WORK." Discover how an army of small, ordinary items defeats one greedy, ambitious, and obnoxious king. Colorful characters, opposing life styles, themes of loyalty and appreciation, and engaging illustrations will entertain readers and listeners for many hours. Endpapers feature various items to hunt for within the pages of this enchanting folk tale.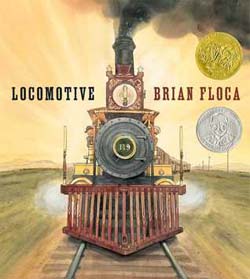 LOCOMOTIVE
written/illus. by Brian Floca, (Atheneum Books for Young Readers, $17.99, ISBN 978-1-4169-9415-2), 64p, Ages 5-10
During the Civil War, Abraham Lincoln signed the Pacific Railway Act authorizing the building of a railroad east from Sacramento, California by the Central Pacific Railroad Company and west from Omaha by the Union Pacific Railroad Company. In 1869, the two lines were joined with a golden spike and travel became possible from coast to coast. Join a mother and her two children, travelling from Omaha to Sacramento to meet their father. They experience primitive facilities, difficult sleeping conditions, dubious meals at restaurant stops, and unbelievable views of rugged, magnificent landscapes as they travel across prairies, deserts, churning rivers, up steep mountains, across narrow trestles, and through dark tunnels on their way to Sacramento. Illustrations and descriptions depict the engine structure, tasks of various crew members, the roundhouse where engines are changed, water towers, and cities, towns and landmarks along the way. Young train enthusiasts and history fans will thoroughly enjoy this breathtaking ride on the 19th century rails across America.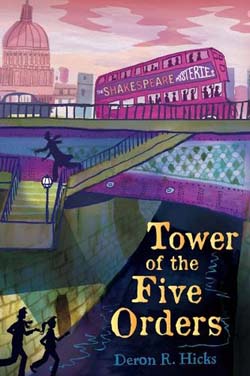 TOWER OF FIVE ORDERS: The Shakespeare Mysteries: Book 2
written by Deron R. Hicks, (Houghton Mifflin Harcourt, $16.99, ISBN 978-0-547-83953-0), 320p, Ages 9-13
In The Secrets of Shakespeare's Grave, thirteen-year-old Colophon Letterford discovers the Letterford family treasure, consisting of manuscripts written by William Shakespeare. In this sequel, the authenticity of the treasure is questioned, Colophon's father is discredited, and the family business is taken over by an unscrupulous family member, who schemes to control the family's business. Along with her cousin, Julian, Colophon travels to London and Oxford in hopes of unraveling a series of clues to the treasure left by their ancestor Miles Letterford. What they discover is a treasure far more valuable than manuscripts. Thugs, villains, spies, suspense, and mystery surround the plight of a noble and honest family searching for their family legacy. Authors Note explains words under each chapter heading that were invented or first used by Shakespeare. The Appendix provides the context in which these words were used. Fans will enjoy the epilogue, which leads to another installment.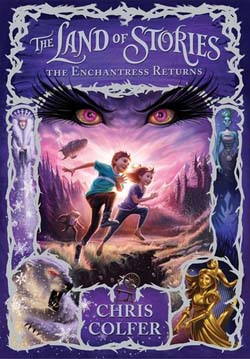 THE LAND OF STORIES: The Enchantress Returns
written by Chris Colfer, (Little Brown Books for Young Readers, $18.00, ISBN 978-0-316-20154-4), 528p, Ages 10+
The Bailey twins from The Land of Stories: The Wishing Spell return to the fairy tale land to save their mother, who has been kidnapped by the Enchantress. Upon learning that the Enchantress plans to take over the world, they join Froggy, Red Riding Hood, Jack, and Goldilocks in search of the Wand of Wonderment to rescue their mother and defeat the Empress. "It is said that the Wand is formed when combining the six most prized possessions of the six most hated people in the world." Sailing on a self-made hot-air balloon, they collect items from the Evil Queen, the beanstalk Giant, the Snow Queen, the Sea Witch, Cinderella's infamous stepmother, and the Enchantress. Dodging a giant man-eating cat, vicious polar bears, deadly sharks, and disgusting trolls, the twins confront the Enchantress in unexpected circumstances. Kids who love old-fashioned adventure, fairy tales, good versus evil, and surprise endings will enjoy this second installment.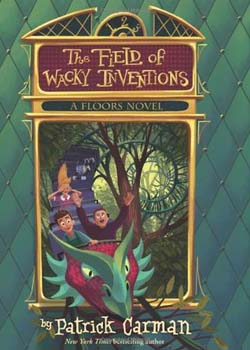 THE FIELD OF WACKY INVENTIONS: A Floors Novel: Book 3
written by Patrick Carman, illus. by Chris Turnham, (Scholastic Press, $17.99, ISBN 978-0-545-25521-9), 224p, Ages 9-12
This final installment in the Floors trilogy finds Leo and Remi participating in a quirky competition for control of Merganzer D. Whippet's hotels. The top of each hotel is airlifted to the Field of Wacky Inventions and assembled into a new hotel. The contestants (all hotel managers) must wind their way up through the floors and reach the top in one piece to win the coveted prize. Although Leo faces various challenges and obstacles, help unexpectedly arrives from an orphan stowaway and her miniature dinosaurs. Flamethrowers, maniacal roller coaster rides, offbeat characters, puzzling riddles, baby ducks, mirror mazes, Flartz Fizz, and antigravity chambers make this crazy mystery thoroughly enjoyable. According to Merganzer, "Life is full of adventures we'd never take if we knew how they were going to turn out before we did them. But we're always better for having had the courage to live." Fans will be sad to leave the wacky series. (Series: Floors, 3 Below).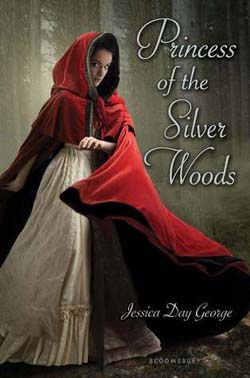 PRINCESS OF THE SILVER WOODS (Twelve Dancing Princesses Series)
written by Jessica Day George, (Bloomsbury, $9.99, ISBN 978-1-61963-126-7), 352p, Ages 12-15
This third and final adventure in the Twelve Dancing Princesses series finds the youngest of the princesses, sixteen-year-old Petunia, kidnapped by the handsome leader of a band of wolf thieves on her way to visit a family friend. Petunia discovers that Oliver is an earl, forced into a life of crime to feed his family and people. Together they attempt to correct past injustices, defeat evil shadows, battle the King Under Stone, and break an old curse. Determination and courage in the face of danger, with a fun nod to Red Riding Hood and Robin Hood, create a pleasing conclusion to the fairy tale series. (Series: Princess of the Midnight Ball, Princess of Glass)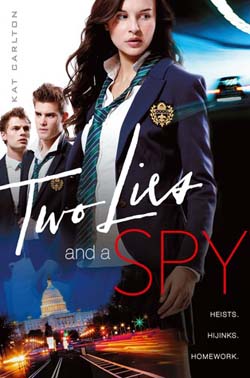 TWO LIES AND A SPY
written by Kat Carlton, (Simon & Schuster, $16.99, ISBN 978-1-4424-8172-5), 256p, Ages 14-17
"Can u pick up milk on ur way home?" For sixteen-year-old Kari Andrews, junior at Kennedy Preparatory School in Washington, DC, this is an emergency text—a Code Black warning from her father. Shedding her school uniform for a Goth disguise and picking up her seven-year-old brother, Kari enlists the help of a few friends (makeup artist, computer whiz, and judo expert) to locate her missing parents, declared double agents working for the Russians. Escaping Agency thugs, breaking into CIA headquarters to rescue her mother, discerning friends from enemies, and trying to impress a longtime crush, Kari is determined to exonerate her parents from all false charges. But, are they false? Engaging characters, plot twists and a surprise ending make for a wild and fun teenage ride through espionage territory.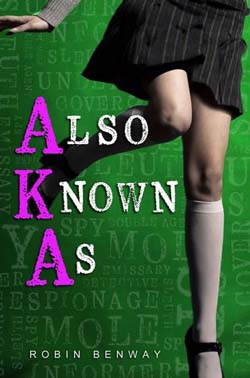 ALSO KNOWN AS
written by Robin Benway, (Walker Books, $16.99, ISBN 978-0-8027-3390-0), 320p, Ages 13-17
Groomed to become a spy from birth, sixteen-year-old Maggie Silver, only daughter of two international spies and an expert at cracking safes and picking locks, is given her first assignment by the Collective. A secret organization of forgers, computer hackers, weapon experts, and assassins, the Collective seeks to expose high-level crime in the world. When her family relocates to New York City, Maggie's job is to infiltrate an exclusive high school and befriend Jesse Oliver, son of a magazine publisher, who could reveal names of agents working for the Collective. Maggie doesn't expect to find a genuine friend in Roux, a crazy social outcast, and strong feelings for Jesse, Drawing her friends into the assignment, Maggie begins to question her destiny as a spy. Colorful characters, humorous dialogue, fast-paced action, family dynamics, a sweet love story, and an engaging plot make this a light, fun, and engaging read.
ABOUT US
The Children's Hour was created to promote and encourage reading to children. We believe that reading aloud not only creates a special bond between parents and children, but it is important to the development of their imagination and curiosity. Our books are also great choices for children to read.
The Children's Hour
150 N. Santa Anita Ave.,
Suite 300
Arcadia, CA 91006
626-791-4848
Conditions of Use
Privacy Policy