Welcome to the Children's Hour where reading to children and reading by children is considered a high priority to their success in life. Literacy begins by reading to children, but is developed over the years when great literature is available for their listening and reading enjoyment.

Along with some of the best in current children's literature, this month we feature rhythm, rhyme, and poetry from past years. With the hundreds of books being published each year, many of these memorable books are either forgotten or out of print. We feel privileged to present a few of these wonderful books, and hope that you enjoy them as much as we do.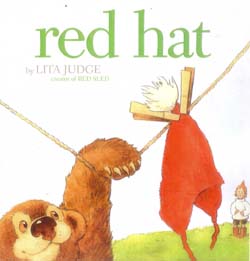 written/illus. by Lita Judge, (Antheneum Books for Young Readers, $16.99, ISBN 978-1-4424-4232-0), 40p, Ages 2-5
In this nearly wordless picture book, a child's pointy red knit hat, hung to dry on an outdoor clothesline, is irresistible to a playful bear. He borrows it and runs across the winter field. A game of keep away ensues as a raccoon, porcupine, and several rabbits snare the red hat, which begins to unravel. The guilty animals re-pin the pile of yarn to the clothesline and shuffle away, only to watch as the clever young child re-knits the cap, as well as a surprise for the animals. Preschoolers will enjoy the enthusiastic romp, the innocent naughtiness, and the happy ending for all.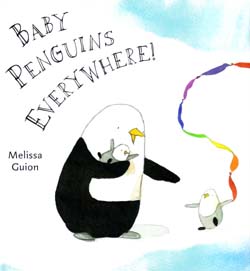 written/illus. by Melissa Guion, (Philomel Books, $16.99, ISBN 978-0-399-25535-9), 32p, 2-5
A top hat floats by a lonely penguin's ice floe. She plucks it out of the water, and to her surprise, one by one, dozens of baby penguins emerge. Her life is suddenly filled with purpose, happiness, liveliness, mischief, and chaos. No longer lonely, but incredibly busy, she realizes that a mom needs a break now and then. After a much-needed rest, she is more than ready to join in the exuberant, enthusiastic, and exhaustive fun of parenthood. This heart-warming tribute to mothers should be read to every child on the planet.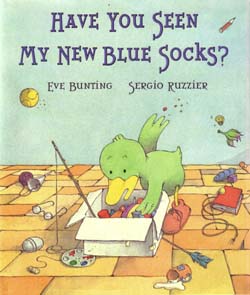 Have You Seen My New Blue Socks?
written by Eve Bunting, illus. by Sergio Ruzzier, (Clarion Books, $16.99, ISBN 978-0-547-75267-9), 32p, Ages 4-8
In this phonics-based delightful tale, a sad little duck searches for his lost blue socks. "I'm trying not to be depressed. / Without my socks I feel undressed." Not finding them in the toy box, Duck inquires of his friends, fox, ox, and the peacocks. As the socks are revealed, kids will enjoy Duck's astonishment in finding something lost, appreciate genuine friends who pitch in to help, and love the adorable little hero.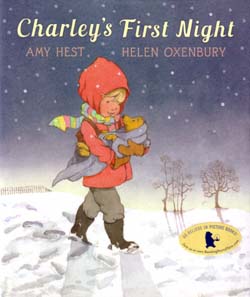 written by Amy Hest, illus. by Helen Oxenbury, (Candlewick Press, $15.99, ISBN 978-0-7363-4055-2), 32p, Ages 3-6
"It was snowing that night and Charlie wanted me to carry him home." Henry shows his new puppy every room in the house and explains the rules of behavior. Henry's parents explain their rules about taking care of a dog and the sleeping arrangements (the kitchen). When the crying begins in the middle of the night, Henry walks the floors with Charlie to calm him down, and decides that some rules need changing. With warmth and humor, this endearing story of friendship, responsibility, and unconditional love will charm listeners and readers of all ages.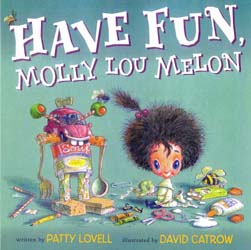 written by Patty Lovell, illus. by David Catrow, (G. P. Putnam's Sons, $16.99, ISBN 978-0-399-25406-2), 32p, Ages 5-8
Molly Lou Melon's grandmother left her a legacy of imagination. Instead of depending on commercial toys, she taught Molly to create toys from household objects, dolls from twigs, flowers, and leaves, and dollhouses in trees. When new neighbors move in next door, Molly Lou befriends their little girl and gradually teaches Gertie a new way of playing, filled with old-fashioned creativity, fun, and imagination. The illustrations overflow with fascinating objects and a cute bug-eyed little heroine that kids will love.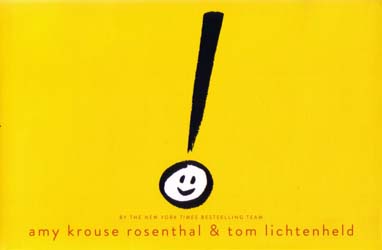 written by Amy Krouse Rosenthal, illus. by Tom Lichtenheld, (Scholastic Press, $17.99, ISBN 978-0-545-43679-3), 56p, Ages 6-8
Searching for a purpose in life, the exclamation mark tries to blend in with other punctuation marks. He is "confused, flummoxed, and deflated." Nothing works until he meets a persistent question mark. Overwhelmed with all the questions, he stops the chatter with a loud "STOP!" This word leads to others, complete sentences, endless possibilities, and realizing his function in life. With his confidence restored, he leaves the group "to make his mark" in the world. This tongue-in-cheek clever tale will delight kids who dislike traditional grammar lessons.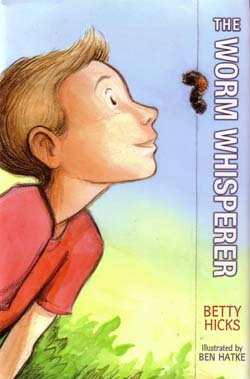 written by Betty Hicks, Illus. by Ben Hatke, (Roaring Book Press, $16.99, ISBN 978-1-59643-490-5), 192p, Ages 8-12
In the Smokey Mountains of North Carolina, fourth-grader Ellis Coffey finds a wooly worm caterpillar on his family's blueberry farm, and realizes that they can communicate. Ellis provides a home and food for the little worm and begins training Tink in the hopes of winning the Wooly Worm Festival race and a prize of $1,000, the exact amount needed for his father's operation. Problems abound as Ellis searches for special food for Tink (violets), deals with worm frass (poop), and realizes that communication with insects can be challenging. Themes of responsibility and family care abound in this charming and touching story of friendship, family responsibility, and heroism.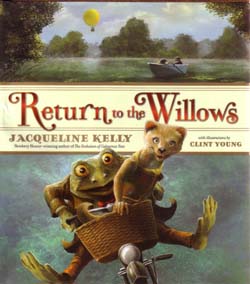 written by Jacqueline Kelly, illus. by Clint Young, (Henry Holt & Co., $19.99, ISBN 978-0-8050-9413-8), 288p, Ages 10+
In this sequel to the 1908 classic, The Wind in the Willows, Jacqueline Kelly continues the adventures of impetuous Toad, gentle Mole, daring Rat, and stalwart Badger. Accident-prone Toad has his share of mishaps, including a hot-air balloon incident with a church steeple and a head injury, which temporarily renders him a genius. While Toad is solving the Great Big Questions at Cambridge, Mole, Rat, and Badger are busy rescuing Toad's nephew, Humphrey, and the hot-air balloon from the Weasels and Stoats. Rat meets the love of his life, and Mole worries that his days on the River are numbered. This delightful and excellent adventure along the Riverbank and into the Wild Wood beautifully captures the magic and enchantment from Kenneth Grahame's classic. Literary references and footnotes are found throughout as well as a charming final page where Mole reads The Wind in the Willows to Ratty's daughter. "Then he chose his favorite story of all: the story of a mole who, burdened with spring cleaning, throws his brush and whitewash pail aside, scrapes and scrabbles his way up to the meadow, and there meets a water rat, who introduces him to the joys of the River life."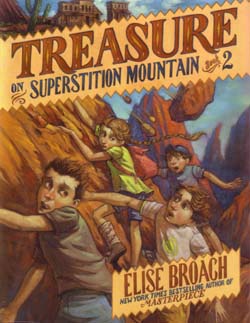 Treasure on Superstition Mountain: Book 2
written by Elise Broach, illus. by Antonio Javier Caparo, (Henry Holt & Co., $15.99, ISBN 978-0-8050-7763-6), 284p, Ages 9-12
This second tale from the Superstition Mountain series finds Henry, Simon, and Jack Barker, along with their friend, Delilah, planning another secret trip up the mountain in search of the legendary Lost Dutchman's Mine. Not discouraged by Delilah's broken leg, their parents' warnings, mysterious threats, and a creepy librarian, the four are determined to discover lost gold. After researching gold mines and miners at the local library and checking out a local ghost town, they gather supplies and begin a trek up the mountain. After encountering rattlesnakes, rockslides, sinister messages, and an avalanche, they begin to wonder if the accidents are man-made or the mountain seeking vengeance. Readers will eagerly anticipate the next installment.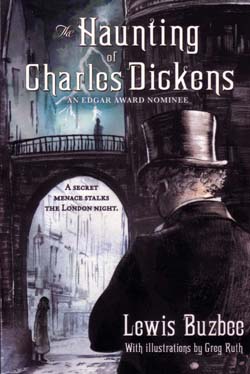 The Haunting of Charles Dickens
written by Lewis Buzbee, illus. by Greg Ruth, (Feiwel & Friends, HC 2010, ISBN 978-0-312-38256-8), 368p, Ages 12+
In 1862 twelve-year-old Meg Pickel roams the streets and rooftops of London in search of her missing fifteen-year-old brother, Orion. One night from the roof of a well-known mansion, she meets a family friend, Charles Dickens, who is searching for a new story. They witness a phony séance, encounter a child ghost, and realize that Orion may be alive. Joining together to search city streets, docks, pubs, and harsh workhouses for Orion, they encounter dangerous pickpockets and pressgangs. Fortunately, the fame and fortune of Charles Dickens opens doors and resolves difficult circumstances. They soon discover a sinister plot of greed, cruelty, and child labor connected to Orion's disappearance. Appealing illustrations add authenticity to this fascinating underworld of nineteenth-century London. Endpapers contain notes on "Children and Charles Dickens" and "Source Notes."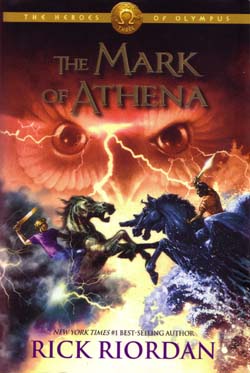 written by Rick Riordan, (Hyperion Books, $19.99, ISBN 978-1-4231-4060-3), 546p, Ages 10-14
This third book in the Heroes of Olympus series unites Percy, Hazel, and Frank from The Son of Neptune and Jason, Piper, and Leo from The Lost Hero with Annabeth to complete the Prophecy of Seven. Cooperation is a challenge and struggles are inevitable as the demigods journey over land and air to Greece on a quest to locate and close the Doors of Death, defeat the giants, and prevent Earth mother, Gaea, from rising. Sailing on Leo's flying warship, the Argo II, they encounter nymphs and giant jellyfish, stopping along the way to sort out various relationships. Action, adventure, humor, unforgettable characters, and a cliffhanger ending will have fans eagerly awaiting the next installment, The House of Hades.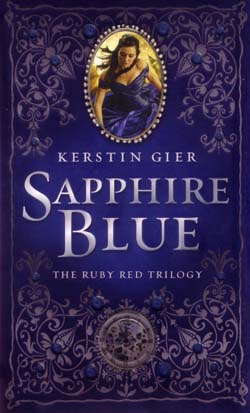 written by Kerstin Gier, translated by Anthea Bell, (Henry Holt & Co., $16.99, ISBN 978-0-8050-9266-0), 368p, 14+
The saga of sixteen-year-old Gwyneth Shepherd from The Ruby Red Trilogy continues as she accepts and adjusts to her role as the Ruby, the last member of the Circle of Twelve time travelers. Together with Gideon, the Diamond, they travel back in years in search of other time travelers, while trying to unravel the secrets and prophecies of the Circle. An amusing little ghost gargoyle offers her advice on everything, her deceased grandfather helps with the investigation, a stuffy, self-important teacher trains her in etiquette and customs from the past, and Gideon gives mixed signals regarding their relationship. Delightful and humorous, but with little resolution, fans will be more than anxious for the next installment, Emerald Green.
ABOUT US
The Children's Hour was created to promote and encourage reading to children. We believe that reading aloud not only creates a special bond between parents and children, but it is important to the development of their imagination and curiosity. Our books are also great choices for children to read.
The Children's Hour
150 N. Santa Anita Ave.,
Suite 300
Arcadia, CA 91006
626-791-4848
Conditions of Use
Privacy Policy