Welcome to the Children's Hour where reading to children and reading by children is considered a high priority to their success in life. Literacy begins by reading to children, but is developed over the years when great literature is available for their listening and reading enjoyment.

The great storytellers in children's literature never lost their love of childhood. Their distinctive styles and personalities are woven into their writing in a special way that enchants children of every generation.

Sign up our monthly newsletter and receive advanced information on the best in children's literature available to read and read-aloud today.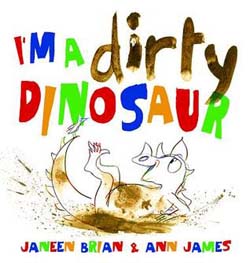 I'M A DIRTY DINOSAUR
written by Janeen Brian, illus. by Ann James, (Kane Miller, $11.99, ISBN 978-1-61067-296-2), 22p, Ages 2-5
"I'm a dirty dinosaur / with a dirty snout. / I never wipe it clean / I just sniff and snuff about." While sniffing, snuffling, shaking, tapping, stamping, and sliding about, a little dinosaur's face, tummy, feet, and tail become increasingly dirty. Covered in mud and realizing his yuckiness, the little fellow stomps to the swamp for a lovely bath. This one is for kids who love mud and bath time.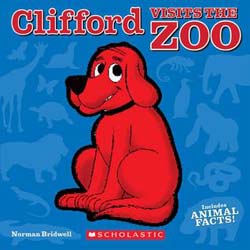 CLIFFORD VISITS THE ZOO
written/illus. by Norman Bridwell, (Scholastic, Inc. $12.99, ISBN 978-0-545-66896-5), 40p, Ages 2+
While exploring the zoo, little Emily Elizabeth compares Clifford's size, habits, and appearance to that of penguins, koalas, butterflies, hippos, monkeys, sloths, tortoises, chameleons, seals, and birds. While penguins are small Clifford is large; butterflies are lightweight and Clifford is heavy; hippos are dirty but Clifford is clean. Endpapers feature short paragraphs about the animal's habits and habitats. Kids will especially love the plush-like Clifford on the cover.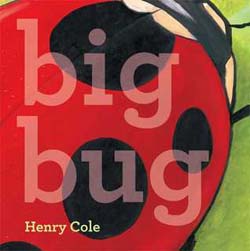 BIG BUG
written/illus. by Henry Cole, (Little Simon, $14.99, ISBN 978-1-4424-9897-6), 32p, Ages 3+
This charming introduction to the concept of scale begins with a huge ladybug, but turning the page reveals the small insect compared to a leaf. The following pages present comparisons of a flower, cow, and sky. Direction is reversed as readers return to a tree, a house, a window, and a dog taking a "little" nap with the ladybug on its nose. It's delightful to envision how something "big" suddenly becomes "little" with each turn of a page. The brilliant illustrations and clever concepts will delight children as they begin to understand the natural world.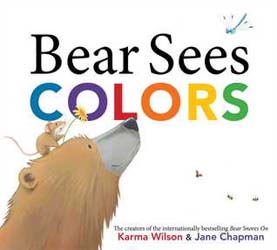 BEAR SEES COLORS
written by Karma Wilson, illus. by Jane Chapman, (Margaret K. McElderry Books, $16.99, ISBN 9778-1-4424-6536-7), 32p, Ages 3-6 yrs
Karma Wilson's Bear is back and teaching concepts of color in playful rhymes. "Mouse and Bear are walking; / they are chitter-chatter-talking. / So much for them to do. / And the bear sees … / Blue! / Blue Flowers / by the trail. / Blue berries. / Blue pail. / Blue, blue EVERYWHERE! / Can you spy blue with Bear?" While walking through the woods, they meet Hare, who helps them explore the color red, Badger points out the color yellow, Gopher and Mole find the color green, and Owl and Wren introduce them to the color brown. Of course, what would a picnic be without chocolate cake and cookies? Walks are always an adventure of color and fun when taken with the charming and lovable Bear.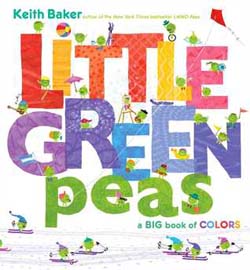 LITTLE GREEN PEAS: A Big Book of Colors
written/illus. by Keith Baker, (Beach Lane Books, $17.99, ISBN 978-1-4424-7660-8), 40p, Ages 3-7
Keith Baker continues his ap-pea-ling presentation from the LMNO Peas series in a delightful concept book exploring nine colors: blue, red, yellow, orange, green, purple, silver, white, and black. "BLUE. Blue boats, blue seas, blue flags, and … little green peas." Busy little peas pilot boats, sun bathe, scuba dive, search for treasure, and build sandcastles. This charming and delightful concept book offers a seek-and-find adventure, featuring a ladybug, paper airplane, and a budding artist (the author's self-portrait?) for each color. The final page implies that peas may not be alone in the Universe. Simple rhymes, color concepts, and peas with abundant personalities and activities will entertain little ones for hours.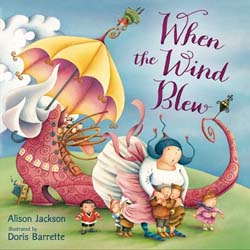 WHEN THE WIND BLEW
written by Alison Jackson, illus. by Doris Barrette, Henry Holt, $16.99, ISBN 978-0-8050-8688-1), 32p, Ages 4-7
The old woman from If the Shoe Fits (Holt, 2001) and her many children return in a rhyming tale about helping others and making things right. A gusty wind blows through a fairy tale European village and upsets various nursery rhymes. "Rock-a-bye, baby, in the treetop. / When the wind blew, the cradle did rock. / When it blew harder, the cradle took flight, / And settled atop an old shoe, laced up tight." Attempting to return the baby to its treetop, the old woman encounters woolen mittens hanging from a tree branch and three sobbing kittens. She also spies Jack and Jill's pail flying by, along with Mary's little lamb, Jack's candlestick, the king's coins blown from his counting house, and Little Boy Blue's horn. Before she can return each item, a gusty wind blows them back to their rightful places and owners, just in time for the old woman to put her children to bed on time. "Though the wind never raced with such fury again, / The old woman thought of that day now and then. / And by keeping her most prized possessions in view / She was always reminded of … when the wind blew."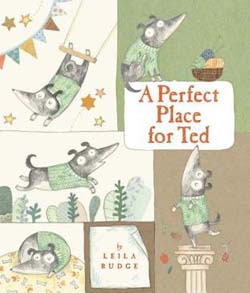 A PERFECT PLACE FOR TED
written/illus. by Leila Rudge, (Candlewick Press, $16.99, ISBN 978-0-7636-6781-8), 32p, Ages 3-7
"Ted had been at the pet store for as long as he could remember. He was a smart dog with his own sweater, and he did his best to make a good impression. But there were so many other dogs that nobody noticed Ted." Searching for recognition and value, Ted joins the circus (no one notices a sweater-clad dog balancing on a popcorn box), enters a pet contest (poodles are preferred), and becomes a guard dog (unnoticed by the burglars). About to give up, Ted notices a poster seeking a furry friend for a little girl. He applies for the job and thinks he has found his perfect place, until the girl takes him home to a household of over 20 very surprised cats. This sweet and humorous picture book, with its lovable and underappreciated hero, is a keeper.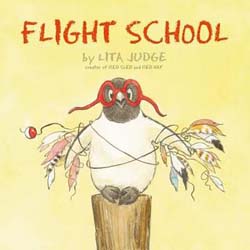 FLIGHT SCHOOL
written/illus. by Lita Judge, (Atheneum Books, $16.99, ISBN 978-1-4424-8177-0), 40p, Ages 4-8
Some are born to fly and some yearn to try, especially for one determined penguin. Announcing that he was "hatched to fly" and has "the soul of an eagle," Penguin arrives at flight school in a motorboat and cute red goggles, ready for lessons. The teachers have doubts, but allow him to register. He practices for weeks, only to plunge into the ocean after soaring into the sky along with the other students. Flamingo ties fishing line and feathers to his plump body, but with little success. "But Penguin didn't care. He had soared on the wind, just as he had done in his dreams." Happily, he leaves flight school, but soon returns with another friend, Ostrich, who "has the soul of a swallow." Penguin's never-give-up attitude is a charming way to teach children the admirable quality of perseverance.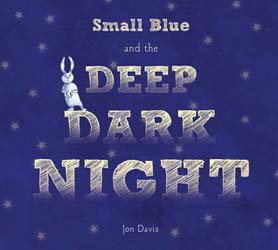 SMALL BLUE AND THE DEEP DARK NIGHT
written/illus. by Jon Davis, (Houghton Mifflin Harcourt, $16.99, ISBN 978-0-544-16466-6), 40p, Ages 4-8
Small Blue (a bunny) is positive that creepy, sneaky, gnarly things are lurking in his bedroom at night. Big Brown (a bear) wonders if they are as scary as they seem. "But if it was dark, how do you know it wasn't a delightful doggies' Saturday-night unicycle convention?" In response to Small Blue's fear of hairy spiders and shifty-eyed flappy bats, Big Brown explains that perhaps it is, "a smiley spacemen's zero-gravity birthday party?" Turning on the lights and sharing a cup of warm milk help to dispel some of the fears. Big Bear's nonsensical, humorous, and loopy logic assures Small Blue that there are no witches, skeletons, or pirates lurking around either. Gazing at the nighttime stars, Small Blue continues the silly logic when asked what he sees. "Maybe the stars are running a relay race around the moon while the planets cheer them on." These hilarious reasonings will surely turn kid's fears into giggles.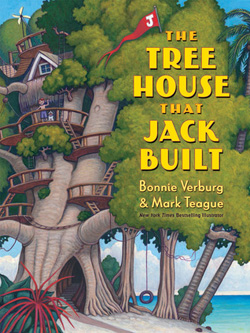 THE TREE HOUSE THAT JACK BUILT
written by Bonnie Verburg, illus. by Mark Teague, (Orchard Books, $17.99, ISBN 978-0-439-85338-5), 40p, Ages 4-7
"Here is the boy / up in the tree / where he built a house / overlooking the sea." In cumulative rhyme, Jack is visited by a grinning fly, snapping lizard, pecking parrot, jumping cat, swatting dog, swinging monkey, and slithering snake. At story time, Jack proceeds to read a copy of this book to his menagerie of tropical animals before bedtime. With swinging vines, ladders, pulleys, water wheel fountains, platforms, balconies, bridges, and hammocks, young Robinson Crusoe's will love this one.
A BEAN, A STALK, AND A BOY NAMED JACK
written by William Joyce, illus. by Kenny Callicutt, (Atheneum Books for Young Readers, $1\7.99, ISBN 978-1-4424-7349-2), 56p, Ages 4-8
In a drought-stricken kingdom, a small bean and a small ordinary boy decide to change their circumstances and help the King with his "stinky pinky" problem. According to the bean, "All we need to do is dig hole. Put me in it. Smooth the dirt. Drip one drop of water and repeat some magic words three times." As the vine grows, jack and the pea pod encounter strange water pipes, bubbles, and a giant kid named Don taking an overlong bath to clean his "stinky pinky." Jack assists with the cleaning, and the bath visit ends. Jack returns home via the drain, the King's "stinky pinky" is scrubbed clean, and the kingdom enjoys water again. Dispensing with the scarier parts of the original fairy tale, kids will enjoy the little pea pod car, stinky toes, and the conclusion where Jack renames the Princess, which hints at the next altered fairy tale.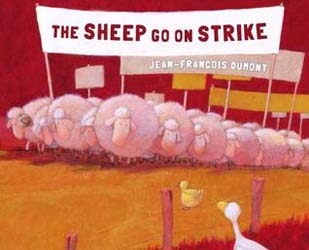 THE SHEEP GO ON STRIKE
written/illus. by Jean-François Dumont, (Eerdmans Books for Young Readers, $16.00, ISBN 978-0-8028-5470-4), 34p, Ages 4-8
Tired of being cold, sheared, and receiving shots, the sheep cause havoc on their farm by striking. Ralph, the sheepdog, tries to intervene, but the sheep stampede him claiming police brutality. "After that, he stayed in his doghouse and refused to talk with delegates from the flock." Opinions are divided with the farm animals taking sides (including insects and a snail). The sheep plan a protest carrying banners. They march for justice, while Ralph organizes the other sheepdogs to stop the confrontation. After the fight, the protestors rethink their tactics. How an equitable compromise is reached, the sheep stay warm for the winter, and enjoy their wool, make this humorous tale one that kids will thoroughly enjoy.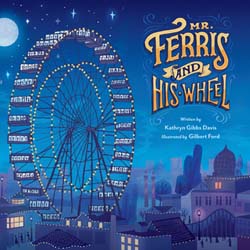 MR. FERRIS AND HIS WHEEL
written by Kathryn Gibbs David, illus. by Gilbert Ford, (Houghton Mifflin Harcourt, $17.99, ISBN 978-0-547-95922-1), 40p, Ages 4-8
The 1893 World's Fair was coming to Chicago, and architects from around the country submitted ideas to outdo the previous fair's attraction of the Eiffel Tower. A mechanical engineer, George Washington Gale Ferris, Jr. , won the contest by designing a "structure that would dazzle and move, not just stand still like the Eiffel Tower." Despite lack of financing, quicksand, and mockery, George and his crew persevere to design and build a giant circular steel structure, which would sustain the Chicago winds and become the first Ferris wheel in America. Additional information and facts to support the story are strategically placed in sidebars throughout. "Two steam engines (an extra one in case one broke) made the wheel turn. George had hidden them under the wooden platform where riders boarded." Sources, websites, and bibliography are included. Every child who has ever longed to ride a Ferris Wheel will enjoy this eye-opening story of George Ferris and his incredible mechanical marvel.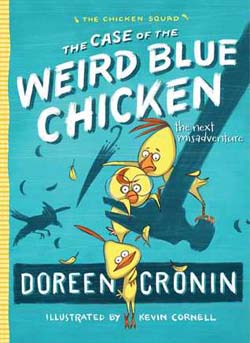 THE CASE OF THE WEIRD BLUE CHICKEN: The Next Misadventure
written by Doreen Cronin, illus. by Kevin Cornell, (Atheneum Books for Young Readers, $12.99, ISBN 978-1-4424-9679-8), 112p, Ages 7-10
The Chicken Squad's flier said: "You lost it. We find it. You broke it? We fix it. In trouble? We'll get you out. Looking for trouble? We'll bring it to you." Dirt, Sugar, Poppy, and Sweetie, the Chicken Squad, are back in their second misadventure, along with J. J. Tully, a retired search-and-rescue dog detective, who keeps an eye on "the four featherballs." When a Blue Jay requests help finding her missing home, the squad hilariously solves the problem with their usual zany logic. As a result, the Blue Jay learns about inches and feet, the squirrel learns to eat fruit, and the Chicken Squad learns to listen to Sweetie. Readers and listeners will love these goofy "featherballs" and their delightful solutions.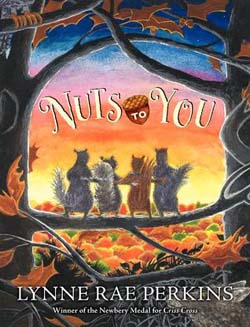 NUTS TO YOU
written by Lynne Rae Perkins, (Greenwillow Books, $16.99, ISBN 978-0-06-009275-7), 272p, Ages 7-11
Friends watch as Jed is snatched up by a hawk and carried away to certain death. Thus begins a squirrel journey of adventure, friendship, danger, rescue, acceptance, and determination. Unaware that Jed narrowly escaped the hawk's talons, friends TsTs and Chai traverse buzzpaths (utility lines) and frozen spiderwebs (towers) to rescue their friend. Along the way, friendships are made, homes are saved, and communities are relocated from habitat destruction. However, there are numerous challenges, "Getting squirrels to listen to reason is like getting a tree to drop its nuts at your front door." Short action-packed chapters, humorous squirrel games, hair-raising escapades, and cockney accents combine to portray the power of friendship, the importance of community, and the saving of the red squirrel world. Animal lovers and environment enthusiasts will find this tale charming, full of warmth, and plenty of fun.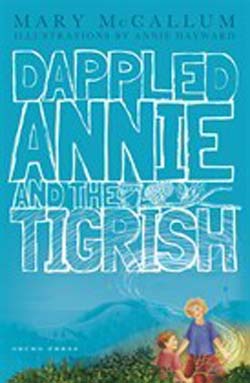 DAPPLED ANNIE AND THE TIGRISIH
written by Mary McCallum, illus. by Annie Hayward, (Gecko Press, $16.95, ISBN 978-1-877579-95-0), 138p, Ages 8-12
On the coast of New Zealand, a young girl lives with her annoying little brother, Robbie, a busy mother, and a lighthouse keeper father. On the eve of her 10th birthday, Annie visits her friends in the garden, a row of hedges. They have names, personalities, the ability to communicate, and are caretakers of a fantail's nest. When an earthquake and destructive windstorm disrupts Annie's yard, the nest blows away, and the hedges are devastated. Claiming that they "haven't lost a bird yet," Mr. and Mrs. Hedge uproot themselves and walk off in search of the nest. Annie, Robbie, and the Tigrish, (a tiger-like magical creature) join the hunt through an unfriendly forest to a beach where the nest resides high up on her father's lighthouse. Along the way, Annie discovers unknown bravery, good decision-making skills, and the importance of protecting family and friends. "Protecting someone was a different job from making sure they were okay … It meant you had to be bigger than yourself, not physically bigger exactly, but big inside your head." This delightful story of family, bravery, and a touch of magic will charm all who believe in magic and miracles.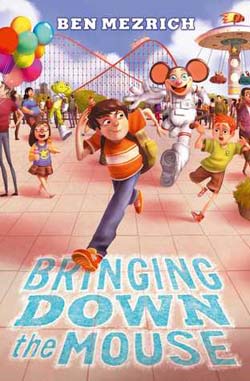 BRINGING DOWN THE MOUSE
written by Ben Mezrich, (Simon & Schuster Books for Young Readers, $16.99, ISBN 978-1-4424-9626-2), 336p, Ages 9-12
Exceptionally good at math equations, sixth-grader Charlie Lewis hangs out with kids known as the Geek Squad, earning the nickname of Numbers. Charlie is rescued from a school bully by a seventh grader, who invites him to join a secret gang, the Carnival Killers. This group of middle school kids is lead by a college student, who needs Charlie's math abilities to defeat the rigged carnival midway games, win lifetime tickets for the group to Incredo Land in Florida, and $50,000 for a teacher's aid program. When Charlie realizes the leader's illegal purposes, he decides to change the outcome. Excitement, adventure, and risk-taking will keep readers guessing the conclusion.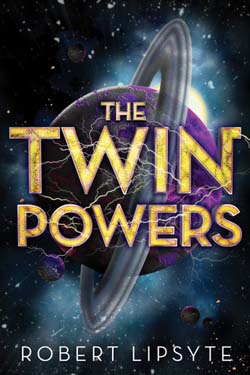 THE TWIN POWERS
written by Robert Lipsyte, (Clarion Books, $16.99, ISBN 978-0-547-97335-7), 272p, Ages 11-14
"Your sons are fine boys, John, but they are only thirteen years old. They're our only chance, Dr. Traun. That's an emotional response, John. Primary People like us are supposed to be rational. The boys are half human. They don't understand why their Earths must be destroyed. Neither do I. That's why you're my prisoner." Thirteen-year-old twins, Tom and Eddie Canty, from The Twinning Project (2012) continue in their effort to rescue their alien dad, who is held prisoner by the evil Dr. Traun. Both Earth One from 2012, where Tom lives, and Earth Two from 1958, where Eddie lives, are set for destruction due to environmental and human negligence. With help from their friends, Tom and Eddie escape government agents, persuade alien councils, develop their unusual powers, rescue friends, and pilot alien space ships. Mark Twain quoting aliens, identity swaps, space and time travel, historical events, and snakes will entertain kids, even reluctant readers.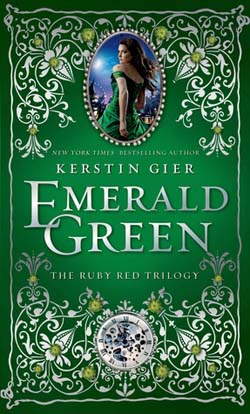 EMERALD GREEN (The Ruby Red Trilogy)
written by Kerstin Gier, (Henry Holt & Co., $17.99, ISBN 978-0-8050-9267-7), 464p, Ages 14-18
This final installment to the Ruby Red Trilogy finds sixteen-year-old Gwyneth Shepard dealing with heartbreak over a failed romance with Gideon de Villers, her time traveling companion. Living in London, Gwyneth uses her newly found time traveling gift to visit relatives from the past. Along with Gideon, they uncover centuries of mystery surrounding the Circle of Twelve, thwart treacherous villains, reveal secrets of her birth, resolve family issues, and discover their intriguing destinies. Wonderful friendships, endearing characters, and an enchanting romance will have readers rooting for this clever couple and sad over the conclusion to a great series.
ABOUT US
The Children's Hour was created to promote and encourage reading to children and by children. We believe that reading aloud not only creates a special bond between parents and children, but it is important to the development of their imagination and curiosity.
The Children's Hour
150 N. Santa Anita Ave.,
Suite 300
Arcadia, CA 91006
626-791-4848
Conditions of Use
Privacy Policy