Welcome to the Children's Hour where reading to children and reading by children is considered a high priority to their success in life. Literacy begins by reading to children, but is developed over the years when great literature is available for their listening and reading enjoyment.

The greatest bargain in America today is located in the public libraries. Usually the only cost involved is time. Unlike toys, books are difficult to break and are ready-made with no assembly or batteries needed. Portable, they can be enjoyed anywhere, any time, and they take up less space than most toys. They never go out of style and are the best source of entertainment for children.

Sign up for our monthly newsletter and receive advanced information on the best in children's literature available for reading and reading aloud today.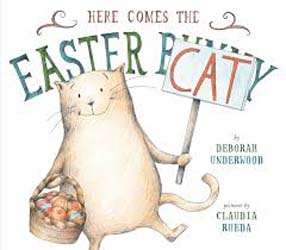 HERE COMES THE EASTER CAT
written by Deborah Underwood, illus. by Claudia Rueda, (Dial Books for Young Readers, $16.99, ISBN 978-0-8037-3939-0), 80p, Ages 3-6
Cat plans to replace the Easter Bunny and deliver the eggs with his red motorcycle, sparkly vest, bow tie, and top hat. When he realizes that the Easter Bunny's exhausting schedule allows for no naps (Cat takes 7 a day), he hatches a new plan to include a sidecar on the motorcycle for the Easter Bunny. Kids will love this clever and unique story, especially the ending that implies Cat's new interest in Santa Claus.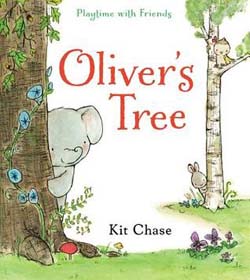 OLIVER'S TREE
written /illus. by Kit Chase, (G. P. Putnam's Sons, $16.99, ISBN 9778-0-399-25700-1), 32p, Ages 3-5
Three best friends, Oliver (baby elephant), Charles (bunny), and Lulu, (owlet), love to play hide-and-seek in the trees. However, Oliver has a problem climbing trees and leaves the game. Finding a tree stump, he takes a nap, while his friends decide to build a tree house/pirate ship with sticks, moss, leaves, and flowers around the stump. This sweet, simple story of friendship demonstrates the power of ingenuity, solving problems, and working together.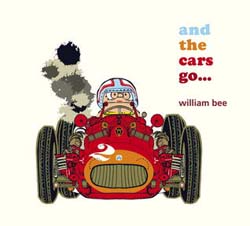 AND THE CARS GO …
written/illus by William Bee, (Candlewick Press, $15.99, ISBN 978-0-7636-6580-7), 32p, Ages 2-5
Clever and colorful vehicles, road signs, comments, and sounds depict a huge traffic jam. A station wagon (brrrmm, brrrmm) on its way to the beach, a Rolls-Royce (whisper, whisper), a school bus ("We're late! We're late! It's great! It's great!"), an overheated race car (pop, bang, hisssss), an ice cream truck ("Mamma mia! My ice cream is melting!"), a beach buggy (bumble, bumble, bumble), and a street sweeper (whoosh, whoosh, whoosh) all wait behind a farmer's sheep in the road. The sheep are herded away and rewarded with ice cream cones, while the travelers happily proceed to their destinations. Overflowing with detail, the illustrations also contain fifteen hidden snails through the pages for kids to find.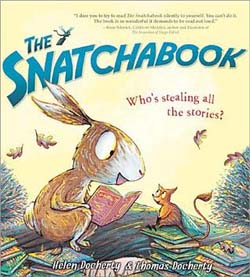 THE SNATCHABOOK
written by Helen Docherty, illus. by Thomas Docherty, (Sourcebooks Jabberwocky, $16.99, ISBN 978-1-4022-9082-4), 32p, Ages 3-6
At bedtime in Burrow Down books begin to vanish. "And so it went, night after night. / Books disappeared from left and right. / Five books here and six books there— / the shelves began to look quite bare." Fearless Eliza Brown sets a trap for the Snatchabook, and discovers a lonely little fellow, who has no one to read to him. A plan is hatched, books are returned, all is forgiven, and now the reformed book snatcher listens to books every night at Burrow Down. The detailed illustrations are fun, and reading aloud at bedtime is a winner any time.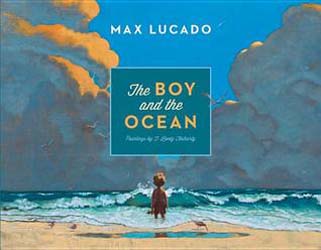 THE BOY AND THE OCEAN
written by Max Lucado, illus. by J. Lively Fluharty, (Crossway, $17.99, ISBN 978-1-4335-3931-2), 48p, Ages 4+
After playing in the ocean with mom, hiking in the mountains with dad, and gazing at the nighttime sky, a small boy questions the width, height, and vastness of creation. His parents explain how creation expresses the love of God. "It's always here. It's always big. It never ends. God's love is special." This journey of discovery, along with the stunning illustrations of nature's wonders, conveys the simple message of the Creator's love for mankind.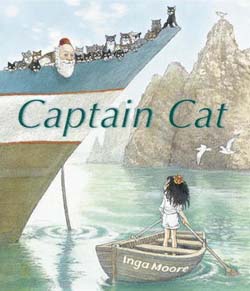 CAPTAIN CAT
written/illus. by Inga Moore, (Candlewick Press, $15.99, ISBN 978-0-7636-6151-9), 48p, Ages 4-7
Based on an old Italian tale, Inga Moore's clever story surrounds an adventurous sea captain, his many cats, a mysterious island, boundless treasure, a spunky queen, and greedy merchants. Captain Cat loves cats and trades just about anything for one. Longing to visit wonderful and exciting places, he sails away, encounters a terrible storm, and blows off course to an unchartered island, where he meets a young queen with a terrible rat problem. After the cats kill the rodents, she gives the Captain diamonds and rubies in exchange for the cats (the cats agree). When greedy merchants discover Captain Cat's new treasure, they sail to the island, only to realize that a somewhat different treasure awaits them. Young adventurers will love this feline tale.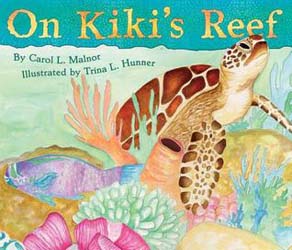 ON KIKI'S REEF
written by Carol L. Malnor, Illus. by Trina L. Hunner, (Dawn Publications, $16.95 HC, ISBN 978-1-58469-476-2, $8.95 PB, ISBN 978-1-58469-477-9), 32p, Ages 4-8
This beautiful and informative underwater story follows the life of a green sea turtle, from birth to maturity. "A baby green sea turtle pops her head out of the sand. It's Kiki! She just hatched from her egg buried deep below." Along with her brothers and sisters, Kiki scrambles toward the water while avoiding predators on the beach. Once in the ocean, she searches for food and shelter, learns to distinguish between friends and enemies, and swims to a coral reef where she will live. Several years pass and Kiki returns to her beach of birth to lay her own eggs. There, another generation of sea turtles repeat their cycle of life. Endpapers contain additional information on various sea inhabitants, teaching suggestions, and additional sources. A world map indicates the location of coral reefs.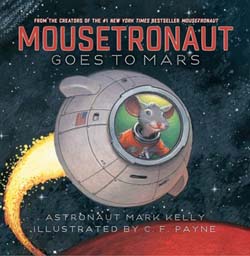 MOUSETRONAUT GOES TO MARS
written by Mark Kelly, illus. by C. F. Payne, (Simon & Schuster, $16.99, ISBN 978-1-4424-8426-9), 40p, Ages 4-8
Unknown to the astronauts, Meteor, the spunky little mouse from Mousetronaut, is busy preparing for NASA's first mission to Mars. "But when the names of the crew were called out, Meteor's name wasn't one of them." Determined to join the astronauts, he stows away on the Galaxy Rocket, scavenging crumbs when the crew sleeps. After six months, the Galaxy reaches Mars, but transport problems prohibit them from reaching the surface. Meteor volunteers to descend in the landing craft, collect rock samples, and plant a tiny flag. Upon returning to Earth, he receives a hero's welcome along with the other astronauts. In a four-page afterword, Mark Kelly explains the history of Mars missions, describes the geography of the red planet, and discusses future manned missions.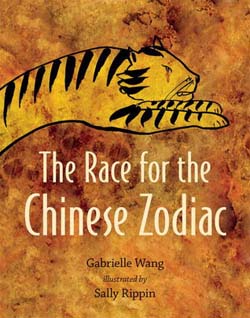 THE RACE FOR THE CHINESE
written by Gabrielle Wang, illus. by Sally Rippin, (Candlewick Press, $14.99, ISBN 978-0-7636-6778-8), 32p, Ages 5-8
"Long ago in ancient China, the Jade emperor, ruler of Heaven and Earth, proclaimed a mighty race, saying that the first twelve animals to cross the river would have a year named after them." When the gong sounds, the race is on for 13 animals to claim 12 places in the Zodiac calendar. Courageous Tiger dives into the river, Peaceful Rabbit uses a log to navigate, and Lucky Rooster, Clever Monkey, and Gentle Goat ride together on a raft. Wise Snake hides on Spirited Horse's mane and receives a free ride. Powerful Dragon stops to help others along the way, Faithful Dog decides to play in the shallows, and Happy Pig stops to eat, falls asleep, and floats across. Charming Rat and Friendly Cat cross on the back of Kindly Ox. When Rat pushes Cat into the water and out of the race, the age-old battle between cats and rats begins. Endpapers provide further descriptions of the Zodiac animals. Readers born from 1924 to 2043 can also match their birth year to the Zodiac calendar.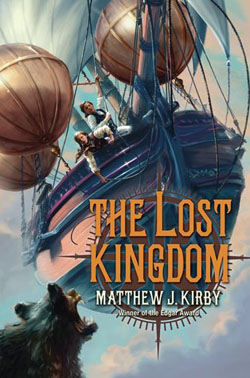 THE LOST KINGDOM
written by Matthew J. Kirby, (Scholastic Press, $17.99, ISBN 978-0-545-27426-5), 352p, Ages 8-12
During the 1750's on the eve of the French and Indian War, at the encouragement of Benjamin Franklin, a young English boy and his botanist father join a westward expedition on an experimental flying airship. The mission is to locate the mythical Welsh Kingdom of Madoc and enlist their help in fighting the French. In this coming-of-age adventure, Billy faces hazards, strife, and bitterness, discovers bravery and forgiveness on his way to becoming a man while fighting for a new united America. Combining American mythology, historical characters, a secret society, cultural discord, and family conflict with fantastic machinery, dangerous animals, and immortality make this a great, old-fashioned adventure for kids to immerse themselves in.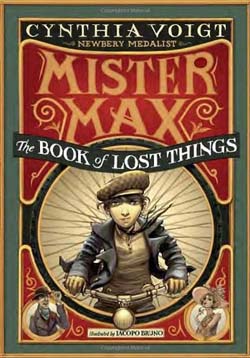 MISTER MAX: The Book of Lost Things
written by Cynthia Voigt, illus. by Iacopo Bruno, (Random House, $16.00, ISBN 978-0-307-97681-9), 384p, Ages 8-12
Twelve-year-old Maximilian Starling finds himself abandoned by his theatrical parents when they sail to India and accidentally (?) leave him behind at the dock. Perplexed and hurt, Max is determined to solve their disappearance and live independently of his grandmother. Realizing a need for employment, Max stumbles into detective work and becomes a finder of lost things. Wearing costumes for each job, he discovers an aptitude for finding runaway children, lost dogs, valuable antiques, and reuniting lost lovers. Using common sense, ingenuity, and limited acting abilities, Max evolves into more than a detective. He becomes a "solutioneer," because solutions are needed after retrieving that which is lost. By the conclusion, Max is still unable to solve his parent's disappearance, but the stage is set for a new mystery, to be continued in the next installment of a planned trilogy. A clever plot, an engaging hero, and colorful characters make this a great read and read aloud.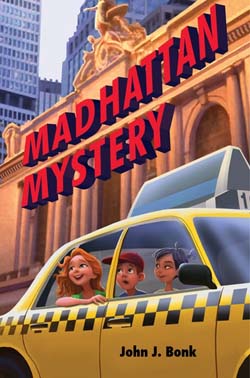 MADHATTAN MYSTERY
written by John J. Bonk, (Walker Books, $16.99 HC, $7.99 PB, ISBN 978-0-8027-2349-9 HC), 304p, Ages 9-13
While their father is away on a honeymoon with his new wife, twelve-year-old Lexi and ten-year-old Kevin spend time with their theatrical aunt in New York City attending summer camp. Arriving at Grand Central Station, Lexi overhears a conversation in whispers about a jewel theft. Discovering that Cleopatra' gems, destined for the Metropolitan Museum of Art, were stolen, Lexi, Kevin, and a quirky new friend decide to investigate. The three sleuths skip camp, make inquiries, track down the thieves, and learn about the $250,000 reward. Traipsing through a forbidden train station, dark tunnels, and Central Park at night, encountering elderly homeless, runaways, and crazy apartment tenants, make this a fun read and romp through the Big Apple.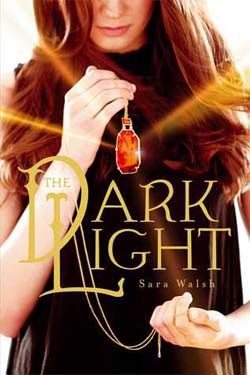 THE DARK LIGHT
written by Sara Walsh, (Simon Pulse, 2012 HC $16.99, ISBN 978-1-4424-3455-4, 2013 PB $9.99, ISBN 978-1-4424-3458-5), 438p, Ages 14-18
17-year-old Mia Stone knows something strange is occurring in Crownsville where she and her brother, Jay, live with their eccentric uncle. Mysterious lights begin appearing in the sky and local boys begin to disappear. Mia is suspicious of Sol, a new student at Crownsville High School, who has a winged tattoo on his back, similar to her brother's ankle tattoo. When Jay disappears, Mia frantically tries to save him, but in the process loses her mother's antique necklace. Sol remains strangely aloof but watchful of Mia, until they are swept into the lights and cross a barrier into a parallel world of Bordertown. There, Mia discovers Sol's other life and a father she never knew. Realizing that the key to returning home revolves around the lost necklace, Mia joins Sol and his friends to search for the necklace, helps rescue the kidnapped boys, fights against the evil that threatens both worlds, and ultimately finds her destiny. Danger, romance, magic, and adventure await teens for an exciting read.
ABOUT US
The Children's Hour was created to promote and encourage reading to children. We believe that reading aloud not only creates a special bond between parents and children, but it is important to the development of their imagination and curiosity. Our books are also great choices for children to read.
The Children's Hour
150 N. Santa Anita Ave.,
Suite 300
Arcadia, CA 91006
626-791-4848
Conditions of Use
Privacy Policy