Welcome to the Children's Hour where reading to children and reading by children is considered a high priority to their success in life. Literacy begins by reading to children, but is developed over the years when great literature is available for their listening and reading enjoyment.

The holidays are before us, and what better way to enjoy it than with a great book. We hope that you enjoy our selections. They offer fun reads into adventure, friendship, families, folk literature, mysteries, humor, fantasy, and science fiction.

Sign up our monthly newsletter and receive advanced information on the best in children's literature available to read and read-aloud today.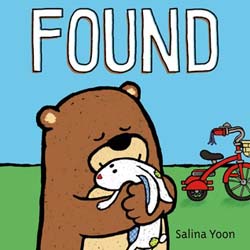 FOUND
written/illus. by Salina Yoon, (Walker Books, $14.99, ISBN 978-0-8027-3559-1), 36p, Ages 3-6
"One day, Bear found something in the forest. Bear thought it was the most special thing he had ever seen." Sitting against a tree, a small stuffed toy bunny looks lost and lonely, so Bear carries him home and loves him unconditionally. Realizing that Bunny must be someone else's lost toy, Bear designs posters, posts them on bulletin boards and trees. He even shows them to the fishes in the stream. Bear and Bunny enjoy playing, picking blackberries, swinging, and picnicking, until the owner (an adult Moose wearing a necktie) cries out, "Floppy." Tearfully Bear releases Bunny to his owner, however, the wise Moose realizes that beloved toys are meant to be passed on, and he returns the cherished toy to Bear for safekeeping. Little ones will love the clever bulletin board depicting LOST fliers, Bear's bunny slippers, and the little yellow bird that follows Bear around. Adults will appreciate the themes of responsibility and honesty.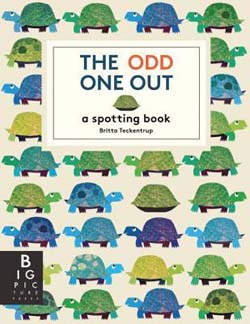 THE ODD ONE OUT: A Spotting Book
written/illus. by Britta Teckentrup, (Big Picture Press, $14.99, ISBN 978-0-7636-7127-3), 32p, Ages 3-6
In this seek-and-find puzzle book, kids hunt for the one different animal on each page among repeating look alike animals. Rhyming text accompanies each page of birds, bats, camels, seals, tortoises, ostriches, pandas, monkeys, rhinos, flamingoes, fish, lemurs, penguins, and butterflies. "As moonlight replaces / the rays of the sun, / a cloud of bats / comes out looking for fun. / Stretching their wings, / they take to the skies— / but which of the bats / hasn't opened its eyes?" On the final page, the last puzzle contains a new hidden animal to locate among all the others. These clever puzzles, some more challenging than others, will have kids yearning for more.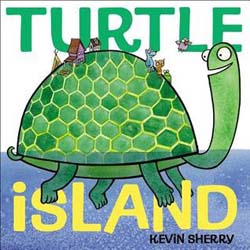 TURTLE ISLAND
written/illus. by Kevin Sherry, (Dial Books for Young Readers, $16.99, ISBN 978-0-8037-3391-6), 32p, Ages 3-5
A giant, lonely turtle roams the ocean looking for a home, until one day four shipwrecked animals take refuge on his shell. While turtle fishes for food, Owl knits, Bear builds, Frog cooks, and Cat draws. Working together, they create a community on Turtle's back, and suddenly his loneliness disappears. Missing their families, the animals decide to return home, and Turtle feels a genuine loss. "Bear built a ship, Owl knit a sail, Frog packed some food, and Cat …Cat gave me a hug." Imagine Turtle's joy when his friends return with their families and friends to make a lasting home.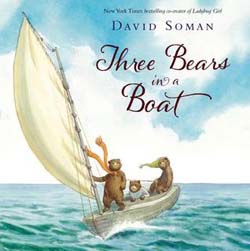 THREE BEARS IN A BOAT
written/illus. by David Soman, (Dial Books for Young Readers, $17.99, ISBN 978-0-8037-3993-2), 40p, Ages 4-7
After breaking their mother's blue seashell trying to reach a honey pot, three bear siblings, Dash, Theo, and Charlie, set sail on their sturdy boat, the "Ursula K," to find a replacement, hoping that Mama will not notice the switch. A salty old seaman advises them to "Just look in the right place." They search through strange islands and dark caves, encounter gigantic whales and treacherous storms, but find no seashell. Only when they stop quarreling and sail for home do they find a blue seashell on their own beach. Apologizing to Mama, they offer her the replacement. "And Mama Bear, being a mother, looked at each one of her three little bears, hugged them all very, very tight, kissed the tops of their furry heads, and forgave them. Then she brought them inside for a warm supper. But they didn't get any dessert." Filled with marvelous illustrations, exciting adventure, interesting characters, and a message of taking responsibility, this little treasure is a great addition to any child's home library.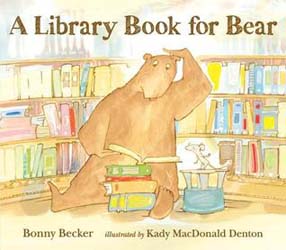 A LIBRARY BOOK FOR BEAR
written by Bonny Becker, illus. by Kady MacDonald Denton, (Candlewick Press, $16.99, ISBN 978-0-7636-4924-1), 40p, Ages 4-7
"Bear had never been to the library. He had seven very nice books at home: three about kings and queens, three about honeybees, and one about pickles. Bear was quite sure he had all the books he would every need." When Mouse reminds him of their visit to the library, Bear has second thoughts. Grumbling, he buckles on his roller skates, grabs a basket, and skates to the library with Mouse. Isolating himself in a corner, Bear insists that too many books are extravagant, books on rocket ships and canoes do not interest him, and only books on pickles do. Dejected, Mouse decides to take him home, until Bear hears the librarian reading "The Very Brave Bear and the Treasure of Pickle Island." Excellent storytelling and delightful illustrations will endear kids to the latest episode of two opposite friends and their interesting personalities.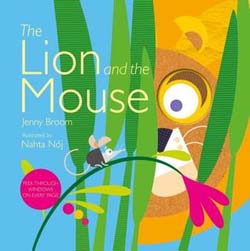 THE LION AND THE MOUSE
written by Jenny Broom, illus. by Nahta Nˇj, (Templar Books, $14.99, ISBN 978-0-7636-6619-4), 32p, Ages 3-7
When a hungry mouse crawls across a sleeping lion's back to reach ripe berries, the lion awakes and traps the mouse under his paw. Apologizing, the little mouse explains his need for food, and the lion sympathizes, helps him reach the luscious food, and releases the little fellow. Scampering away, the mouse promises to return the good deed someday. Lion scoffs at the idea of needing help, until he becomes trapped by a hunter's net. "In the morning, the lion was woken by a nibbling noise. It was the little mouse, who had heard the mighty lion's roar. She gnawed and gnawed until . . .she set the lion free!" Digitally created artwork, die-cut holes, and peek-through windows make this retelling of a popular Aesop fable great interactive fun and perfect for reading aloud.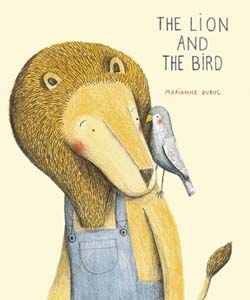 THE LION AND THE BIRD
written/illus. by Marianne Dubuc, (Enchanted Lion Books, $17.95, ISBN 978-1-59270-151-3), 64p, Ages 4-7
On an autumn day while working in his garden, Lion discovers an injured bird. "Oh! Poor little thing! Lion can't just leave him there." After bandaging Bird's broken wing, they watch as his flock flies away for the winter. Lion carries Bird home, nurses him back to health, and the two spend the winter together enjoying the warmth of Lion's cottage, ice fishing, and tobogganing. When spring returns along with Bird's flock, Lion sadly bids him farewell. Resuming his solitary life, Lion returns to his gardening, fishing, and reading. When autumn arrives, Lion looks up and wonders about Bird, and hears a single musical note. Sparse text and charming illustrations convey compassion, friendship, loss, and hope, and make this a great read aloud to share, savor, and treasure with children.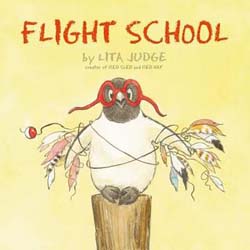 FLIGHT SCHOOL
written/illus. by Lita Judge, (Atheneum Books, $16.99, ISBN 978-1-4424-8177-0), 40p, Ages 4-8
Some are born to fly and some yearn to try, especially for one determined penguin. Announcing that he was "hatched to fly" and has "the soul of an eagle," Penguin arrives at flight school in a motorboat and cute red goggles, ready for lessons. The teachers have doubts, but allow him to register. He practices for weeks, only to plunge into the ocean after soaring into the sky along with the other students. Flamingo ties fishing line and feathers to his plump body, but with little success. "But Penguin didn't care. He had soared on the wind, just as he had done in his dreams." Happily, he leaves flight school, but soon returns with another friend, Ostrich, who "has the soul of a swallow." Penguin's never-give-up attitude is a charming way to teach children the admirable quality of perseverance.
THE GEESE MARCH IN STEP
written/illus. by Jean-Franšois Dumont, (Eerdmans Books for Young Readers, $16.00, ISBN 978-0-8028-5443-8), 36p, Ages 4-7
No matter how hard little Zita tries to keep in step with the other geese marching to the pond, she adds an extra step and is dismissed from the group by leader Igor. Dejected, she walks around the farmyard shuffling along to her own beat, and eventually the other animals follow her infectious "Splash sniff splash" rhythm, adding their own noises. "From the gobbling turkey to the bleating sheep, from the whinnying horse to the croaking frog, all of the animals were joined in a wild rhythm that swept along everything in its path." Now Zita is the new leader of the animals walking to the pond. Children who march to a different drummer will love this one.
DUCK TO THE RESCUE
written/illus. by John Himmelman, (Henry Holt and Company, $16.99, ISBN 978-0-8050-9485-5), 32p, Ages 4-8
Continuing in the series of humorous rescue stories on the Greenstalk farm, Ernie the duck, well-meaning but very clumsy, tries to solve everyone's problems, but nothing goes right. Crashing Farmer Greenstalk's truck full of pumpkins, stranded on top of the barn rafters while rescuing a calf, tied up by the chicks that he is babysitting, and failing as a substitute for the cornfield scarecrow, poor Duck causes chaos in the barnyard. It takes a clever lamb and two cupcakes to save Duck from a week of disaster. Kids will love and laugh at Ernie's heart of gold, acts of kindness, and misplaced intentions.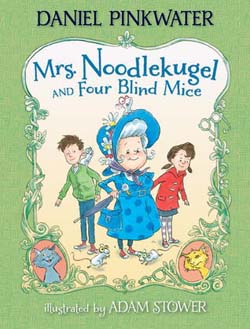 MRS. NOODLEKUGEL AND FOUR BLIND MICE
written by Daniel Pinkwater, illus. by Adam Stower, (Candlewick Press, $14.99, ISBN 978-0-7636-5054-4), 96p, Ages 5-9 yrs
In this second installment of the Mrs. Noodlekugel series, her four crumb-spilling, farsighted mice take a trip to the oculist for tiny glasses. Mrs. Noodlekugel, Mr. Fuzzface (talking, piano-playing cat), children Maxine and Nick, and the mice (attached to Mrs. Noodlekugel's hat by elastic bands) ride the bus downtown to Dr. Bil's office. New glasses for the mice result in a celebration lunch at Dirty Sally's Lunchroom, where they gorge on cheesecake served by a sign-holding monkey. A sugar rush sends the mice running out the door, and the ensuing chase results in Mr. Fuzzface discovering his long lost "fadder." Kids will enjoy the clever mice eye chart, the non-speaking monkey, and a feel-good ending in the loopy world of Mrs. Noodlekugel.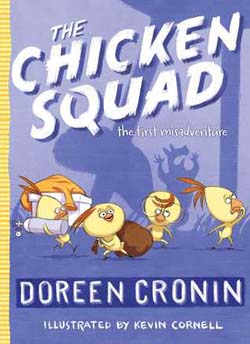 THE CHICKEN SQUAD: The First Misadventure
written by Doreen Cronin, illus. by Kevin Cornell, (Antheneum Books for Young Readers, $12.99, ISBN 978-1-4424-9676-7), 112p, Ages 7-10
Dirt, Sugar, Poppy, and Sweetie, The Chicken Squad, spend their days solving mysteries and fighting crime. They take on a new case, when a frightened squirrel, Tail, barges into the chicken coop claiming that something big, scary, enormous, frightening, huge, and terrifying is in the yard. Thinking that a UFO may have landed, the chicks use grass clippings as a camouflage and pelt a new barbecue grill. Retired search-and-rescue dog, J. J. Tully, races in to save the day. This great chapter book for young readers will tickle their funny bones with laugh-out-loud silliness.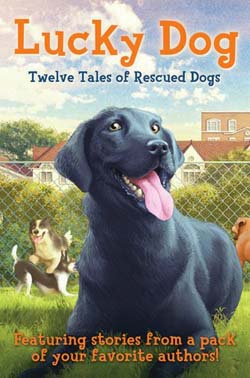 LUCKY DOG: Twelve Tales of Rescued Dogs
written by various authors, (Scholastic Press, $15.99, ISBN 978-0-545-55451-0), 192p, Ages 9-12
Twelve humorous, heartwarming, and uplifting stories surround the Pawley Rescue Center, where dogs and kids come together. Readers meet Foxtrot from "The Incredibly Important True Story of Me!", a feisty Pomeranian who cannot bear to leave behind her best friend, Bear, an Old English sheepdog, when she is adopted. Pumpkin from "Chihuahua Rescue!" is one of 101 Chihuahuas, who creates havoc at the center. In "Foster's Home" a shy, homeless and hungry mutt bonds with a lonely foster child. From "Big Dogs" Beatrice, an ugly and courageous French bulldog rescues his new owner from a bully. A little girl, who is frightened of dogs, meets and falls in love with Henry, a pie-stealing dog from "The Heart Dog." These stories and more, told from the perspective of both children and animals, are great dog tales for every young reader. According to endpapers, proceeds from book sales are donated to RedRover, an organization dedicated to helping animals in need.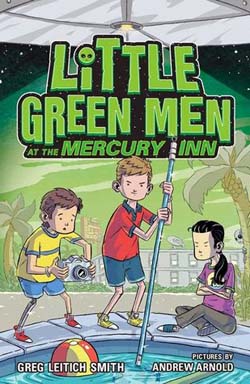 LITTLE GREEN MEN AT THE MERCURY INN
written by Greg Leitich Smith, illus. by Andrew Arnold, (Roaring Book Press, $15.99, ISBN 978-1-59643-835-4), 224p, Ages 9-12
Almost thirteen, Aiden resides and works at his parents' remodeled 1950s motel in Space Coast, Florida near Cape Canaveral. He cleans up, manages difficult guests, clears patio furniture from the swimming pool, and helps with special parties when the space shuttles are launched. As Aiden and best friend Louis (a UFO enthusiast) prepare for the next launch party, they realize that one of the guests may not be human. On the night of the shuttle launch, a strange blackout occurs along the coast, and the launch is cancelled. Skeptical of the existence of extraterrestrials, Aiden watches as a UFO hovers over the motel and crashes into the ocean. When media and scientists descend on the motel, Aiden struggles to keep one of the guest's identity secret. Realizing his connection to the UFO, he aids in an extraterrestrial rescue and discovers an unlikely truth about his own life. With cover-ups, rumors, invasions, UFO conspiracies, media coverage, and quirky characters, kids will enjoy this Sci-Fi/Adventure tale.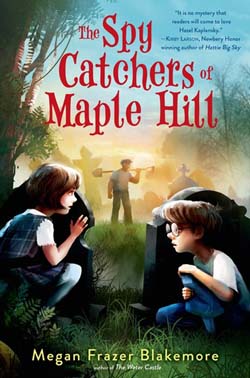 THE SPY CATCHERS OF MAPLE HILL
written by Megan Frazer Blakemore, (Bloomsbury, $16.99, ISBN 978-1-61963-348-3), 320p, Ages 8-12
During the Cold War McCarthy/Communism era in the 1950s, fifth grader Hazel Kaplansky lives with her parents, who manage a cemetery in Vermont. Smart, vocal, enthusiastic, and a born detective, Hazel joins with a new boy in school, equally smart with his own deductive skills, to locate a reported Russian spy in town. The sleuths gather evidence on a newly hired gravedigger, but as they collect clues, Hazel's well-intentioned desire to catch a spy outweighs the facts. Issues of gossip and rumors surrounding an era of fear and suspicion make this story of an independent, inquisitive, but imperfect heroine a good choice for discussion on subjects of truth and trust.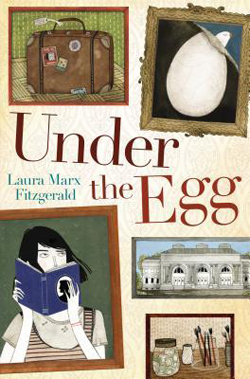 UNDER THE EGG
written by Laura Marx Fitzgerald, (Dial Books, $16.99, ISBN 978-0-8037-4001-3), 256p, Ages 9-13
When 13-year-old Theodora Tenpenny's grandfather dies in a freak accident on a busy New York City street, she inherits $463 and becomes responsible for the welfare of her unreliable mother and their ramshackle Greenwich Village townhouse. With her dying grandfather's message "to look under the egg" for a letter and treasure, Theo finds a painting above the fireplace mantel depicting an egg, but an accidental spill of rubbing alcohol reveals a hidden, perhaps valuable Raphael Renaissance masterpiece. Theo's search for its authenticity takes her to the New York Public Library, the fancy Upper East Side, the Metropolitan Museum of Art, the Center for Jewish History, and Holocaust survivors. Along the way, she discovers her grandfather's World War II military past involving stolen antiquities. With his past employment as security guard at the Metropolitan Museum of Art, Theo worries that the painting may be stolen. Secrets are unearthed, mysterious pasts are uncovered, and lost Holocaust children are revealed. Kids will learn about art history, renovation techniques, and research technology, encounter quirky characters, and root for an intrepid intelligent, self-reliant heroine to locate her family's treasure.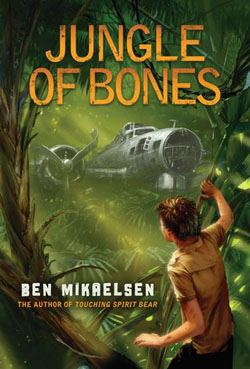 JUNGLE OF BONES
written by Ben Mikaelsen, (Scholastic Press, $16.99, ISBN 978-0-545-44287-9), 224p, Ages 10-13
Sullen, rebellious, and angry over his father's death as a war correspondent in Dafur, seventh-grader Dylan Barstow crosses the line with his mom, when he steals a junkyard car and "cuts donuts" in a farmer's field. His ex-marine uncle steps in to teach Dylan respect and discipline by taking him to Papua New Guinea for the summer in search of the World War II B-17 bomber wreckage of the Second Ace that his grandfather flew and escaped as the only survivor. There, they join other members of the team and journey through humid, steamy, and dangerous jungles filled with malaria, headhunters, crocodiles, snakes, and leeches. When Dylan intentionally leaves the group, he loses his way, encounters a poisonous snake, suffers malaria, and incurs gangrene. He finally regrets throwing away the malaria pills, realizes the importance of listening to adult advice, and experiences a huge attitude adjustment. How Dylan discovers the wreckage, confronts his past, and finally understands the value of freedom will connect with kids who enjoy fast-paced adventure and survival stories.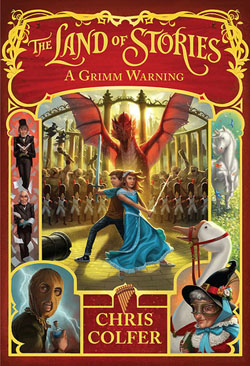 THE LAND OF STORIES: A Grimm Warning
written by Chris Colfer, illus. by Brandon Dorman, (Little Brown & Co., $18.00, ISBN 978-0-316-40681-9), 480p, Ages 9-12
"Fairies, listen well, / For there is truth in the sights we foretell, / 'Happily ever after' will not last, / When it's greeted by a threat from the past. / One by one, the kingdoms will fall apart, / From battles they'll lose and wars they'll start. / Fairy blood will be split by the gallons, / When you face the army of thousands." The witches' prophesy in this third installment of the The Land of Stories series unites twins Conner and Alex Bailey, their friends, and their enemies to prepare for the coming battle against a powerful two-hundred year old French army, a massive dragon, and the mysterious Masked Man. Magical castles, enchanted statues, Book Huggers, magic mirrors, kidnappings, blue poker chips, and a forgotten army conspire to make this series truly enchanting. A surprise conclusion will have readers eagerly awaiting the next installment.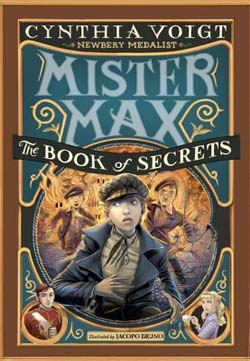 MISTER MAX: The Book of Secrets
written by Cynthia Voight, illus. by Iacopo Bruno, (Alfred A. Knopf, $16.99, ISBN 978-0-307-97684-0), 370p, Ages 10-15
This second installment in the Mister Max trilogy finds 12-year-old Max Starling's reputation as a Solutioneer growing. His problem-solving abilities are still directed to finding his missing theatrical parents, but at the request of the mayor, Max investigates vandalism and arson occurring around his city, a single dad with family issues, and a lovely young girl's mysterious background. Using costumes from his parents closed theatre, Max plays various roles required in his solutioneering work. "He had dressed himself in the shabby brown suit of an unsuccessful suitor in The Adorable Arabella and stuffed a pillow under the bright blue waistcoat. With a round pork-pie hat set square on his head, he became Inspector Doddle, the unflappable, unassuming detective from An Impossible Crime." Although a loner and thinker, Max enlists help of family and friends to rescue and rehabilitate two kidnappers. As his maturity and competence grows, so does his independence, setting up the remaining case to rescue his parents from a small South American country.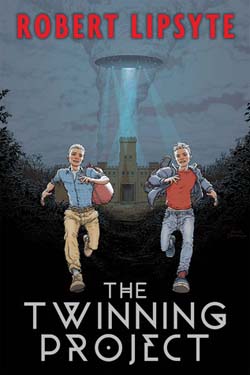 THE TWINNING PROJECT
written by Robert Lipsyte, (Clarion Books, $16.99, ISBN 978-0-547-64571-1), 272p, Ages 11-14
Identical twelve-year-old twins live on separate Earths over 50 years apart, work together to locate their missing dad, thwart alien invaders, and save both their worlds from destruction. Seventh grader Tom living in 2011 on Earth One is smart, a rebel, musically talented, hates bullies, and is grieving the loss of his father in a plane crash. Eddie, living on Earth Two in 1957 (cloned by aliens), is friendly, athletic, and popular. Both communicate via thoughts, but when the same human-looking aliens show up at each school, their grandfather reveals the alien's master plan to destroy both Earths. Will switching places and identities stop the destruction, or slow it down? Short chapters, amazing inventions, action, and adventure will please even the most reluctant reader.
SMASHER
written by Scott Bly, (Blue Sky Press, $16.99, ISBN 978-0-545-14118-5), 256p, Ages 11-15
This science fiction middle grade fantasy will have readers on the edge of their seats as a twelve-year-old hero from the sixteenth century joins a futuristic robot to defeat a murderer from enslaving the world through computer viruses and biology in 2042 Los Angeles. Gifted with magical abilities, Charlie endures life in 1542 England while living with his grandfather. He is rescued from local bullies by a teenage-looking time-traveling robot from the 21st century, who seeks his help harnessing the Hum (a mysterious force in the Universe). Geneva teaches him to time travel by smashing atoms, and together they try to outmaneuver Gramercy Foxx, a ruthless genius, who also controls the Hum and plots world domination. When Charlie discovers Foxx's identity, his quest suddenly turns personal. Fast-paced, fascinating, and fun, readers who enjoy suspense, sci-fi technology, and magic will root for this courageous hero.
THE SHADOW PRINCE
written by Bree Despain, (Egmont, $18.99, ISBN 978-1-60684-247-8), 496p, Ages 14-18
This retelling of the Hades and Persephone mythological tale finds two teenagers wrestling with family issues, destinies, and a growing attraction to each other. Haden, a disgraced prince of the Underworld, is chosen to travel to the human world to lure Daphne, a strong-willed musical prodigy, into returning with him in order to restore immortality to his dying kingdom. Their destinies are bound together, but their personalities often clash. Finding themselves working together to fight evil from the Underworld, they discover a mutual talent for music, realize common family issues, and experience a growing and changing relationship. From car chases, family dynamics, near-death experiences, and lethal Underworld creatures, to war between the gods, and prophesies, Haden and Daphne struggle to rewrite their destinies and change the fate of two worlds. Readers, who enjoy heroes, quests, mythology, adventure, mystery, and cliff-hanging endings, will love this first book in a planned trilogy.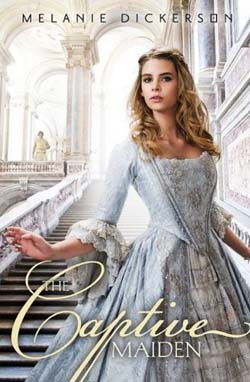 THE CAPTIVE MAIDEN
written by Melanie Dickerson, (Zondervan, $9.99, ISBN 9778-0-310-72441-4), 304p, Ages 14-18
Without magic, fairy godmothers or pumpkins, this retelling of the Cinderella tale finds 17-year-old Gisela working in servitude to a cruel stepmother since her father's death ten years earlier. Hearing that the Duke of the land is holding a tournament and ball to celebrate the return of his eldest son, Gisela determines to attend. She catches Valen's eye during a chance meeting before the tournament, and a friendship begins. When an evil knight, bent on destroying Valen, kidnaps Gisela, the rescue proves difficult and treacherous. With the aid of a Christian priest, Valen and Gisela realize their love for each other and their God-given purposes in life. Set in Hagenheim, Bavaria in the early 15th century, jousting matches, swordplay, and fascinating medieval life will appeal to fans of fairy tales, chivalry, and romance. Kindness, forgiveness, bravery, and courage make this wonderful retelling of a classic fairy tale well worth reading.
ABOUT US
The Children's Hour was created to promote and encourage reading to children and by children. We believe that reading aloud not only creates a special bond between parents and children, but it is important to the development of their imagination and curiosity.
The Children's Hour
150 N. Santa Anita Ave.,
Suite 300
Arcadia, CA 91006
626-791-4848
Conditions of Use
Privacy Policy