Welcome to the Children's Hour where reading to children and reading by children is considered a high priority to their success in life. Literacy begins by reading to children, but is developed over the years when great literature is available for their listening and reading enjoyment.

The best children's books and filled with imagination and fun. Stories that take children into a world of delight and adventure present storytelling at its best. Children need stories for pleasure, laughter and fun; imaginative and nonsensical stories that may not have a scrap of useful information or lesson, but cheerful and delightful lunacy.

Sign up our monthly newsletter and receive advanced information on the best in children's literature available to read and read-aloud today.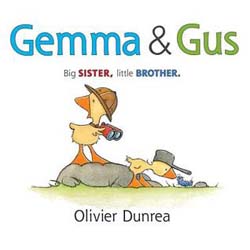 GEMMA & GUS
written/illus. by Olivier Dunrea, (Houghton Mifflin Harcourt, $9.99, Mar. 2015, ISBN 978-0-547-86851-6), 32p, Ages 2-5
Gemma is the big sister and, "likes to explore new places," while Gus, the little brother, follows behind her observing everything. They hunt for frogs in the cattails, bunnies hiding in an oak tree, hop on top of flowerpots as well as the dog, Molly, until one day Gemma honks, "Don't keep following me!" Unfazed by his sister's outburst, Gus carries on alone, but when Gemma's curiosity is piqued, she happily follows her little brother, exploring their pint-sized world. Companionship always makes for a happy family in the Gossie & Friends series.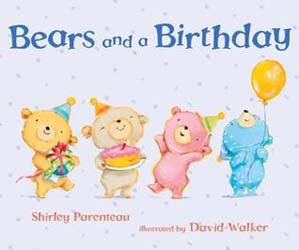 BEARS AND A BIRTHDAY
written by Shirley Parenteau, illus. by David Walker, (Candlewick Press, $15.99, Feb. 2015, ISBN 978-0-7636-7152-5), 32p, Ages 2-5
Fuzzy, Floppy, Yellow, and Calico are busy preparing for a secret birthday party for Big Brown Bear. While the four cubs are measuring, stirring, and baking, a big brown someone is impatient and curious. "Big Bear smells / sugar and spice. / Are they baking / something nice? He nudges the door / just a crack. / 'No peeking!' they warn, / and nudge it back." Finally, Big Bear's waiting is over, and he is surprised with cake, candles, presents, party hats, and games for the "Birthday King." Little ones will enjoy the sweet rhymes, the gentle fun-loving family, and colorful celebration in this latest addition to a charming series for preschoolers.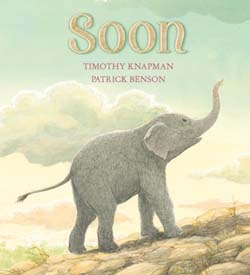 SOON
written by Timothy Knapman, illus. by Patrick Benson, (Candlewick Press, $16.99, Feb. 2015, ISBN 978-0-7636-7478-6), 40p, Ages 2-5
One morning a baby elephant and his mother begin a long and special journey. They encounter a snapping crocodile, a slithering snake, and a hungry tiger, but mother stomps, roars, and rears up to protect her little one. Over dry land, across rivers, and through forests little Raju continually asks "When can we go home again?" to which his mother replies, "Soon." Holding his mother's tail for safety, they journey up a mountain to view a beautiful world beneath them. Upon returning home, a tired and exhausted Raju asks, "When can we do it again?" to which his mother responds, "Soon." Timothy Knapman's story of family trust and protection and Patrick Benson's elegant illustrations are sure to make a lasting impression on little ones.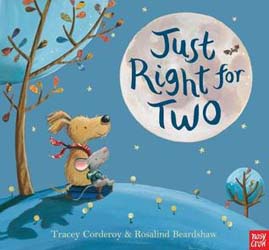 JUST RIGHT FOR TWO
written by Tracey Corderoy, illus. by Rosalind Beardshaw, (Noisy Crow, $15.99, Sept. 2014, ISBN 978-0-7636-7344-4), 32p, Ages 3-7
Self-reliant Dog loves his blue suitcase and fills it with special possessions: "a bumpy little pinecone, a smooth rock with a hole in it, some dancing leaves, a really good stick, a soft, tickly feather, and a big, shiny red button." It also makes a perfect bed at night, and is all that he needs. One morning Dog awakes to find a little mouse snuggled against him. After Dog's initial resistance, they strike up a friendship, Mouse admires Dog's possessions, and they enjoy playing hide-and-seek. After Mouse leaves, Dog misses something, searches for Mouse to help him find it, and realizes that the "what" he is missing is a "who." Simply told with charming illustrations, this warm tale of friendship will be a lovely read-aloud, especially at bedtime.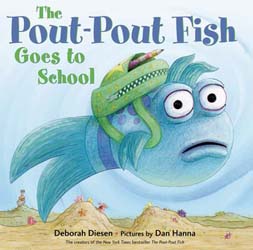 THE POUT-POUT FISH GOES TO SCHOOL
written by Deborah Diesen, illus. by Dan Hanna, (Farrar Straus Giroux, $16.99, June 2014, ISBN 978-0-374-36095-5), 32p, Ages 3-5
"A long time ago. / When Mr. Fish was very small, / He headed off to school / For the first time of all. / With a smooch from his parents, / And excited for his day, / Mr. Fish rushed in … / Then he lost his way!" Apprehensive about his first day at school, Mr. Fish loses his way in the hallways, tries several classrooms, but becomes discouraged when he is unable to write, draw, or figure math like the other students. Upon leaving he encounters a teacher, who escorts him to the class for "Brand-New Fish," where his doubts dissolve and his troubles disappear. Full of colorful details, kids will love the corridor posters (Michelanjellyo, Leonardo Da Pinchy) and the cartoonish appendages used for writing by the various sea creatures.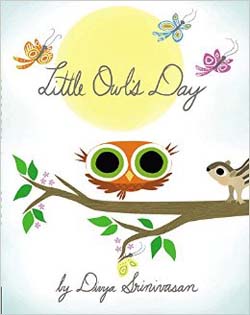 LITTLE OWL'S DAY
written/illus. by Divya Srinivasan, (Viking Books, $16.99, Sept. 2014, ISBN 978-0-670-01650-1), 32p, Ages 3-5
Awakened by a noisy squirrel, Little Owl sees for the first time a sunny, sparkling world that is very different from his nighttime one. Fascinated by the flowers, bees, butterflies, wolf puppies, rainbows and waterfalls, he is eager to tell his nighttime friends and mama about his daytime adventures. At sunset, Little Owl flies home to his tree, and is surprised to discover that some of his daytime friends also live under his treetop home. As promised, he shows Bear the moon. Children will love the cute story, characters, and sweet illustrations.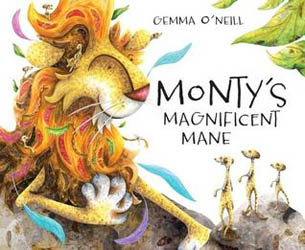 MONTY'S MAGNIFICENT MANE
written/illus. by Gemma O'Neill, (Templar Books, $15.99, Feb. 2015, ISBN 978-0-7636-7593-6), 40p, Ages 3-7
"Meet Monty, King of the Jungle. Monty loves his long, curly mane. No one else has a mane quite like this. Monty thinks it's magnificent." He even allows his friends, the meerkats, to play in his mane, until it becomes a dirty, tangled mess, and Monty stomps off in a huff. Admiring his mane in a water hole, Monty fails to notice a giant crocodile swimming closer until "SNAP!" When the croc follows Monty home and decides to harm the meerkats, Monty (with a chunk of missing mane) defends his friends with mighty "ROARS." Adults will the appreciate themes of restraining vanity and protecting friends. Children will love the clever and colorful illustrations.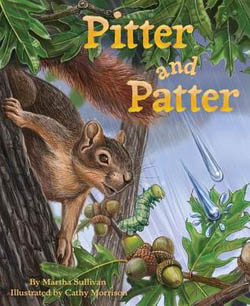 PITTER AND PATTER
written by Martha Sullivan, illus. by Cathy Morrison, (Dawn Publications, $16.95, Jan. 2015, ISBN 978-1-58469-508-0), 32p, Ages 4-10
Two raindrops, Pitter and Patter, fall from the sky one day and take very different paths on their way to the ocean. Pitter lands on a leaf, drips into a stream, and is carried into a valley river, past wetlands, and onto the ocean. During the long journey, Pitter happily greets all the animals in each habitat. "Hello, crayfish. / Howdy snake. / Best wishes for the day, mayfly." Patter tumbles into a spring meadow with similar greetings to the surrounding animals, "Hello daisy. / Good morning, bee. / Rise and shine, butterfly." Patter trickles into the soil and spills into an underground cave that flows into a river, which sweeps to the ocean. There, both are reunited, become warmer, and rejoin a gray cloud. Endpapers describe the water cycle, and offer diagrams, scientific terms, and activities for kids. Martha Sullivan's clever story of two raindrops and Cathy Morrison's outstanding illustrations will help kids connect with the water-cycle journey, realize the importance of water to our planet, and teach good manners in the process.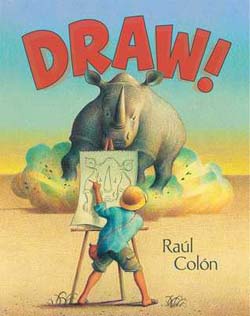 DRAW
written/illus. by Raúl Colón, (Simon & Schuster, Paula Wiseman Books, $17.99, Sept. 2014, ISBN 978-1-4424-9492-3), 40p, Ages 4-8
Based on his childhood love of drawing, Raúl Colón's wordless book explores the world of imagination. A young boy reads about Africa and begins to draw his own safari adventure. He sketches an elephant and takes a ride on it. Then he finds zebras, giraffes, lions, and a gorilla, who snatches his lunch. Whether drawing from the back of an elephant, hanging from vines, or from the ground, the boy perseveres, until he spies a charging rhinoceros and narrowly escapes a calamity. The baboons take a turn drawing a portrait of the boy. As the sun sets, he hugs the elephant goodbye. The final scene shows the boy in school presenting his drawings to his class. In the world of art, imagination can truly run wild. Children will love pouring over the many details of this fascinating story.
THE TROUBLE WITH CHICKENS
written by Doreen Cronin, illus. by Kevin Cornell, (HarperCollins, $14.99, Jan. 2012, ISBN 978-0-06-121532-2), 144p, Ages 8-11
"It was a hot, sunny day when I met that crazy chicken. So hot that sometimes I think the whole thing may have been a mirage. But mirages don't have chicken breath, mister." After seven years of saving lives, all J. J. Tully, a former search and rescue dog, wants is to enjoy retirement in the country. That is until a mother chicken, Mildred, and her chicks, Dirt and Sugar, request his help in finding the other two missing chicks. With a promise of a cheeseburger, Tully reasons that Vince the Funnel, the housedog with an attitude and a cone-shaped collar from an ear infection, has kidnapped Poppy and Sweetie. During the rescue mission, Tully realizes that he may have been double-crossed, and the plan changes drastically. Readers and reluctant readers will savor the endearing characters, tongue-in-cheek humor, comical illustrations, and zany sleuthing in this detective tale full of giggles and fun.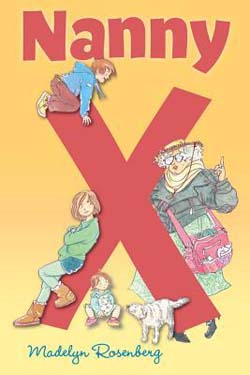 NANNY X
written by Madelyn Rosenberg, illus. by Karen Donnelly, (Holiday House, $16.95, Sept. 2014, ISBN 978-0-8234-3166-3), 112p, Ages 7-10
When a new nanny arrives at their house, 10-year-old Alison and 8-year-old Jake worry (toddler Eliza does not) about a nanny who has silver-gray hair and wears a straw gardening hat, motorcycle jacket, pair of mirrored sunglasses, and no smile. "She smelled like a combination of chicken soup and motor oil, and it looked like she had borrowed her shoes from a Pilgrim." Their concerns multiply upon discovering that Nanny X knows more about them than their parents. She makes anchovy and peanut butter sandwiches, talks into a diaper, uses a bib as a tracking device, and a sippy-cup and baby cookies as listening devices. When the mayor of their suburban Washington D.C. neighborhood threatens to build a factory in the local park and is injured at a protest rally, Alison's classmate is accused and jailed for the incident. Nanny X reveals her spy status in N.A.P. (Nanny Action Patrol), and begins an investigation, leading to coconut smoothies, monkeys, kidnappings, heroic rescues, and neighborhood espionage. Alison and Jack narrate chapters alternatively. Kids will appreciate the lessons of teamwork, the ingenious wacky inventions, and the zany characters in this fun and wacky read.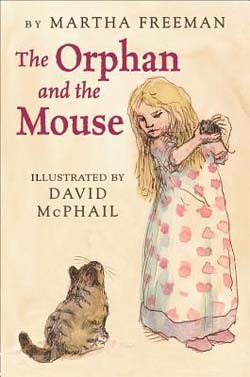 THE ORPHAN AND THE MOUSE
written by Martha Freeman, illus. by David McPhail, (Holiday House, $16.95, Aug. 2014, ISBN 978-0-8234-3167-0), 224p, Ages 9-12
A clever mouse and a kindhearted orphan work together to expose an illegal kidnapping operation in 1949 Philadelphia. Eleven-year-old Caro McKay has lived at the Cherry Street Home for Children since the death of her mother, loves to help the other children, and is a natural leader. When she rescues Mary Mouse from the clutches of the house cat, they bond immediately. Mary is blamed by the mouse colony's corrupt Director for being seen by humans and is left behind when the mouse colony evacuates. Joined by Andrew, a mouse who can read and patterns his life after Stuart Little, they begin spy missions. Overhearing a conversation by the orphanage's Director about a baby kidnapping, they work with Caro to expose the illegal adoption, reunite baby Charles with his frantic mother, thwart the evil headmistress, save Caro from a workhouse, and make Cherry Street Orphanage a safe place for humans and mice. Short chapters, page-turning adventure, friendship, mystery, and the power of reading make for a fun and inspiring tale.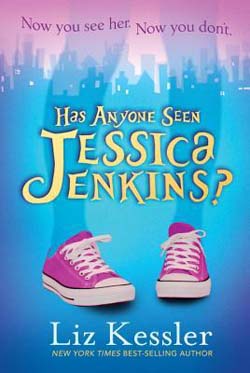 HAS ANYONE SEEN JESSICA JENKINS?
written by Lisa Kessler, (Candlewick Press, $15.99, Feb. 2015, ISBN 978-0-7636-7060-3), 288p, Ages 9-12
Eighth grade is fairly normal for Jessica, until her arm begins to disappear in Geography class. With the help of best friend Izzy, they investigate the why's and how's of this superpower. Realizing a connection between a recent birthday present and a friend of her moms, Jessica uses her invisibility to unravel this mysterious ability. Sneaking into a scientific laboratory while Izzy distracts a doctor, an interesting connection is discovered. When other students come forward with their newly discovered superpowers, they decide to apply their unusual talents of invisibility, stopping time, walking through walls, reading minds, and flying to thwart an unscrupulous millionaire and foil a kidnapping. Fascinating abilities, adventure, experimental science, unlikely friendships, questionable medical ethics, and courageous heroes make this scientific superhero mystery worth reading.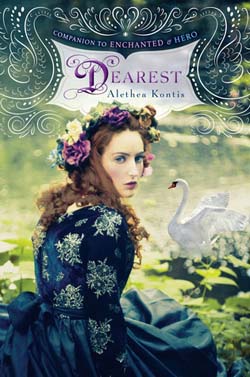 DEAREST (The Woodcutter Sisters)
written by Alethea Kontis, (Houghton Mifflin Harcourt, $17.99, Feb. 2015, ISBN 978-0-544-07407-1), 288p, Ages 14-18
In this latest Woodcutter Sisters series, Dearest, centers around Friday, a kind and loving seamstress, who washes up on the shore of a newly created ocean that was accidentally conjured by her impetuous sister, Saturday (Hero 2013). Taken to a nearby palace, she is discovered to be the sister of Sunday, the Queen of Arilland (Enchanted 2012). With a generous and loving heart, Friday cares for the kingdom's new orphans and sews clothes for the refugees. When Friday stumbles upon seven brothers sleeping in the palace's highest tower, little does she realize that they are enchanted royalty from another kingdom and under a curse to become swans by day and humans by night. One swan in particular, Tristan, captures her heart, as Friday seeks to break their spell, save the Kingdom of Arilland from an evil sorcerer, and discover her own magical gifts in a fight for their lives. Magic, adventure, a gentle romance, heroic characters, and the enchanting fairy tale world of the Woodcutter family will have readers eagerly awaiting the next installment.
ABOUT US
The Children's Hour was created to promote and encourage reading to children and by children. We believe that reading aloud not only creates a special bond between parents and children, but it is important to the development of their imagination and curiosity.
The Children's Hour
150 N. Santa Anita Ave.,
Suite 300
Arcadia, CA 91006
626-791-4848
Conditions of Use
Privacy Policy