Welcome to the Children's Hour where reading to children and reading by children is considered a high priority to their success in life. Literacy begins by reading to children, but is developed over the years when great literature is available for their listening and reading enjoyment.

The holidays are before us, and what better way to enjoy it than with a great book. We hope that you enjoy our selections. They offer fun reads into adventure, friendship, families, folk literature, mysteries, humor, fantasy, holiday books, and science fiction.

Sign up our monthly newsletter and receive advanced information on the best in children's literature available to read and read-aloud today.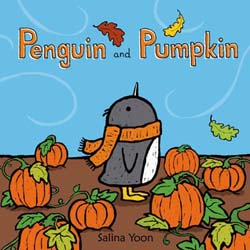 PENGUIN AND PUMPKIN
written/illus. by Salina Yoon, (Walker Books, $14.99, ISBN 978-0-8027-3732-8), 40p, Ages 3-5
"It was fall, and very white on the ice, as always—which made Penguin curious." Wondering what warmer climates are like in the fall, Penguin, Bootsy, and friends travel across the ocean on their slowly melting ice flow to a pumpkin farm, finishing the trip by swimming to shore. At the pumpkin patch, everyone finds their perfect pumpkin, except Penguin, who is fascinated with the multicolor leaves falling everywhere. They sail for home in a gigantic hollowed out pumpkin, towing another filled with their pumpkins, leaves, books, blankets, and treasures. Back home, Penguin's gives his little brother not only a pumpkin, but also a special surprise treat. Little ones will enjoy the penguins' traveling attire, their solution to the problem of a dwindling ice flow, and the special treat for a little brother.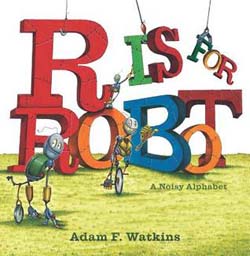 R IS FOR ROBOT: A Noisy Alphabet
written/illus. by Adam F. Watkins, (Price Stern Sloan, $16.99. ISBN 978-0-8431-7237-9), 32p, Ages 3-5
On a mission to build an alphabet, robots of all shapes and sizes use cranes, pulleys, wagons, tractors, ray guns, and karate to drill, hammer, and rivet their way through each letter of the alphabet accompanied by sounds. A is "ahoogah," C is for "Clang," "Clink," "Crash," and "Clank," while E is for "Eek!," K is for "Kapow," U is for "Umph," and X is for "EXplode." Each robot has a specific assignment, some to construct letters and some to cleanup. Loud, noisy, and rambunctious, these creative little fellows are full of great imagination and fun. Endpapers feature blueprints of letters.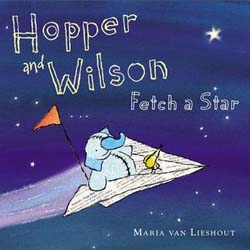 HOPPER AND WILSON FETCH A STAR
written/illus. by Maria van Lieshout, (Philomel Books, $16.99, ISBN 978-0-399-25772-8), 40p, Ages 3-6
Hopper and Wilson's second adventure finds them sitting on their dock contemplating the nighttime stars and deciding that one would make a great night-light or lantern. They fold their paper airplane, fill it with lemonade, pack their flag, take a snack, hug their pet cactus good-bye, and soar into the sky to fetch the perfect star. Deciding on a star proves difficult, as some are too dim, some too pointy, and all too sparkly. Arriving on the moon, Hopper takes a nap, while Wilson walks around to the dark side and becomes lost. "Wilson looked up. One star shone brighter and clearer than all the others did. Wilson swallowed his tears. 'That's our star!' His little legs darted across the dark side … to the bright side of the moon. And back to Hopper." Both decide that the stars should stay in the sky, and be enjoyed from home with their pet cactus. The gorgeous illustrations of the night sky will give children a sense of the wonder of creation.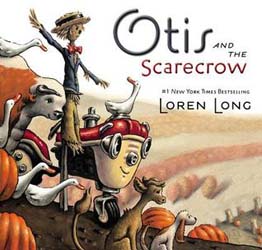 OTIS AND THE SCARECROW
written/illus. by Loren Long, (Philomel Books, $17.99, ISBN 978-0-399-16396-8), 40p, Ages 3-7
"It was summer when the scarecrow first came to the farm where the friendly little tractor named Otis lived, back when the corn was tall and ripe." Otis is overjoyed to meet the new arrival, but the scarecrow, with its sour-looking face, stares at the cornfield and is far from friendly. As the seasons change, Otis helps with the harvest, pulls wagonloads of kids seeking pumpkins, and plays games with his farm friends. Happy to be around family and friends, Otis is always mindful of the silent and stern scarecrow up on the hill. How Otis brings friendship to the lonely scarecrow, and maybe receives a smile in return, is a great lesson to children on friendship and compassion.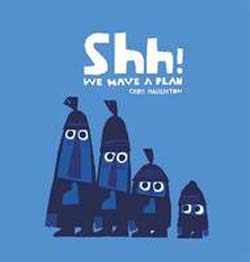 SHHH! WE HAVE A PLAN
written/illus. by Chris Haughton, (Candlewick Press, $16.99, ISBN 978-0-7363-7293-5), 40p, Ages 3-7
Four hunters slowly tiptoe, climb, and paddle through a blue/violet forest carrying nets and searching for an animal to capture. When they find a beautiful red bird, the smallest hunter remarks, "hello birdie." The other hunters caution, "Shh SHH! We have a plan," but their clumsiness frightens it away. Eventually the youngest hunter offers breadcrumbs, which are enjoyed by all the birds. When the nets appear, the birds chase the hunters away. Not having learned their lesson, the hunters spy a squirrel and the adventure begins again, "ready one / ready two / ready three … / GO!" Kids will love the repetitive greeting, hushing, pouncing, and consequences.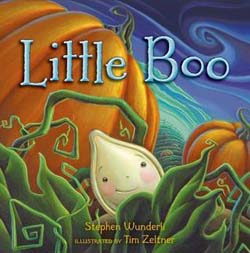 LITTLE BOO
written by Stephen Wunderli, illus. by Tim Zeltner, (Henry Holt & Co., $16.99, ISBN 978-0-8050-9708-5), 32p, Ages 4-7
When the wind blows and the leaves begin to fall, a little pumpkin seed wishes to grow up quickly and yearns for the day when his "boo" will frighten everyone. "The little plant kept growing, and sometimes tried to scare the bucket and the bees and a grasshopper…But none of them were even the least bit afraid." The wind encourages him to be patient, and through the seasons he grows into a flower, a pumpkin, and finally is picked to become a mighty jack-o-lantern, who loves to say "Boo!".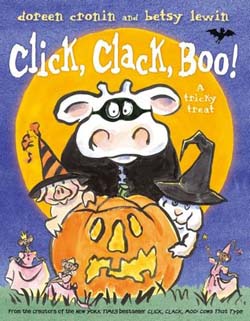 CLICK, CLACK, BOO!: A Tricky Treat
written by Doreen Cronin, illus. by Betsy Lewin, (Antheneum Books, $16.99, ISBN 978-1-4424-6553-4), 40p, Ages 4-7
On Halloween night, Farmer Brown, who dislikes Halloween, places a bowl of candy on his porch, locks up his house, puts up a "DO NOT DISTURB" sign on his front door, and goes to bed. "But in the barn the Halloween party has just begun." When a mysterious caped someone crunches through his yard, creaks up the porch, swipes the candy, and hammers a poster on the front door, Farmer Brown knows just where to find the culprit. Incensed, he marches to the barn in his footy pajamas, only to discover that he has won the "Best Costume" award at the barnyard Halloween party. Kids will love the costumes (pirate pigs, ghost chickens, fairy mice, bat-winged cats, and the skeleton-dressed cows), especially one mysterious vampire duck.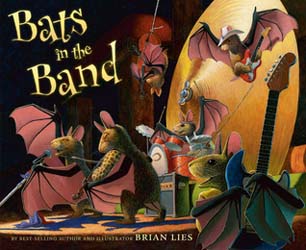 BATS IN THE BAND
written/illus. by Brian Lies, (Houghton Mifflin Harcourt, $17.99, ISBN 978-0-544-10569-0), 32p, Ages 4-8
After a long winter hibernation, the clever bats from "Bats at the Beach" (2006), "Bats at the Library" (2008), and "Bats at the Ballgame" (2010) return to a deserted summer theatre and prepare for a long awaited concert. With instruments and little ones, bats converge on the theatre to practice while waiting to perform to an anxiously waiting bat audience. "Now on the main stage, there's a hum / of air guitar, and blazing drums. / Hearts are pumping, drums are thumping, / everything that's loose is jumping." As the evening progresses, performances become increasingly lively as a one-bat band, a country bat singing lonesome songs, and a bat quartet playing stringed instruments upside down take the stage. Entertainment is available for the little ones, who are too young to sit through the concert. As daylight approaches, the vivacious music concludes and bats fly home to dream of the next concert. Kids will love the enchanting, fun-filled illustrations that represent the power of music, even in a bat world.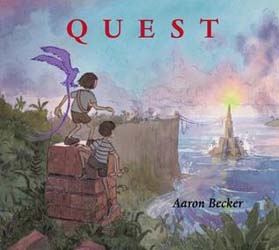 QUEST
written/illus. by Aaron Becker, (Candlewick Press, $15.99, ISBN 978-0-7636-6595-1), 40p, Ages 4-8
Expanding on his first award-winning story, Journey, Aaron Becker continues the wordless story of a young girl with a magic red crayon, who draws her way into an enchanting adventure and returns home with a beautiful violet bird to meet a boy with a purple crayon. Quest finds the two children sheltering under a bridge from the rain, when a king emerges from a hidden door, charges them with a quest to defeat his kingdom's enemies, and gives them a map, an orange crayon, and a holster with six crayon chambers. When the king is captured by soldiers, the children draw keys to the door which opens into the realm of Journey. They travel to a submerged Atlantis-type city, Mayan ruins, over a perilous rope bridge, collect crayons in all the colors of the rainbow, and narrowly escape capture. Intricate scenery, elaborate castles, steampunk-type airships, and architectural wonders attest to the artistry of imagination, magic, and fun in a world of adventure and quests.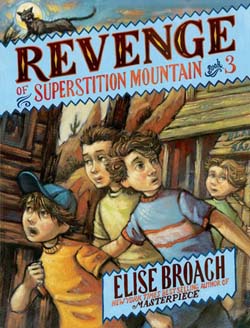 REVENGE ON SUPERSTITION MOUNTAIN: Book 3
written by Elise Broach, illus. by Olga/Aleksey Ivanov, (Henry Holt and Company, $16.99, ISBN 978-0-8050-8909-7), 294p, Ages 9-12
The final book in the Superstition Mountain trilogy finds the three Barker brothers, Simon, Henry, Jack, and their friend Delilah hoping to solve the mystery surrounding Superstition Mountain's Lost Dutchman's goldmine and the deathbed ore of Jacob Waltz. Mysterious messages, letters, and postcards from their deceased uncle and age-old curses lead them to the town's cemetery, and a friend of Uncle Hank, who tells them of the Thunder God's curse. "The mountain is sacred. Anyone who takes gold from that mine will die." Once again, they hike up the eerie mountain to return the bits of gold that Jack took on their last trip, only to encounter a flash flood, near drowning, a mine explosion, and wonder if they ever find the fortune in gold. Action-packed adventure, mystery, greed, consequences, secrets, humor, and delightful fun await kids who yearn for hidden treasure. Author's Note explains the history behind the Superstition Mountain range, its gold, the Thunder God, the Apache belief system, and the region's folklore.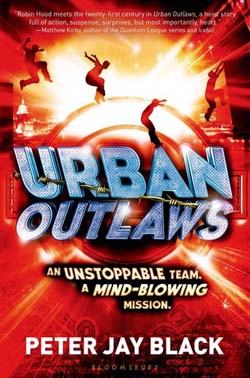 URBAN OUTLAWS
written by Peter Jay Black, (Bloomsbury, $16.99, ISBN 978-1-61963-400-8), 288p, Ages 10-13
Beneath London streets live five orphan kids, who are dedicated to outsmarting criminals, stealing from the rich, sending secret donations to nonprofits, and performing Random Acts of Kindness (RAKing). With a huge sense of justice, they are the Urban Outlaws—hacker Jack, gadget-crazed Charlie, free runner Slink, communications guru Obi, and decoy whiz Wren. Upon discovering the location of the world's only quantum computer, capable of stealing the world's top secrets, they realize the enormity of their latest quest to destroy it. With the government and ruthless criminals in pursuit, the heroes use high tech gadgets, cunning imagination, guts, and skill to elude danger on their way to saving the world. Kids who love explosive action, cool technology, and characters with a sense of family, justice, and responsibility will love this debut series.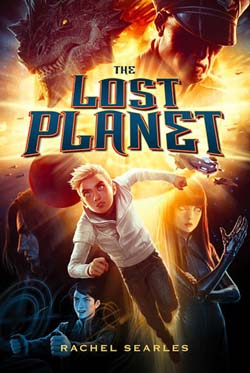 THE LOST PLANET
written by Rachel Searles, (Feiwel and Friends, $15.99, ISBN 978-1-250-03879-1), 384p, Ages 9-13
"The boy opened his eyes to a sky the color of melted butter and a sense of inexplicable terror." Chase Garrety awakens on the planet Trucon with amnesia, a blaster wound on the back of his head, and only remembers a message, "Guide the star!" Teaming up with a boy who found him unconscious, they borrow a spaceship belonging to Parker's benefactor, slip away from Parker's android bodyguard, and fly to Trucon's moon. What begins as a joyride turns dangerous as they narrowly escape government police, witness a fiery explosion that destroys Trucon, and rescue a mysterious pilot accused of the attack. In their quest for Chase's identity, the kids attempt to keep ahead of Federation agents, rebel groups, an accused terrorist, and Parker's guardian. Chase realizes that he is very different from humans and aliens, no longer sure of who to trust, and discovers that the Federation desperately seeking him. Nonstop action, intergalactic space travel, alien creatures, government conspiracies, teleportation, and android robots will have science fiction fans looking forward to the next installment.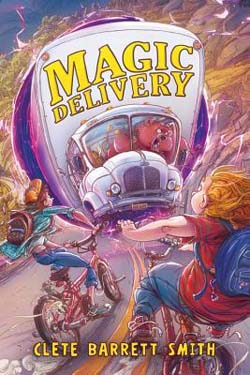 MAGIC DELIVERY
written by Clete Barrett Smith, (Disney-Hyperion, $16.99, ISBN 978-1-4231-6597-2), 288p, Ages 8-12
"It had all started when Nick learned that Tania Hillington's parents promised her a reward of sixty dollars for earning the highest grade in any class on any test. (Sixty dollars!) So he offered to botch a few of his test answers to help her out. In exchange for a fifty-fifty split of the reward, of course." Part businessman, part con artist, Nick earns money by supplying test answers and hacking computers to help his single mom pay the bills. When Nick and his buddy, Burger, accidentally cause a delivery truck (driven by a bear) to crash, they discover Halloween costumes with strange abilities. After rescuing the driver, Nick helps with the bizarre deliveries, rescues stolen costumes, saves a Halloween party gone amok, deals with a difficult witch, and solves his family's financial problems. Zaniness and hilarity abound in this holiday treat surrounding a good-hearted hustler, his crazy sidekick, wormholes, witches, and magical costumes.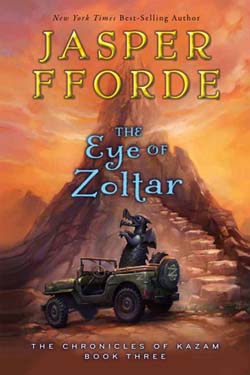 THE EYE OF ZOLTAR
written by Jasper Fforde, (Houghton Mifflin Harcourt, $16.99, ISBN 978-0-547-73849-9), 304p, Ages 13+
In this third installment of the Chronicles of Kazam, sixteen-year-old Jennifer Strange's eternal optimism is challenged, when she is summoned by the Mighty Shandar and given an ultimatum: Battle against him for the two remaining dragons or find the missing Eye of Zoltar, a power-filled magical jewel. Posing as adventure seeking tourists, Jennifer, along with the wizard Perkins and a spoiled princess travel to Cambrian Empire, a wacky Jeopardy Tourism country, where the estimated chance of survival is 50%. There, along with a daring young guide and unorthodox protector, they encounter licquorice, angel feathers, goats, homing snails, clever economics, the manipulation of a legal system, and battling railroad companies. A secondary mission involves retrieving the Once Magnificent Boo from the Ransom Clearing House, where she is held for illegally transporting a captured Tralfamosaur. Imagination, wit, and hilarity abound with battling wizards, a rubber dragon, Cloud Leviathans, Tralfamosaurs, a Bugatti Royale, and homing snails. Kids who love wackiness, adventure, and quests will eagerly look forward to the fourth installment, Strange and the Wizard.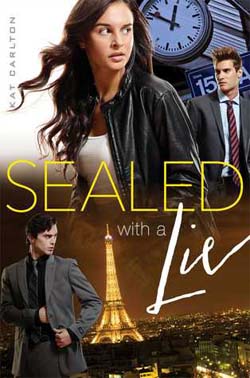 SEALED WITH A LIE
written by Kat Carlton, (Simon & Schuster, $17.99, ISBN 978-1-4814-0052-7), 256p, Ages 14-18
In Two Lies and a Spy, Kari and her genius seven-year-old brother, Charlie, discover that their parents are traitors, have abandoned them, and they are left to pick up the pieces of their lives. This sequel finds the two adapting to a new life at Generation Interpol, a training center for spies. When enemies kidnap Charlie Kari is told, that in exchange for his life, she is to break a thief out of prison to steal an item from a high security lab. With help from fellow spy, the gorgeous Evan, and loyal friends, they trek across Europe, break into a high-security lab vault, steal a valuable formula, find themselves captured, and encounter their missing parents along with the KBG. Likeable characters, martial art lessons, crafty break-ins, dangerous capers, and a bit of romance create a great page-turner for kids in this second spy thriller.
ABOUT US
The Children's Hour was created to promote and encourage reading to children and by children. We believe that reading aloud not only creates a special bond between parents and children, but it is important to the development of their imagination and curiosity.
The Children's Hour
150 N. Santa Anita Ave.,
Suite 300
Arcadia, CA 91006
626-791-4848
Conditions of Use
Privacy Policy