Welcome to the Children's Hour where reading to children and reading by children is considered a high priority to their success in life. Literacy begins by reading to children, but is developed over the years when great literature is available for their listening and reading enjoyment.

The best children's books and filled with imagination and fun. Stories that take children into a world of delight and adventure present storytelling at its best. Children need stories for pleasure, laughter and fun; imaginative and nonsensical stories that may not have a scrap of useful information or lesson, but cheerful and delightful lunacy.

Summer is finally here, and what better way to enjoy it than with stories that are marvelous gateways to worlds of delight, laughter, wonder, and adventure. Books are not a substitute for life, but a greater life can be experienced because of them. We hope that you will enjoy our choices this month.

Be sure to sign up our monthly newsletter and receive advanced information on the best in children's literature available to read and read-aloud today.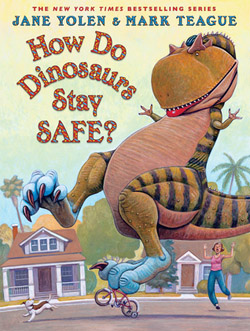 HOW DO DINOSAURS STAY SAFE?
written by Jane Yolen, illus. by Mark Teague, (Blue Sky Press, $16.99, Feb. 2015, ISBN 978-0-439-24104-5), 40p, Ages 3-5
Continuing in the series of everyday childhood behavior, young dinosaurs learn the difference between safe and dangerous situations. "Is he rough with the cat? / Does he stand up on chairs? / When Mama says 'No!' / does he run down the stairs?" Safer behavior shows a Ceardactylus holding Mama's hand while crossing the street, an Agustina wearing a helmet riding a bike with training wheels, and a Concavenator taking a water bottle on a hike. "Always safe, never sorry, / in playtime and fun, / our dinosaur knows / how to dial 911." With warmth and humor, the do's and don'ts of childhood are taught in a comfortable, fun, and appealing way.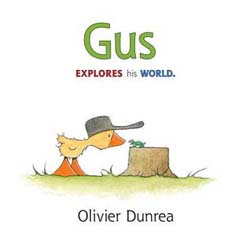 GUS
written/illus. by Olivier Dunrea, (Houghton Mifflin Harcourt, $9.99, 2015, ISBN 978-0-86761-8), 32p, Ages 2-5
"Gus is a small yellow gosling who likes to be by himself." With a cooking pot for a hat, little Gus quietly explores, observes, and focuses on a mole, red spider, mice scampering on a beam, and a turtle digging in the sand. When the turtle leaves, he investigates and discovers three eggs, so naturally he sits on them. When the baby turtles hatch, Gus discovers that companionship is far better than a solitary life, and he is delighted to carry them across the pond on his back.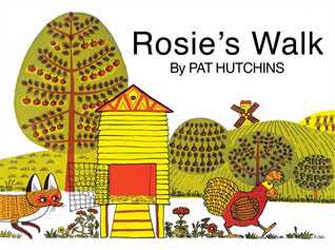 ROSIE'S WALK
written/illus. by Pat Hutchins, (Little Simon, $7.99, Mar. 2015, ISBN 978—1-4814-2275-8), 32p, Ages 2-5
Written in 1968, this classic little gem has entertained little ones for decades with the misadventures of a fox stalking a oblivious hen throughout the farmyard. Rosie walks across the farm, past a pond, haystack, and mill, through a fence, and under beehives, unaware of the fox's intentions. The fox, intent on catching Rosie, stumbles on a rake, jumps into the pond, pounces into a haystack, becomes caught under a bag of flour, and is chased by angry bees. Rosie never realizes the danger, but calmly returns to her coop for dinner. In board book format, the simple text and bright illustrations will have kids giggling for hours.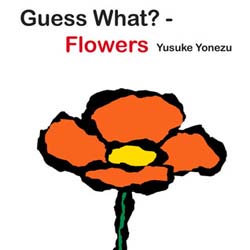 GUESS WHAT? FLOWERS
written/illus. by Yusuke Yonezu, (minedition, $11.99, Apr. 2015, ISBN 978-988-8240-63-0), 28p, 2+
"Is it a tulip? Guess What? Lift the flap …" When children lift a flap, a tulip transforms into a kitten, daisies turn into a sheep, while a cherry blossom becomes a snake. Young ones will love these guessing games as they ponder the transforming of a marigold, dandelion, pansy, and snowdrops in this fun and entertaining board book, one of many in the Guess What? series.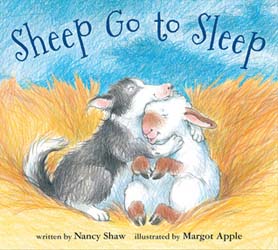 SHEEP GO TO SLEEP
written by Nancy Shaw, illus. by Margot Apple, (Houghton Mifflin Harcourt, $16.99, May 2015, ISBN 978-0-544-30989-0), 32p, Ages 2-5
At the end of a busy day, five sheep, from the beloved "Sheep" series, stroll home and settle into their straw bed, but are unable to fall asleep due to nighttime noises. Their patient, friendly border collie calms them down one by one with a hug, a drink, a song, a lullaby, a teddy bear, and a quilt. "The last one wants a cozy quilt / to snuggle on the bed she built. / The collie gives a weary grin. / He fetches one and tucks her in." But who will tuck the collie in? This delightful story, with its rhyming text and gentle humor, is a comforting choice for bedtime.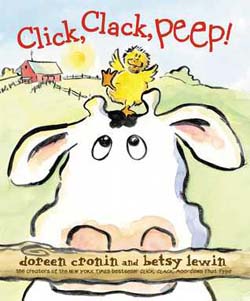 CLICK, CLACK, PEEP!
written by Doreen Cronin, illus. by Betsy Lewin, (Atheneum Books for Young Readers, $17.99, Feb. 2015, ISBN 978-1-4814-2411-0, 40p, Ages 4-8
From the creators of Giggle, Giggle, Quack (2002) and Click, Clack, Boo (2013) comes another adorable story in the Click Clack series about a newly hatched noisy baby duck on Farmer Brown's farm. The animals take turns trying to silence the baby's peeps, but until Duck comes up with the perfect solution, the whole barnyard stays awake. Placing his head phones on a sleeping Farmer Brown, Duck puts Baby Duck into a basket, covers her with a blanket (knitted by the sheep), and carries her to a waiting tractor, where they buckle up and ride around the yard for hours. Imagine Farmer Brown's shock the next morning at the trampled fence, crumpled crops, overturned mailbox, and two sleeping ducks on the tractor. Kids will laugh and parents will sympathize.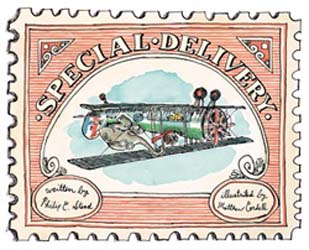 SPECIAL DELIVERY
written by Philip C. Stead, illus. by Matthew Cordell, (Roaring Brook Press, $17.99, Mar. 2015, ISBN 978-1-59643-931-3), 40p, Ages 3-7
"I'd like to mail this elephant, please, to my Great-Aunt Josephine—who lives almost completely alone and could really use the company." When Sadie brings her request to the post office, the logistics of mailing a pachyderm create problems (too many stamps). Thus begins an adventure involving a wild plane ride, a gum-chewing alligator, a steam train, a gang of bandit monkeys, and an ice cream truck. It turns out that Sadie's great-aunt already possesses a menagerie of animals from previous gifts (lion, ostrich, penguins, camels, deer, gorilla, etc.). Having delivered her gift, Sadie remembers her promise to the alligator and sends him bubble gum. Blending a zany adventure with humor, nonsense, and great sounds effects make for an excellent and thoroughly enjoyable read aloud.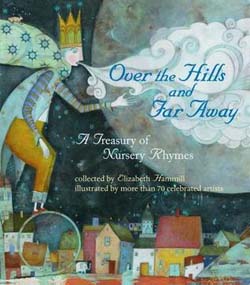 OVER THE HILLS AND FAR AWAY: A Treasury of Nursery Rhymes
collected by Elizabeth Hammill, various illustrators, (Candlewick Press, $21.99, Mar. 2015, ISBN 978-0-7636-7729-9), 160p, Ages 3-7
This unusual collection of 150 multicultural nursery rhymes, collected from 23 countries with 77 illustrators, contains a diversity of styles and subjects from the English-speaking world of the British Isles, the Caribbean, Australia, and the United States. Also featured are selections that have entered the English language from China, Latin America, Africa and other countries. Familiar rhymes and songs (Little Miss Muffet, Peter Peter, Pumpkin-Eater, Three Blind Mice, Yankee Doodle) intermingle with lesser-known rhymes (Doctor Foster, Thistle-seed, Song of Red Fox). Illustrators, some established and others emerging, have contributed and donated their work to the Seven Stories' Collection, an educational charity and museum "dedicated to the art of children's books and the joy of reading." Endpapers include a list of Sources, an Index of First Lines, About the Artists, and the Contents page listing poems and illustrators in order of appearance.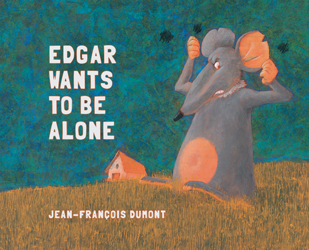 EDGAR WANTS TO BE ALONE
written/illus. by Jean-François Dumont, (Eerdmans Books for Young Readers, $16.00, Feb. 2015, ISBN 978-0-8028-5452-5), 28p, Ages 4-8
A selfish, self-centered, and cranky rat prefers his own company. When Edgar notices a worm following him, he tries to lose his stalker by running fast around the barn and swimming across the pond. He enlists the help of a mole, a woodpecker, and a pig, but they fail to find the worm, and Edgar is disgusted at their lack of sympathy. Settling down for the night, Edgar spies the worm in his bed and bites down hard on it. "Ever since that day, all of the animals on the farm laugh when they tell the story of Edgar, the rat who mistook his tail for a worm." Sometimes lessons in humility are painful.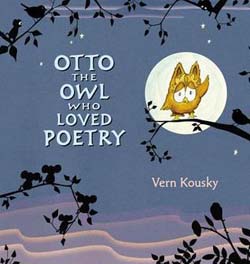 OTTO THE OWL WHO LOVED POETRY
written/illus. by Vern Kousky, (Nancy Paulsen Books, Penguin Young Readers, $16.99, Feb. 2015, ISBN 9778-0-399-16440-8), 32p, Ages 5-8
While the other owls roost and hunt, sweet little Otto prefers reading, reciting poetry, and making friends with the mice and the moon. When the other owls tease him, Otto runs away, but finds new inspiration in the forest and recites a poem to the moon. Discovering a fascinated mice audience, Otto realizes that poetry should be shared. Eventually the other owls find listening to the famous poetry of T. S. Eliot, Robert Louis Stevenson, and Emily Dickinson enjoyable. Even a little mouse is inspired to write: "Oh, my beautiful hunk of cheese, / you smell so sweet and good! / Oh, my beautiful hunk of cheese, I'd marry you if I could." The power of imagination, persistence, and creativity, make this a wonderful introduction to the world of poetry.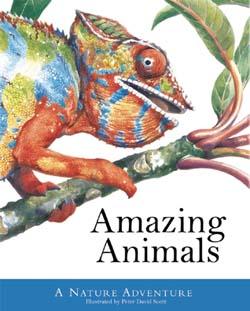 AMAZING ANIMALS: A Nature Adventure
illus. by Peter David Scott, written by Rachael Williams, (Silver Dolphin Books, $16.95, Mar. 2015, ISBN 978-1-62686-323-1), 64p, Ages 4-8
A visual delight, Peter David Scott's beautiful, compelling, and colorful artwork of animals from around the world in their natural habitat bring children the diversity of creation. Meet the Western Gorilla from the African rain forest that communicates through body language and facial expression. The Golden Poison Dart Frog from Colombia is one of the most poisonous animals in the world. The Three-Toed Sloth, from the Central and South American rain forests, is so slow that moss and algae grow on its fur. From the forests of Southern Asia comes the Reticulated Python, the longest snake in the world. Twenty-two animals are presented in this marvelous collection, as well as interesting facts surrounding each animal in the Field Notes, along with Peter David Scott's black and white sketches.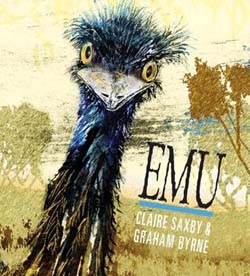 EMU
written by Claire Saxby, illus. by Graham Byrne, (Candlewick Press, $16.99, Apr. 2015, ISBN 978-0-7636-7479-3), 32p, Ages 5-8
"In the open forest, where eucalyptus trees fringe tufty grasslands, honey-pale sunshine seeps to where Emu sits on a nest. Beneath him are eight granite-green eggs." Upon laying her final egg, the female leaves the nest to the father to keep the eggs warm, raise, protect, and teach the young Emus. As the newly hatched chicks grow, their striped feathers camouflage them from eagle and dingo predators. Side notes on each page provide information on the Emu diet, habitat, threats, and camouflage. "About Emus" and an "Index" complete this fascinating view into the world of the exotic Emu.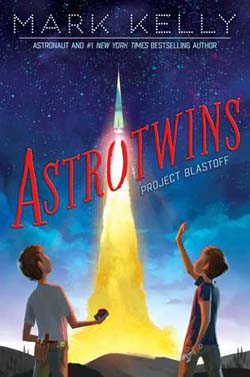 ASTROTWINS: Project Blastoff
written by Mark Kelly, Martha Freeman, (Paula Wiseman Books, Simon & Schuster, $16.99, Mar. 2015, ISBN 978-1-4814-1545-3), 224p, Ages 8-12
In trouble over their latest destructive project (dismantling father's calculator), twins Mark and Scott are sent to their grandfather for the summer. With no TV, Grandpa suggests a constructive building project, maybe a go-kart. The twins decide on a rocket ship to orbit the earth. With the help of intelligent friends, they build a team of math, physics, and computer geeks. Six kids spend long hours in the library researching space travel, gathering materials from unsuspecting adults, convincing them that nothing will blow up, and constructing a model. The brother of one of the kids, a former pilot and Vietnam veteran, takes them on amusement park fast rides to determine which one has "the right stuff." Overcoming numerous obstacles and impossible problems, the kids must decide who will fly the bird. Based on the young lives of astronauts Mark Kelly and his twin brother, Scott, this fun adventure of rocketry, space travel, teamwork, problem solving, perseverance, and ingenuity is a must read for all kids. Author's Note separates fact from fiction (there is no secret rocket-fuel formula), a Glossary explains various scientific terms, and a Suggested Reading list is presented for young children, older children, and adults.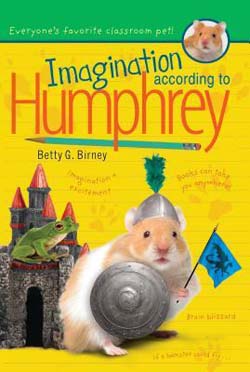 IMAGINATION ACCORDING TO HUMPHREY
written by Betty G. Birney, (G. P. Putnam's Sons, $16.99, Jan. 2015, ISBN 978-0-399-25797-1), 128p, Ages 7-9
Humphrey, the beloved pet hamster in Room 26 at Longfellow School is becoming a writer. Mrs. Brisbane assigns the students a writing project and urges them to use their imaginations by filling in the blank, "If I could fly, I would ______." Humphrey has plenty of ideas for his friends, but struggles with his own story of the Flying Hamster Airlines. Between spending weekends at classmate's homes, visiting his hamster friend, Gigi, in another classroom, and encouraging the students with their journals, Humphrey's life is full of fun and purpose. Chapters end with Humphrey's "My Writer's Ramblings" and his clever comments, "I tried and tried again / and then I kept on trying. / And now I am so happy: / my imagination's flying!" This latest early chapter book in the Humphrey series includes Birney's "Humphrey's Top Ten Tips for Writers."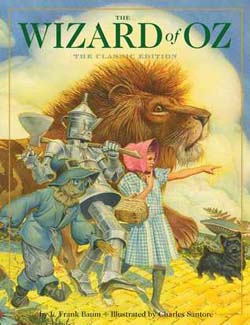 THE WIZARD OF OZ
written by L. Frank Baum, illus. by Charles Santore, (Applesauce Press, $19.95, May 2015, ISBN 978-1-60433-542-2), 104p, Ages 8-11
Since it first appeared in 1900, this American fairy tale has been one of the most treasured and translated stories in American history. When a cyclone transports a young girl and her dog from Kansas to the mysterious and magical Land of Oz, three faithful friends help Dorothy search for the great and powerful Wizard of Oz to show her the way home. Santore's dazzling artwork of the Kansas cyclone, the Land of the Munchkins, the Forest of Oz, the deadly poppy fields, the magnificent Emerald City, the Winkies, Munchkins, Winged Monkeys, and Hammer Heads is an unforgettable delight. Of course, what would this classic tale be without the beloved Scarecrow yearning for a brain, the groaning Tin Woodsman searching for a heart, and the enormous cowardly Lion desiring courage? An Introduction by Michael Patrick Hearn explains the publishing history of the original tale, its interpretation in other media, the artistic background of Charles Santore, and his condensed interpretation (not adapted or retold) which keeps closely to the original text of L. Frank Baum. Santore's sixty watercolor illustrations represent a visual delight and storytelling at its best. Every child should have access to this amazing and dynamic classic tale of friendship, a search for home, and a journey of imagination.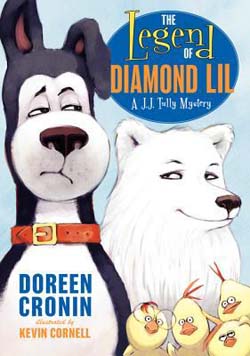 THE LEGEND OF DIAMOND LIL
written by Doreen Cronin, illus. by Kevin Cornell, (HarperCollins, Jan. 2012, ISBN 9787-0-06-177996-1), 144p, Ages 8-11
After the last encounter with know-it-all Vinnie the Funnel and the rescue of chicks Poppy and Sweetie (The Trouble with Chickens 2012), search and rescue dog J. J. Tully yearns for peace and quiet. With Moosh and her chicks, Dirt and Sugar, acting strange, a possum sneaking into the chicken coop, and the arrival of Lillian, a beautiful new dog in the neighborhood, J. J.'s life is never dull. Kids will enjoy the connection between Moosh and the possum, Lillian's mysterious background, and J. J.'s misreading of any situation. As always, Cornell's black-and-white illustrations expand on the story's hilarity. The next installment cannot come too soon.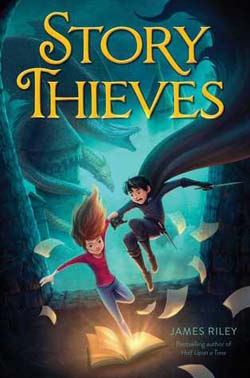 THE STORY THIEVES
written by James Riley, (Aladdin Books, $16.99, Feb. 2015, ISBN 978-1-4814-0919-3), 400p, Ages 8-12
Bored with his life, Owen prefers living through the world of his favorite fictional character, Kiel Gnomenfoot, until the day he watches a classmate crawl out of Charlie and the Chocolate Factory in the library. Searching for her father, who disappeared into a book years earlier, Bethany agrees to accept Owen's help, on the condition that he not interfere with any story. Owen suggests traveling into the Kiel series, where there resides a spell to free her father. He fails to inform Bethany that he desires to change the plot of the unpublished seventh Kiel Gnomenfoot book, meet Kiel, rescue a beloved character, and become a hero to fans around the world. Sneaking into the story, Owen sets in motion a series of chaotic events that spiral out of control. Both Owen and Bethany realize too late that there are serious consequences to changing stories. Magic, friendship, courage, humor, and inventive plot twists will have fans of James Riley eagerly anticipating the next adventure.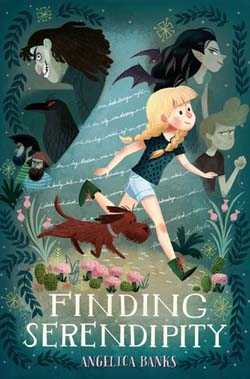 FINDING SERENDIPITY
written by Betty G. Birney, (G. P. written by Angelica Banks, illus. by Stevie Lewis, (Henry Holt & Co., $16.99, Feb. 2015, ISBN 978-1-62779-154-0), 288p, Ages 8-12
When Tuesday McGillycuddy's famous mother, Serendipity Smith, author of popular children's novels, disappears, she and her faithful dog, Baxterr, journey to a land where authors reside and stories are written. Entering the world of her mother's books, they encounter a mysterious librarian, a teenage writer, bloodthirsty pirates, and a character from Serendipity's books, Vivienne Small. Working together, Tuesday, Vivienne, and Baxterr double cross pirates, change story endings, and discover that Baxterr has wings. There are wonderful journeys in life, but none more satisfying and enjoyable than magical adventures involving danger, courage, wild escapades, page-turning twists, heroes, plucky characters, and faithful dogs.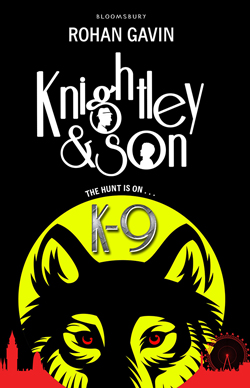 KNIGHTLEY & SON: K-9
written by Rohan Gavin, (Bloomsbury, $16.99, Feb. 2015, ISBN 978-1-61963-494-7), 304p, Ages 10-14
"My eyes are your eyes, to watch and protect. My ears are your ears, to hear in the dark. My nose is your nose, to sense the enemy. And as long as you live, my life is yours." 13-year-old Darkus Knightley (Knightley & Son 2014) takes this K-9 oath seriously, as he and father, Alan, work with their burned out police dog, Wilbur, to solve a current case of missing pets, werewolves, and a mysterious connection to the criminal organization, the Combination. Darkus struggles with an on/off relationship with his father, abandonment issues, and paranormal phenomena. Lately when full moons appear, pets go missing and police are mauled at a famous London tourist spot. With sinister trained hounds watching their home, Darkus, his father, a police detective uncle, and stepsister, Tilly, investigate a famous TV dog trainer and a notorious criminal boss, while avoiding a noisy press reporter. Young Sherlock Holmes fans will root for this tweed-loving protagonist, who fights crime (sometimes gruesome), reveals villains, and loves his blended family, especially his loyal dog. To be continued in the next installment.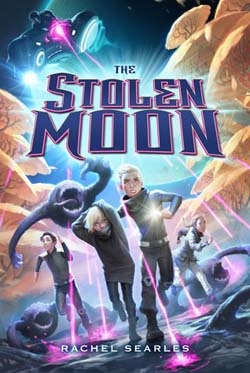 STOLEN MOON
written by Rachel Searles, (Feiwel and Friends, $15.99, Jan. 2015, ISBN 978-1-250-03880-7), 368p, Ages 11-14
In this sequel to The Lost Planet (Feiwel & Friends 2014), Chase Garrety, sister Lilli, and hacker buddy, Parker, find safety and a home aboard the Fleet starship, Kuyddestor. Commanded by a family friend Captain Leonard, the Kuyddestor is on assignment to assist with peace talks between warring planets. Only a hand full of the crew are aware of Chase and Lilli's special abilities (phasing through objects and transporting). Seizing an opportunity to learn more about his deceased parents, they leave the ship, land on the disputed moon, and find themselves in the middle of a war between the Federation and the Kuyddestor. Filled with political intrigue, betrayals, heroes, and villains, this action-packed, science fiction thriller will have readers yearning for the next page-turning installment.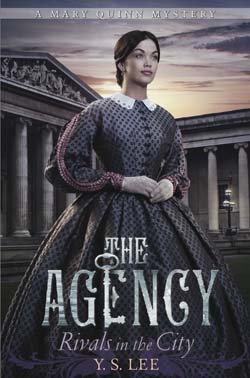 THE AGENCY: Rivals In the City
written by Y. S. Lee, (Candlewick Press, $16.99, Mar. 2015, ISBN 978-0-7636-5914-1), 304p, Ages 15+
This fourth installment in The Agency series finds Mary Quinn living a financially independent life, operating a detective agency with her fiancé, James Easton, discovering a family connection to a prizefighter from China, and bringing an old enemy to justice. Reluctant to marry and lose her independence, Mary wrestles with love, independence, and marriage. Balancing family secrets, conflicting loyalties, professionalism, and childhood fears, Mary seeks to protect James and solve an old murder case. This fast-paced mystery with intriguing twists, endearing characters, and insight to the social issues of Victorian England, will please fans of this latest historical novel.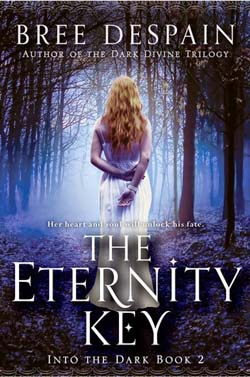 THE ETERNITY KEY: Into the Dark Book 2
written by Bree Despain, (Egmont USA, $18.99, May 2015, ISBN 978-1-60684-467-0), 368p, Ages 14-18
This second book of the Into the Dark series, finds Haden Lord, the disgraced Prince of the Underworld, joining Daphne, a human girl and Cipher, in a quest for the Key of Hades to unlock the gates of the Underworld, thus preventingt the release of the monstrous Keres on the mortal world. With the Equinox rapidly approaching, they watch for Underlords and Skylords, who seek the key for purposes of genocide and the extinction of all realms. Enlisting family and friends in their search, Haden and Daphne discover the high cost of trust, betrayal, and romance. Dysfunctional family members, magical powers, political turmoil , and sacrificial love all culminate in a surprise cliffhanger ending. Loyal fans will eagerly await the final installment.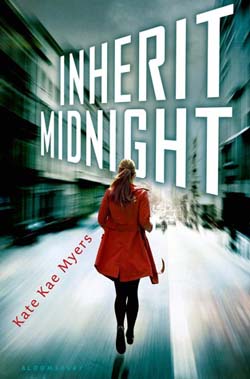 INHERIT MIDNIGHT
written by Kate Kae Myers, (Bloomsbury Children's Books, $17.99, Feb. 2015, ISBN 978-161963-219-6), 390p, Ages 14-18
17-year-old Avery VanDemere reluctantly participates in her grandmother's competition to determine who will inherit the family business and assets. The matriarch devises challenges and tests around the character traits of intellect, fortitude, resourcefulness, unity, commitment, courage, and integrity. Raised by a strict grandmother, Avery learns through the family attorney that her mother is alive, lives in Croatia, and has been sending letters every year on her birthday. When the lawyer proposes to release a letter for each challenge she wins, Avery jumps at the chance to gain information on her long-lost mother. Partnering with the lawyer's handsome son, Avery and Riley, along with her despicable relatives, travel the world and dig for diamonds in Venezuela, research VanDemere family history in Scotland, replicate the trials of their Pilgrim descendants on the Mayflower, and recreate their ancestors' participation in the Civil war as blockade runners. Dramatic plot twists, dysfunctional family dynamics, and romance offer thrills and page turning action for teen readers who enjoy quests and games.
ABOUT US
The Children's Hour was created to promote and encourage reading to children and by children. We believe that reading aloud not only creates a special bond between parents and children, but it is important to the development of their imagination and curiosity.
The Children's Hour
150 N. Santa Anita Ave.,
Suite 300
Arcadia, CA 91006
626-791-4848
Conditions of Use
Privacy Policy